Fruit, Grain, & Vegetable
Homegrown Persimmons, Popcorn, and Brussels Sprouts, All in Abundance
It's raining persimmons! And every morning I go out to gather drops from beneath the trees. And every afternoon. And, depending on the wind and the temperature, sometimes early evenings also.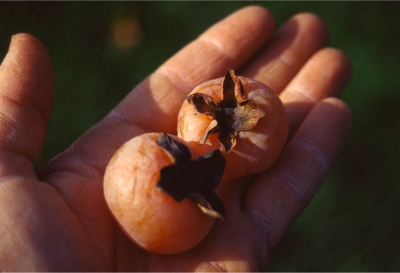 The fruits are delicate, their soft jelly-flesh ready to burst through their thin, translucent skins. Most fruits survive the trip from branch to ground unscathed because of the close shorn, soft, thick lawn landing pad that awaits them. I pop any that burst right into my mouth or else toss them beyond the temporary, fenced-in area as a treat to my the ducks or to Sammy, my dog who has developed a taste for the fruit. (The ducks, Indian Runners, hardly fly but Sammy, if he put two and two together, could easily hop the low fence and beat me to the fruits.) Repeatedly gathering fruit through the day is needed to keep ahead of scavenging insects.
American persimmons grow wild throughout much of the eastern part of our country, about as far north as the Hudson Valley. Wild trees bear either female or male flowers. Males, which never bear fruit, can each sire a few females, which are the ones that do bear fruit. Puckery flavor is the main problem with wild persimmons. They can make your mouth feel like a vacuum cleaner is at work within. All American persimmons elicit that unpleasant feeling until fully soft, colored, and ripe; some elicit the feeling, in some measure, even when ripe.
Planting a named variety can spell the difference between a fruit to spit out and a fruit to swoon over. Said variety needs to be one that, besides tasting good, ripens within the growing season, and isn't harvested until dead ripe. (Many otherwise good varieties do not have time to ripen this far north.) Szukis and Mohler do particularly well here near the northern limit for persimmon growing, Mohler beginning its ripening at the end of August, and Szukis the end of September. Both varieties ripen fruits over a long period, for a month or more.
One more asset for Mohler, Szukis, and some other varieties is that they make males superfluous. They can set fruit parthenocarpically (without pollination) and/or by pollination from their own occasional male blossoms. Most Mohler and Szukis fruits are seedless, a sign of parthenocarpy, but occasional fruits have a seed or two, indicating that some pollination took place.
Once leaves drop from these trees, fruiting is not finished. Ripe, orange fruits will cling for weeks to bare branches like Christmas ornaments, although, with time, fruits shrivel and brown, losing their visual — but not gustatory — appeal. Not bad for a tree that needs nothing in the way of pruning or pest control, eh?
Popcorn's Not Just for the Movies
With the fruit course out of the way, let's move on to the grain course. I've tried growing wheat and rice on a (very small) garden scale, and yields were paltry and sometimes difficult to get at because of topheavy plants flopping to the ground. Flopping was probably due to too much fertility and moisture. Processing either grain was a project in itself, entailing removal of the grain from the stalks and then from their husks.
The easiest grain to grow and process on a backyard scale is popcorn, which revels in my soil's good fertility and moisture. I grow popcorn the same way as sweet corn, in "hills" (which, horticulturally speaking, are stations or clusters rather than raised mounds) with 3 to 4 plants per hill and two rows of hills in each 3 foot wide bed, with two feet from hill to hill within each row.
The only downside to growing popcorn on a small scale is the need to keep it away from sweet corn, if you grow that also. Planting sweet corn and popcorn too close to each other lets them cross-pollinate, resulting in sweet corn that is less sweet and popcorn kernels than wanly split to exhale steam rather than blow apart till they're inside out.
Even with popcorn grown in sufficient isolation, correct moisture level (20 percent) is what makes for good popping. I wait to harvest until the ears and husks are dry on the stalks. After harvest, I peel back the husk, leaving a few layers, pull off the browned silk, then tie 3 or 4 ears together by their pulled back husks and hang the bunch from the kitchen rafters to dry.
The ears hang from the rafters all year ready for popping. When I feel like eating some popcorn, I just twist the kernels off a cob; microwavers can put the cob, intact, into their microwave ovens. I find that poppability varies through the year, probably depending on the temperature and the humidity.
If I sought maximum poppability, I could measure the moisture level by accurately weighing out a portion of kernels and drying them in a 150°F. oven overnight, then re-weighing them. But how big the kernels can puff up isn't nearly as important to me as the fact that popcorn is an easy-to-grow, nutritious, whole grain that's tasty and fun to eat.
The Sprouts Responded to Being Pinched
Finally, moving on to the vegetable course. A few weeks ago I wrote about sizing up the sprouts of Brussels sprouts by pinching the tips of the plants. That stops the production of the hormone auxin, which had been suppressing sprout growth further down along the stem.
The suppression is only temporary. As uppermost buds start to grow, they, in turn, start pumping down auxin. Those 3 or 4 upper buds now threaten to expand to become stems. At this point they can do what they will because lower buds — the sprouts — have all puffed up to good size.
https://leereich.com/wp-content/uploads/2022/12/header-home-link-247x54-2.png
0
0
Lee Reich
https://leereich.com/wp-content/uploads/2022/12/header-home-link-247x54-2.png
Lee Reich
2014-10-10 10:29:41
2014-10-10 10:29:41
Fruit, Grain, & Vegetable