Popcorn Traditions
I was surprised at the different colors of my ears this fall — popcorn ears, that is. 'Pink Pearl' popcorn lived up to its name, yielding short ears with shiny, pink kernels. Peeling back each dry husk of 'Pennsylvania Dutch Butter Flavored' popcorn revealed rows of creamy white kernels. The surprise came from some ears from either bed whose kernels were multi-colored, each in a different way, with some kernels mahogany-red, some pale pink, some dark pink, and some lemon yellow.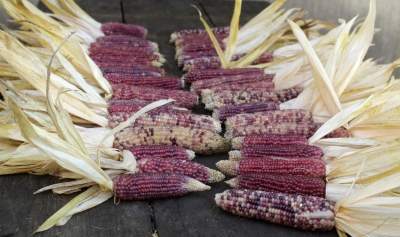 I plan to bring some of these popped kernels to Thanksgiving dinner, just as Native American chief Massasoit's brother, Quadequina, brought along a sack of popped popcorn to the first Thanksgiving feast almost four centuries ago.
Popcorn predates that first Thanksgiving in America by thousands of years. Kernels have been found in the remains of Central American settlements of almost 7000 years ago. The Quichas of Peru and the Aztecs of Mexico grew red, yellow, and white popcorns. Even after that first Thanksgiving dinner, popcorn was eaten by settlers in the Northeast as a breakfast staple with milk and maple sugar, or floated on soup (very good!). Beginning in the last century, movie  and television viewing caused a resurgence in popcorn consumption.
https://leereich.com/wp-content/uploads/2022/12/header-home-link-247x54-2.png
0
0
Lee Reich
https://leereich.com/wp-content/uploads/2022/12/header-home-link-247x54-2.png
Lee Reich
2022-11-22 10:51:08
2023-01-28 10:12:47
COLORFUL EARS, AND TASTY, TOO