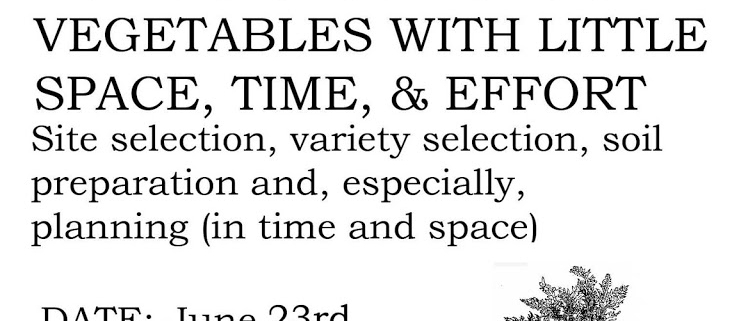 I see a lot of gardens under wraps this morning, plants covered with upturned buckets or flowerpots, or blanketed under . . . well . . . blankets. Day after day of balmy temperatures have made it hard to hold back finally getting vegetable and flower transplants out of their pots and into the ground.
But temperatures just below freezing were predicted for last night (May 13th) and everyone got a wakeup call: Freezing temperatures, which could kill tomato, marigold, and other tender plants, are still possible. It's all about averages; around here, there's about a 10 percent chance of a frost the middle of May.
The likelihood of cold, frosty, or freezing temperatures has been detailed — see

http://cdo.ncdc.noaa.gov/climatenormals/clim20supp1/states/NY.pdf

— for locations throughout the country. The closest weather station connected to that site around here is in Poughkeepsie, and in mid-May that site has a 50% chance of experiencing cold weather (36°F.) and a 10% chance of of experiencing frost (32°F.). Cold air, being heavier than warm air, sinks to low-lying spots on clear still nights, such as last night, so my garden in the Wallkill River valley is usually a few degrees colder than surrounding areas, such as Poughkeepsie. Fortunately, temperatures last night here dropped only to 31° F.
Not that lower temperatures would have done my vegetables or flowers any harm. I took the advice I've been doling out to others for the past couple of (warm) weeks, and held off planting anything that could be harmed by frost. So tomatoes, peppers, melons, and the like are still in pots that I moved into the warmth of the greenhouse last night.
I'd like to plant out all these cold-tender seedlings but chilly temperatures are predicted for the next few night. Even chilly temperatures, let alone freezing temperatures, are not good for tender plants.
Still, anyone looking out over my garden this morning would have seen white blankets over some beds and overturned flowerpots over a few plants. Because my garden is in a cold spot, temperatures well below freezing were not out of the question for last night. Cold enough temperatures could damage cabbage and its
kin, lettuce, onions, and other cold-hardy transplants that have been growing out in the garden for the past couple of weeks. I had some row cover material readily on hand, so why not, methought, throw it over some of the beds anyway? Just in case.
Throwing covers over plants at 7 in the evening is a lot more pleasant than waking up at 3 am with the sinking feeling that temperatures have really plummeted and then, if they in fact did, running outdoors in the cold darkness to cover plants.
Fruit trees, shrubs, and vines present another story. A freeze won't kill the plants, but low enough temperatures could kill flowers or developing fruit, as it did on many fruit plants last year. One frigid night and you have to wait a whole year for the next crop. Unfortunately, not much could be done about this situation. Fruit plants here are too many or too big to cover. My tack is to keep fingers crossed.
Critical temperatures for fruit damage vary with the kind of fruit, the stage of flower or fruit development, the depth of cold, and the duration of cold. Probably other things, too, such as humidity and plant nutrition.
An excellent table of "Critical Temperatures for Frost Damage on Fruit Trees" can be viewed at

http://extension.usu.edu/files/publications/factsheet/pub__5191779.pdf

. So, put simply, 25°F would spell death to 90% of my apples, which are in full bloom, and pears, which are post-bloom, and 28% would do in 10% of their fruits. Plums, also post-bloom, tolerate a bit more cold.
In addition to crossing fingers, my tack is also to grow a variety of fruits, and especially native fruits.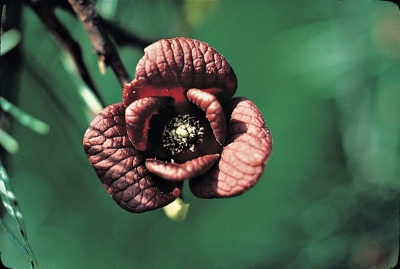 Pawpaw blossom, from below.
(Apples, pears, peaches, and most plums are not native.) It's not a chauvinistic choice; it's just that these natives — American persimmon, pawpaw, blueberry, grape, and gooseberry, to name a few — are better adapted to our conditions. And not just the weather here. Pests also.
This spring has been the most perfect spring in a long time, with plenty of clear, sunny days and gradually warming temperatures that kept blossoms from jumping the gun. Playing the averages, the critical cold periods should be pretty much be behind us. As with the stock market, though, "Past performance is no guarantee of future returns."
Update, May 17th: Warm days and nights that are not too chilly are predicted for the next few days, so I planted out tomatoes and peppers today. I'll still keep an eye on temperatures because there's still a 10% chance of temperatures dipping to 36° as late as May 28th according to records at the nearby Poughkeepsie weather monitoring station.
https://leereich.com/wp-content/uploads/2013/05/Veg-Workshop-poster-blog.jpg
1024
732
Lee A. Reich
https://leereich.com/wp-content/uploads/2022/12/header-home-link-247x54-2.png
Lee A. Reich
2013-05-30 19:42:00
2014-07-14 15:17:04
It (Could Be) Cold