Ready of Ol' Man Winter
October 31st, was slated to be the first hard frost of the season, later than ever. That afternoon, I went down my checklist of things to do in preparation for the cold.
Drip irrigation needed to be shut down so that ice wouldn't damage the lines. I opened up the drains at the ends and at the low points of the main lines. I also  opened up the valves on all the drip lines so water wouldn't get trapped anywhere. Some people blow out all the lines with compressed air.
The only parts of the drip system that ever need to be brought indoors are the parts near the spigot: the battery-powered timer, the pressure reducer, and the filter.
But I wasn't yet finished with water. All hoses got drained, with any sprayers or hose wands removed from their ends. Hoses were also removed from frost-free hydrants to let the water drain freely out their valves. (The hydrants are frost free because water drains and enters the hydrant's pipe four feet below ground, where temperatures, even in winter, remain at a balmy 50° F. or so.)
Moving on to plants . . . Tropical houseplants had all been brought inside, but outside still remained subtropicals, including some potted figs, pomegranates, bay laurel, olive, and an angel's trumpet (Brugsmansia). Subtropical plants can tolerate, even enjoy, temperatures below freezing, even down as low as 10°F. for some of them. My pomegranates, the varieties Kazake and Salavatski, both from western Asia, are reputedly cold-hardy to below 0°F! All these subropicals will enjoy the great outdoors for a few more weeks, barring a drastic change in the weather.
Some vegetables remaining out in the garden can likewise weather cold weather well. Just to make sure, though, I laid "floating row covers" over beds of endive, mustard greens, and lettuce. These diaphanous coverings keep plants beneath them a few degrees warmer while letting light and water filter through. The soil retains enough heat to protect roots of turnip and winter radishes, which are further protected beneath their leafy canopies.
I forgot to pick and eat Sungold tomatoes, which would be done for after a freezing night. Any red peppers still left on the plants had been harvested; those plants would also be dead on the morrow. I can't complain; the Sungolds and the peppers bore well and for a longer time than ever before.
The final cold prep was to check the greenhouse, making sure window, sidewalls, and doors are closed up tight, and the heater is functional.
I'm ready for Ol' Man Winter.
Not So Cold
The morning after: The cold turned out to be not nearly as dramatic as expected. A little before sunrise a cloud cover crept over the sky, tucking in the earth's warmth rather than letting it radiate out to a clear sky. The low temperature for the night was 28°F. Even the pepper and tomato plants had toughened up enough by then to tolerate that amount of cold. Not to keep ripening good-tasting fruit, though.
Temperatures aren't predicted to drop near freezing for many days after that night, but I didn't consider my scurrying around to move or cover plants, and drain water lines, to be wasted effort. Endives and other greens still out in the vegetable garden transpire very little water in cool weather, and even less so when covered with floating row covers.
The only watering needed from then on would be of the compost pile, easily accessible from one of the frost-free hydrants and a short length of hose, connected as needed.
"Trip" to the Mediterranean
Greenhouse temperatures dropped only to 40°F, the temperature at which I set the thermostat. Cloudy days in there are like today are akin to winter days along the Mediterranean: Very cool and somewhat dreary. On sunny days, I open the greenhouse door to bathe in a tropical paradise of sunlight, heat, and high humidity, with lush plants of lettuce, mustard, arugula, celery, chard, claytonia, and parsley blanketing the ground.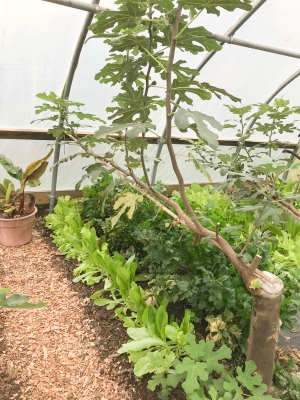 Fig trees in the greenhouse have slowly eased their way into dormancy. I hurried them along by lopping them back — except for the few branches still ripening a few fruits. Those figs, ripening in low sun and cooler weather (even in the greenhouse), aren't as tasty as those of summer and early autumn. I wonder how tasty November figs are in Italy and Greece?
https://leereich.com/wp-content/uploads/2022/12/header-home-link-247x54-2.png
0
0
Lee Reich
https://leereich.com/wp-content/uploads/2022/12/header-home-link-247x54-2.png
Lee Reich
2017-11-15 20:23:40
2017-11-15 20:23:40
Winter's Comin'