Not a Hot, Dry Desert, but No Matter
Today's cool temperatures, along with this overcast sky that's periodically sneezing raindrops, doesn't conjure up weather we usually associate with fig harvest. Still, I just returned from the greenhouse with near overflowing handfuls of dead ripe figs.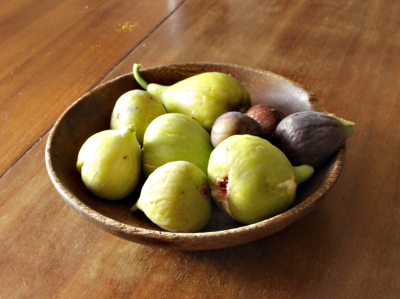 This harvest does highlight one of the many characteristics of figs that makes it possible to grow them in cold climates. The particular characteristic, in this case, is the plant's rather unique way of bearing fruit. In contrast to a peach tree, which bears fruits on one-year-old stems, or an apple tree, which bears on stems two, three, or more years old,  fig tree might bear fruit on new, growing shoots; on one-year-old stems; or on both new, growing shoots and on one-year-old stems.
So it's not necessary to have stems survive winter in order to get a crop the following season. You can cut back stems in order to more easily protect a plant from cold or to make it easier to move a plant to a protected winter home. How your plant bears fruit depends on both the variety and how you prune it.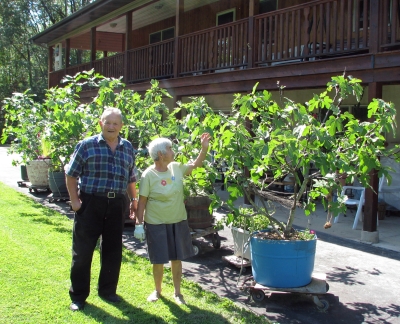 An Accommodating Plant
Another way figs accommodate us cold-climate-fig-growers is by tolerating a surprising amount of winter cold. Figs are not tropical plant, shivering at temperatures below even 50 degrees Fahrenheit, but subtropical plants, enjoying a certain amount of cold weather and even tolerating temperatures down to 15 or 20 degrees Fahrenheit.
I once stuck some fig cuttings in the ground outdoors here in Zone 5. They rooted, but I eventually got distracted with other plants and forgot about them. They died back to the ground that winter but surprised me by sprouting from ground level the next spring! 
Fruits did form along the new shoots, as expected, but those fruits didn't have time to ripen. The higher up along an old stem from which new shoots originate, the sooner they ripen. A two to three foot stem typically suffices, with fruits ripening on new shoots that originate from near the top of the old stem.
So if you're growing one of the many fig varieties that bears fruit on new shoots and you're growing it in a container, make sure to leave one or more two to three foot stems.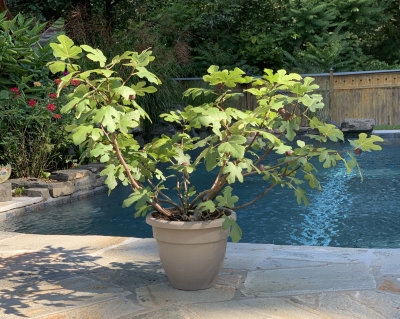 Retain them as permanent trunks, and every year, when the plant is dormant, cut all stems back to that trunk. As growth begins in spring, remove any new shoots arising from below the top few inches of the trunk(s).
Prune likewise if you overwinter your plant by some other method such as digging up your plant each fall, bagging its roots, moving it to a cold but not frigid home for winter, then planting it back into the hole in spring. And likewise, again, if you're opting for overwintering a plant by bending its stems to or below ground level, then covering them with a tarp and mulch for insulation against bitter cold.
(I go into more detail on pruning figs, including pruning for two crops per season, as well as other as aspects of Growing Figs in Cold Climates, which is the title of my book, available from the usual sources or, signed, here.)
Organizing a Fig Plant
I was surprised at today's fig harvest. True, the plants are growing in a greenhouse, but the temperature within on a cool, cloudy day is about the same as outdoors. I was out of town so that harvest represents a few day's ripening. But given a sunny day, the greenhouse will warm and ripening will be hastened. (Late news flash from the next day: Yes it has been sunny and today's harvest of one day's ripening equals that of yesterday's harvest accumulated over five days.)
A typical problem with greenhouse figs is too much growth, self-shading, and rotting fruits because of the tangled mess of branches. My greenhouse figs stay neat and trim because I train them as espaliers, which is an ancient method of training plants to two-dimensional patterns that are decorative, formal, and, for fruits, very productive. Espaliered branches all bathe in sunlight and air.
My fig espalier is especially easy to prune. Along the back wall of my greenhouse, I trained one of my fig plants to the shape of a low, branching T. Off the top of the eighteen inch high trunk grow horizontal arms, called "cordons," each running in opposite directions parallel to the ground and to the wall. In early spring, new shoots appear. I retain upright shoots originating about eight inches apart along the cordons; all other shoots are removed.
Major pruning takes place at season's end. All that's needed is to cut back any new shoots developing along the trunk and to cut every vertical shoot down to the cordon from which it sprang. Once a cordon has grown the desired length, I cut all new growth from its tip back to its origin for that season. That's it!
Because new shoots originate some distance from the roots — the distance being up the trunk and at various places along the cordons — ripening begins earlier than if the plant had been cut back more severely. (I'm experimenting with growing espaliers outdoors, trained at or below ground level, and covered, as protection from winter cold.)
Right now, figs have formed up and down along those vertical shoots, ripening more or less sequentially from the bottom up. Ripening will continue as long as warmth and sunshine allow.
(I will be giving a free presentation on "Growing Figs in Cold Climates" this Saturday, September 30, 2023 at the Woodstock, NY Library at 5 pm.)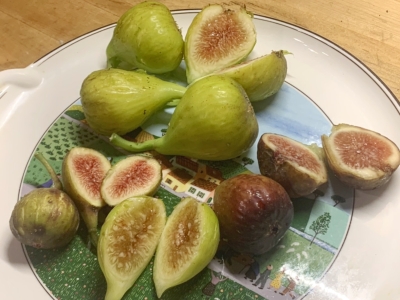 https://leereich.com/wp-content/uploads/2023/09/ficus-Giuseppi-Maria-and-fig-22orchard22-scaled.jpg
2072
2560
Lee Reich
https://leereich.com/wp-content/uploads/2022/12/header-home-link-247x54-2.png
Lee Reich
2023-09-28 17:00:13
2023-09-28 17:00:13
IT'S FIG SEASON!