SUMMER WEATHER, PLANT THE GREENHOUSE
 Ginger on the Way
   Now that summer-y weather has blown in and is here to stay, it's time to plant the greenhouse. Plant the greenhouse?! This time of year? Yes. No reason to let all that real estate go to waste through summer.
    Ginger plants that I started from supermarket tubers a couple of months ago were crying out to be released from the confines of their 4-inch pots. Warming their bottoms on the seed-starting heating mat pushed them along even when early spring skies were overcast and the greenhouse relatively cool. Ginger is a tropical plant that shivers even when temperatures drop below 55°F.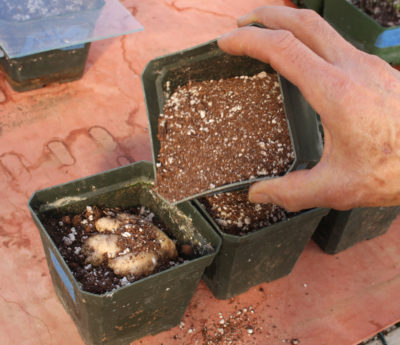 I never could see the rationale for the current interest in growing ginger in northern regions. That is, until I tasted freshly harvested, baby ginger. This far north, ginger rarely has time to develop the mature, tan-skinned roots you see in supermarkets. No matter, because immature, or "baby," ginger, which is ginger harvested before it matures, is better — a white, tender, tasty tuber. It doesn't keep or ship as well as mature ginger, which is no problem for backyard growing or local sales.
    So 4 ginger plants went into two greenhouse beds. I'll dig up the ginger in September, freeing up space for lettuce, celery, kale, and other cool weather salad makings that will inhabit the winter greenhouse.
Early Curcurbits
    One can eat only just so much ginger. (We're still using last year's harvest which, for long term storage, was sliced thin and put into jars with vinegar.) What about other greenhouse beds that are being vacated as the last of winter's lettuce, celery, kale, and chard get harvested and cleared away?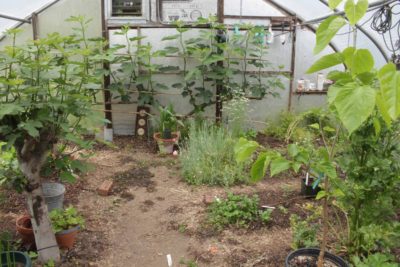 Cucumbers and melons love heat, so a few extra plants that I started back in early May went into beds.
    The permanent fixtures in the greenhouse, the plants that really help the greenhouse earn its keep, are the four fig trees — Bethlehem Black, San Piero, Brown Turkey, and Rabbi Samuel — planted right in the ground. The largest of these has a trunk 7 inches in diameter. All yield bountiful crops daily in August and September, and less bountiful ones going into October.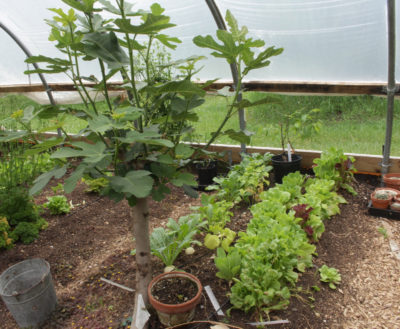 Tropicals and Subtropicals Summer Vacation
    In a reversal of fall, tropical and subtropical plants that had been moved into the greenhouse and house are now lined up outdoors, ready to offer fresh black mulberries, Pakistan mulberries, pineapple guavas, pomegranates, Golden Nugget mandarins, olives, dwarf Cavendish bananas (probably no fruit from this one, just a very tropical look), and a few other varieties of figs, in pots.
    (My black mulberry is the species Morus nigra, one of the best-tasting of all fruits, but is not cold hardy here. Black-colored mulberries that grow all over the place outdoors here are, despite black fruits, species of red or white mulberries, or their hybrids.)
    Any of my tropical and subtropical plants, given their druthers, would reach 8 feet, 10 feet, or even more feet skyward, and spread their roots many feet in all directions. Here, they can't do that or they would be too big to move or to house in winter.
    So I mixed up a batch of potting soil, and started root pruning. It sounds brutal, and it is, but plants recover nicely and then happily have new soil to explore. Basically, I slide a plant out of its pot, stand it upright, and then start slicing off the outer edges of the root ball. Pruning shears take care of any roots too large to slice with a knife.
    The finished root ball is an inch or two smaller in diameter than it started out. How much to remove depends on the initial size of the root ball — larger plants get more removed — and, to a lesser degree, the kind of plant. Figs, for instance, tolerate especially brutal treatment.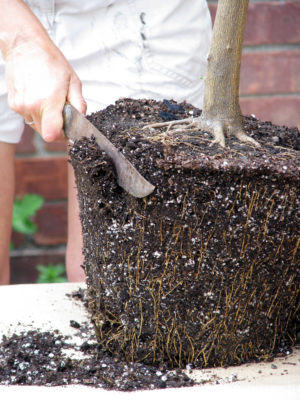 So much for the roots. To keep it manageable, the plant also needs stem reduction. Some stems get shortened, some are removed in toto, and some are left untouched. Who gets what treatment depends, for fruiting plants, on their fruiting habit — just where and how they bear fruit. Figs that bear on new shoots can be pruned rather severely; pineapple guavas bear on new shoots growing off older stems, so only moderate pruning is tolerated so that some older stems are preserved, etc.
    After root and shoot pruning a thorough watering, plants are ready for a year or two of good growth before they will again feel constrained.
https://leereich.com/wp-content/uploads/2022/12/header-home-link-247x54-2.png
0
0
Lee Reich
https://leereich.com/wp-content/uploads/2022/12/header-home-link-247x54-2.png
Lee Reich
2016-06-10 22:09:59
2016-06-10 22:09:59
SUMMER WEATHER, PLANT THE GREENHOUSE