Faking The Subtropics
At first blush, the setting would not seem right for fig trees. There they were, in pots sitting on my terrace — so far so good — but with snow on the ground around them. Figs? Snow?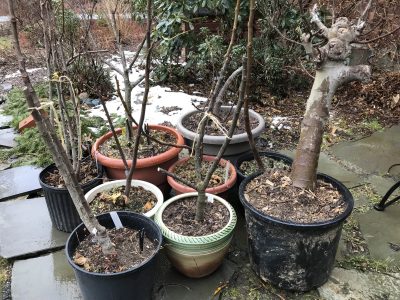 Figs seem so tropical but, in fact, are subtropical plants. And it does sometimes snow in subtropical regions. Climatewise, subtropics are defined as regions with mean temperatures greater than 50 °F with at least one month below about 64 °F. Further definitions exist but the point is that it does occasionally snow in subtropical regions; temperatures just never get very cold.
My potted figs couldn't have survived our winters outdoors. They wintered in my basement, where winter temperatures are in the 40s. Cool temperatures are a must to keep the stored plants from waking up too early indoors, then, because the weather is too cold to move them outdoors, sprouting pale, sappy shoots in poor indoor light. Even sunny windows don't hold a candle (pardon the pun) to sun in the great outdoors.
Sleep, Sweet Figs
My goal is to keep the plants asleep as long as possible and then to move them outdoors just as soon as temperatures are unlikely to plummet low enough to do them harm. I figure that date was yesterday, April 2nd. Most fig varieties tolerate cold down into the 20s, some even lower.
Roots of all plants have evolved in, of course, the ground, where temperatures are more moderate than the air. So they can't tolerate as much cold as can stems. With cold penetrating the exposed soil in pots, more so the smaller the pot, I have to keep an eye on the outdoor temperature and, if it gets too low, whisk all the pots into the shelter of the garage.
In the ideal world, temperatures will slowly warm without any dramatic lows or highs, and fig buds will gradually unfold into shoots along whose length will develop and then ripen juicy, sweet Celeste, Genoa, Excel, Ronde de Bordeaux, and Rabbi Samuel figs.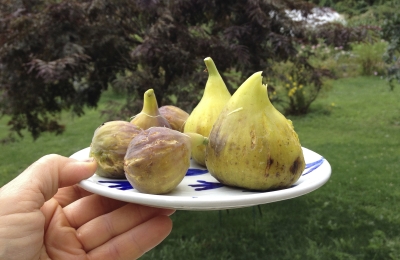 Cold concerns this time of year don't apply to one of my potted figs, a Himalayan fig (Ficus palmata). I rooted a cutting of this plant a few years ago. It's billed as being much more  tolerant of both cold and summer rain than common figs (F. carica), both assets for a fig in this part of the world. I have yet to see fruit from this plant.
Primal Urges?
What is it about figs that makes so many people want to grow them? I know of someone in Sweden who grows them. Even someone in Canada who has a collection of over 200 varieties (www.adrianosfigs.com)! Figs are an ancient fruit with origins in the Fertile Crescent, so is it some primal connection with the distant past that is the attraction?
A big part of the attraction is, of course the flavor of fresh figs, which is unlike that of the dried fruit. Market figs don't make the grade because figs have to be picked dead ripe for best flavor, at which point they're too delicate to travel much further than arm's length from plant to mouth.
As would be expected of so ancient a fruit, hundreds of varieties exist — and perhaps thousands of names because more than one name has been ascribed to many varieties. My variety Rabbi Samuel, for instance, mentioned above, is, I know a made-up name.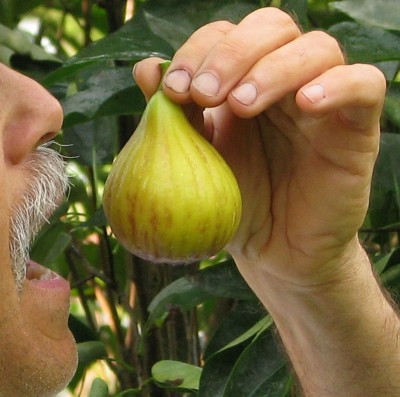 A friend made it up because he got it from some Hassidic Jews who had no name for it. And the frequently grown variety Brown Turkey is a name assigned to two different varieties, one more common on the west coast and the other more common on the east coast. And the east coast variety has a number of other names, including Everbearing, Texas Everbearing, and La Perpetuelle.
The first plant I ever grew once I got the gardening bug (in my 20s) was, in fact, Lee's Perpetual (another name for eastern Brown Turkey). I grew it in a pot in a not very sunny window of the apartment I was renting. Not surprisingly, in retrospect, the plant never fruited.
Nowadays I think of the climate in which figs are native when growing my figs: cool, moist winters (as in my basement) and hot summers with plants baking in abundant sunlight. I now harvest plenty of figs.
Postscript April 6th: Temperatures of 22 °F perhaps prompted me awake at 3 am; I got up and lugged all 11 potted figs into the shelter of my unheated garage. 
https://leereich.com/wp-content/uploads/2022/12/header-home-link-247x54-2.png
0
0
Lee Reich
https://leereich.com/wp-content/uploads/2022/12/header-home-link-247x54-2.png
Lee Reich
2018-04-18 19:27:50
2018-04-18 19:27:50
Northern Figs? Yes!