The Worst?!
Every year, when I tell my longtime friend Vicki, "This year is the best garden year ever," she smiles and rolls her eyes in a friendly way. But it's true: Another year of gardening experience, better varieties to grow (Picnic Orange pepper of last year is now on my must-grow list); improved weed management (tarping added to my list); better pest control (the dreaded spotted wing drosophila on blueberries); etc.
This year, Vicki was surprised when I finished my annual sentence with "the worst year ever."
She, of course, asked why. I spared her, but will not spare you, all the gruesome details, as far as I can determine.
Blame the Weather
Weather is always a good scapegoat for farmers, farmdeners, and gardeners, influencing plants in so many ways. Disease, for instance. Pollination. How vigorously plants grow, influenced by not the weather only above ground, but also below ground.
Tomatoes fared particularly poorly this year. Excessive rainfall promoted all the usual tomato diseases — septoria leaf spot, early and late blight, and anthracnose — in spades this year.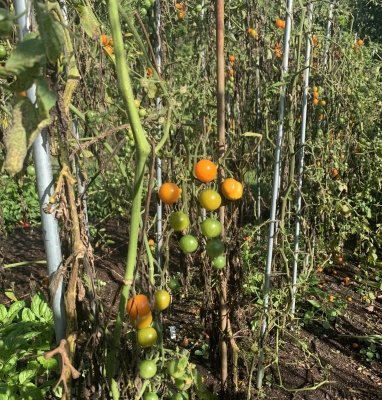 Tomatoes and other plants also suffered below ground. Most years, a little extra rainfall would not be a problem in my reasonably well-drained clay loam soil. I accept full blame for what went on below ground this year.
Vegetables here get there daily drink automatically via drip irrigation. I usually go outside to the well pump that serves the garden and turn off the valve during excessively rainy periods, but this year I was lazy and didn't bother, figuring each time that the rain would soon cease. It's a bad move — or, rather, non-move — in a summer when the sky dumped 7.5" more inches than than any other summer for the last 127 years. (That local data is available to me from the nearby Mohonk Preserve weather station.) Tomatoes, even the relatively disease resistant San Marzano tomatoes, corn, and eggplants especially suffered.
I wonder if all the water also washed too much nutrition down out of the ground. I took leaf samples for tissue tests from corn and tomato plants to find out what plants actually took up. A soil test tells what nutrients are in the ground; uptake by plants can be poor if, for instance, the ground is waterlogged, which interferes with root function.
The test indicated that the the plants were low in nitrogen, an element that is soluble and can wash down and out of the ground. I do find those results odd because I use copious amounts of compost, a one-inch depth laid atop the ground, every year. Compost releases only some of its nitrogen in soluble form by the action of soil microorganisms, and its benefit in theis way isn't just for the year of application. It's the gift to the soil that keeps on giving. I guess it's possible that as soon as it gave, it washed down and out of the root zone.
A Good Year for Weeds
Weeds, being what they are, were unfazed by this summer's rainy weather, the less than perfect conditions for garden plants suiting the weeds just fine. Thistles secured their position here, from which they aggressively spread.
I spent lots of time pulling thistles, hoeing them, spraying them with an organic herbicide (Biosafe), flaming them, weed whacking them, and smothering them beneath wood chips. Ha! they just kept coming back, upsetting what I thought was our tenuous truce. I do manage to maintain the upper hand in the vegetable gardens, at least.
In rougher portions of the farmden Japanese knotweed and poison ivy thrived.
Too Much Experiment?
I also accept one-hundred percent of the blame for this season's poor showing of the second wave of vegetable seedlings, which included cucumber, summer squash, late cabbage, and cauliflower.
Almost forever I've used the same home made potting mix for all my seedlings, most house plants, and potted fruit plants, such as figs. It's not a secret mix, just equal parts compost, peat, garden soil, and perlite, with a cup of soybean meal per 10 gallons of mix thrown in for an organic, slow release, long lasting source of extra nitrogen.
In an effort to be environmentally sound and avoid using peat moss, which is arguably a nonrenewable resource formed in fragile ecosystems, I tried one of the substitutes, which shall remain nameless until I test it more thoroughly in different proportions within the mix. (Then again, I may never get around to that as I remember what Charles Dudley Warner wrote in his 1870 book My Summer in the Garden, "I have seen gardens which were all experiment, given over to every new thing, and which produced little or nothing to the owners, except the pleasure of expectation." At any rate, all the plants in that new mix just sat in the their containers.
My Fault, Again
The weather and I conspired for another calamity this season: the late spring frost. Usually I hew to set planting dates, honed over years of experience here at the farmden and taking into account global warming. But this past spring was warming so, so slowly and so, so steadily.
My potted figs were just right in their development — buds swelling but not yet unfurling, when I moved them outdoors in April. I also planted tomato seedlings outdoors in the middle of May, a week or two earlier than my "set" date.
Then I became a very temporary — one night — climate denier. (Actually, a weather denier.) Frost hardly below freezing was predicted. For insurance, I could have lugged my many potted figs into nearby shelter. I did throw some row cover over the tomatoes. I figured it would get chilly but not THAT cold.
I was wrong. On May 18th, the mercury dropped to 27 degrees Fahrenheit. Fig branches died back some which, along with the bad potting soil, prevented them from bearing this season. Tomatoes froze almost to the ground, so needed replanting. Fortunately, I had extra seedlings, enough to replant all the frozen ones.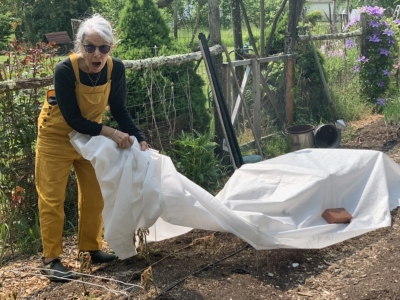 Live and learn. Next year will be better, perhaps the best garden ever.
https://leereich.com/wp-content/uploads/2023/09/Uncovering-frosted-tomatoes.jpg
1799
2400
Lee Reich
https://leereich.com/wp-content/uploads/2022/12/header-home-link-247x54-2.png
Lee Reich
2023-09-20 09:00:51
2023-09-20 09:00:51
RE-EVALUATION