Fear Not
I used to find orchids intimidating to grow. Their dust-sized seeds are fairly unique in not having any food reserves so — in the wild, at least — need the help of a fungus partner to get growing. And some orchids (epiphytes) spend their lives nestled in trees so need a special potting mix when grown in a pot. Orchids have above-ground structures called pseudobulbs. And many, especially those that call humid, tropical forests their homes, demand exacting environmental conditions that are very different from that found in most homes. Whew!
So I steered clear of growing any orchid for many years — until a local orchid enthusiast gave me a plant. After a couple of years, that plant, around this time of year, sent up a slender stalk which was soon punctuated with eight waxy, white flowers, each an inch across. For two months, those flowers greeted me each morning with their beauty and their delicious fragrance. Every year since, that plant has greeted me for weeks in midwinter.
Odontogl . . . a Mouthful
My orchid has no common name so needs to be referred to by its botanical mouthful, Odontoglossum pulchellum. (Even orchid names are intimidating, especially so because different genera have often been hybridized, and the resulting hybrid combines the generic names of the parents. So a hybrid with Brassavola, Laelia, and Cattleya in its parentage would have the name Brassolaeliocattleya. Now that's a mouthful!)
Name notwithstanding, my Odontoglossum pulchellum has been easy to grow and get to flower.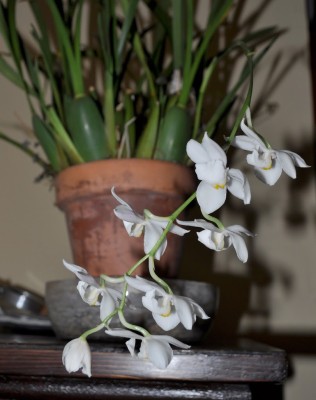 The plant spends summers outdoors in semi-shade near the north wall of my house, and winters indoors on a sunny windowsill. I water it perhaps twice a week, unless I forget.
Sounds like your run-of-the-mill houseplant, doesn't it? So much for orchids being difficult.
The only special treatment my plant gets is a special potting mix. Odontoglossum pulchellum is an epiphytic orchard. Commercial potting mixes are available for epiphytic orchards but I make my own by mixing equal parts of my standard (home made) potting mix with equal parts wood chips. Nothing special about the chips; I just scoop them up from the pile that I use mostly for mulch that an arborist kindly dumps next to my woodshed every year.
Every spring I divide my orchid plant into 2 or 3 new plants, potting each new plant into its own pot with fresh potting mix.
More Orchids?
Odontoglossum pulchellum is an orchid that tolerates being treated like your average houseplant. And this is one of the most important points in growing orchids in a house: choose a sort that thrives in such an environment. Other orchids that will grow in the average home include phalaenopsis, paphiopedilums, and mini-catts, which are dwarf hybrids involving Cattleya (the corsage orchid).
Ideally, for flowering at least, certain conditions must be met. Most orchids enjoy bright light, which means setting the plant at an east, west, or south windowsill. From spring through autumn, light from a south window is too intense and may scorch foliage, so plants need to be protected with a thin gauze curtain, or moved to other windows or semi-shade outdoors.
Most orchids — again, for flowering — enjoy a ten to fifteen degree temperature difference from day to night, which is no problem in winter if you heat with a wood stove or already turn the thermostat down at night to conserve fuel. In the summer, the plant needs to be outdoors or else in a room that is not air-conditioned.
Even those orchids adapted to a home environment benefit from increased humidity. I raise the humidity around my plants by perching the flowerpot above a water-filled tray. Clustering plants together is another way to raise the humidity near plants, and also creates a visual lushness.
Once correctly sited, many orchids do not require inordinate amounts of care. Water requirements vary, but species with thickened pseudobulbs (bulbous stems), such as my Odontoglossum, get by with the least frequent watering. Orchid roots are susceptible to fertilizer burn, so the rule in feeding is to do it frequently and lightly. As with other houseplants, some orchid species take an annual rest, and at such times watering and feeding should commensurately diminish.
Since "mastering" the growing of one orchid, I have acquired another kind.
This orchid is Dendrobium kingianum, which does go under the more user-friendly common name of pink rock orchid. I have also gotten this one to flower — but not every year.
https://leereich.com/wp-content/uploads/2022/12/header-home-link-247x54-2.png
0
0
Lee Reich
https://leereich.com/wp-content/uploads/2022/12/header-home-link-247x54-2.png
Lee Reich
2018-02-08 10:22:19
2018-02-08 10:22:19
Orchid Intimidation