Be Careful What You Say/Send/Deliver
As you look online or peruse the seed and nursery catalogues that turn up in your mailbox, take note of those flowers that you might need to grow and preserve for the purpose of delivering messages for Valentines Day next year. For this year, fresh flowers from a florist will do. The Household Guide, or Practical Helps for Every Home (including Home Remedies for Man and Beast) written by Professor B. G. Jefferis, M.D., Ph.D. in 1893 serves as my reference on the language of flowers.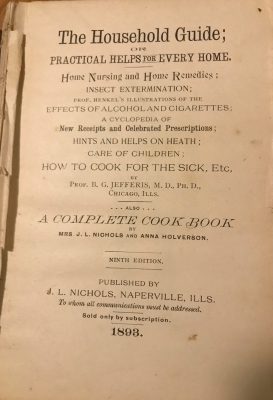 "Say it with flowers," suggests the florist of today. Before presenting flowers, make sure you know what you are saying?
Everyone knows that a rose represents an expression of romantic love. But watch out! According to my little book, you had better heed what kind of rose you pull out from behind your back to present to the one you love. In the early stages of a romance, a moss rose (Rosa centifolia mucosa) such as Alfred de Dalmas or Général Kléber in bud might be an appropriate symbolic confession of love.  Or you might use any white rose, which says something a little different: "I am worthy of you." If you feel your lover glancing astray, a yellow rose will express your jealousy. For the relationship becoming stagnant, Doctor Jefferis prescribes Madame Hardy, York and Lancaster, or some other damask rose (Rosa damascena), meaning "beauty ever new."
There is no better way to cement that budding romance than with an outstretched hand clasping a four-leaf clover, the plant that says "be mine." Even in summer, you might spend all day on hands and knees looking for a four-leaf clover, and still never find one. Much more convenient is to substitute an oxalis leaf.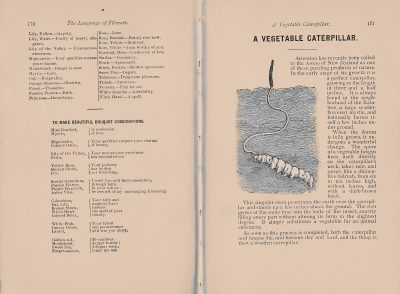 Though not related to clover, oxalis (Oxalis deppei, sometimes called the shamrock plant) leaves are dead ringers for clover leaves —  except that all oxalis leaves have four leaflets. And better still, oxalis can be grown as a houseplant, affording you "four-leaf" clovers for year-round proclamations of affection.
Later, if your amorous relationship turns sour, it is time to send (perhaps best not to hand-deliver this message) sweet-pea flowers. The message: depart. Sow sweet-pea early in the spring — April first around here, if you are in a rush for this message. And if you're really in a rush, soak the seeds for 24 hours before planting.
Sentiments represented by other flowers may or may not be obvious. Forget-me-not, as expected, means just that. You might have suspected that witch-hazel represents a spell and that dead leaves of any kind represent sadness. But did you know that pansy represents thoughts . . . red clover industry . . . ferns fascination . . . golden rod caution . . . and orange blossoms chastity? One can only imagine what "dangerous pleasures" meant in 1893, but they were represented by the fragrant tuberose.
Dr. Jefferis further instructs us that flowers can be combined for greater depth of meaning. For example, a bouquet of mignonettes and colored daisies means "your qualities surpass your charms of beauty." Yellow rose, a broken straw, and ivy together mean "your jealousy has broken our friendship." And, a white pink, canary grass, and laurel" mean that "your talent and perseverance will win you glory."
One caution when presenting flowers in person: Present them upright because an upside down presentation conveys the opposite meaning. Unless that is your intent.
https://leereich.com/wp-content/uploads/2022/12/header-home-link-247x54-2.png
0
0
Lee Reich
https://leereich.com/wp-content/uploads/2022/12/header-home-link-247x54-2.png
Lee Reich
2018-02-15 15:38:28
2018-02-15 15:40:32
Valentinic Communiqués