HOUSEPLANTS THRIVE DURING MY CUBAN GETAWAY
Water In Air, In Soil, In Reserve
My houseplants enjoyed my absence more that I expected. I thought it might be harder on them. After all, with spring in the air (indoors) for a few weeks now, they were all pushing out new shoots from the ends and along stems that had lain dormant all winter. Citrus, avocado, and amaryllis were even flowering, and rosemary was getting ready to flower.
Lack of water was going to be the threat, 5 days of it, while I was far away wandering up and down streets and in and out of alleys of Havana, Cuba.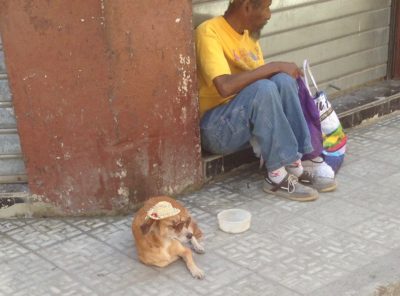 Through winter, I had eased my houseplant watering chores by using "water siphons" (aka "hydrospikes" or "self-watering probes"). These porous ceramic probes, filled with water and pushed into the potting soil, have the thin, flexible tubes coming out of their caps plunked into mason jars filled with water. I knew well just how thirsty the plants were, watching the water in the reservoirs into which the tubes that connect to the ceramic cones drop daily, in some cases a cup or more per day.
Plants cool off by letting water evaporate through little holes in their leaves, called stomates. So leaving the house thermostat set to cooler temperature was going to help slow water loss.
Evaporation is faster, whether through stomates or from the potting soil, the drier the air. Heat from radiators is less drying than that from the wood stove, our usual source of heat — also helping plants that might be pining away in my absence.
I poured water into the saucers in which each pot sits. As this water evaporates it creates a microclimate around nearby plants, a microclimate slightly more humid than that of the rest of the house, cutting down water loss from the potting soil and through the leaves. The humid microclimate was made more so by cozying plants in a cluster right up next to each other. Pebbles in the saucers bumped up this benefit by increasing the evaporative surface area.
To further help plants through their period of neglect, I filled the saucers with more water than usual, with the water level a smidgen above the bottom of the pots. As the potting mix dried, it could suck this water into the pot by capillary action. I don't usually let water sit in the saucers above the level of the bottom of any resident pot because then the bottom of the pot becomes waterlogged, eventually leading to dead roots. I figured a few days would do no harm, and surely less harm than would drying out of the whole plant.
My final ministration was to cut open a clear dry cleaner bag and drape it loosely over the clusters of plants to maintain even higher humidity.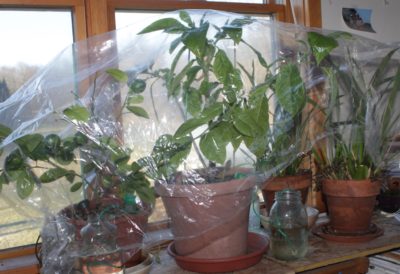 The upshot: The plants did not miss me even a little. They looked healthy and happy upon my return, perhaps even more so than with five days of constant attention!
Visitando El Jardín Botánico Nacional
One day in Cuba I ventured beyond Havana for a tour of the Jardín Botánico Nacional, or National Botanical Garden, which is adjacent to Parque Lenin (Vladimir, not John) Park. We bounced along on a tractor-pulled wagon through a landscape devoted to plants native to Cuba, then on into a savannah of plants of African origin, to groupings of plants indigenous to Latin America, and on through other tropical climates and ecosystems.
A few greenhouses there create special environments. One was a tropical rainforest greenhouse, with humidity kept high with frequent, automatic watering. A houseplant such as maranta formed an expansive groundcover there, and other familiar houseplants, such as peperomia, philodendron, begonia,, and spathiphyllum, either spread all over the ground or reached heights you would never see in a house.
A dry greenhouse, the covering, this time, to shed rainfall, was home to succulents and cactii. One cactus that caught my attention, especially so with Cuba's connection to the Soviet Union, was the "Russian soldier cactus." The upper portion of this upright cactus was furry and brown, just like a Russian soldier's hat. (As far as cool, common names the Cubans have for plants, another one was "tourist tree," so-named for its red, peeling bark, just like the skin of pale tourists that get too much tropical sun.)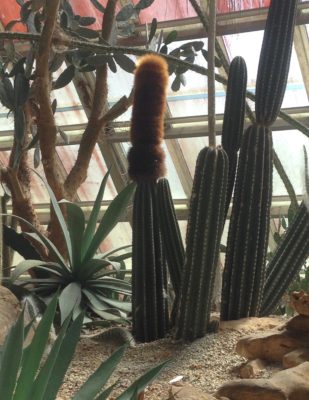 Another Orchid!?
I'm very happy with my two orchid plants — Dendrobium kingianum, the pink rock orchid, and Odontoglossum pulchellum, lily-of-the-valley orchid. Both bloom reliably once a year, in winter, for over a month. 
But one of the orchids at the Jardín Botánico Nacional caught my attention for more than its beauty. Spathoglotis plicata, sometimes called Phillipine ground orchid, blossoms all year 'round. It's a terrestrial orchid that's also easy to grow, not needing an excess of light. I'm going to get one to add to my collection.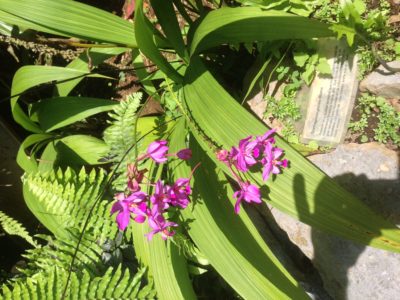 Orchids can become an obsession; I hope I'm not about to fall down a rabbit hole.
https://leereich.com/wp-content/uploads/2022/12/header-home-link-247x54-2.png
0
0
Lee Reich
https://leereich.com/wp-content/uploads/2022/12/header-home-link-247x54-2.png
Lee Reich
2017-04-19 07:42:54
2017-04-19 07:44:31
HOUSEPLANTS THRIVE DURING MY CUBAN GETAWAY