If the garden, indoors and out, has no need of my attention at any time of year, it is now. I probably shouldn't even be writing anything about gardening because pretty much nothing is going on. So I'll make this brief.
Lack of light, warmth, and/or enough cool temperatures are keeping plants quiescent or dormant. The bonsai weeping fig, the Maid of Orleans jasmine (Jasminum sambac), the rose geranium, and other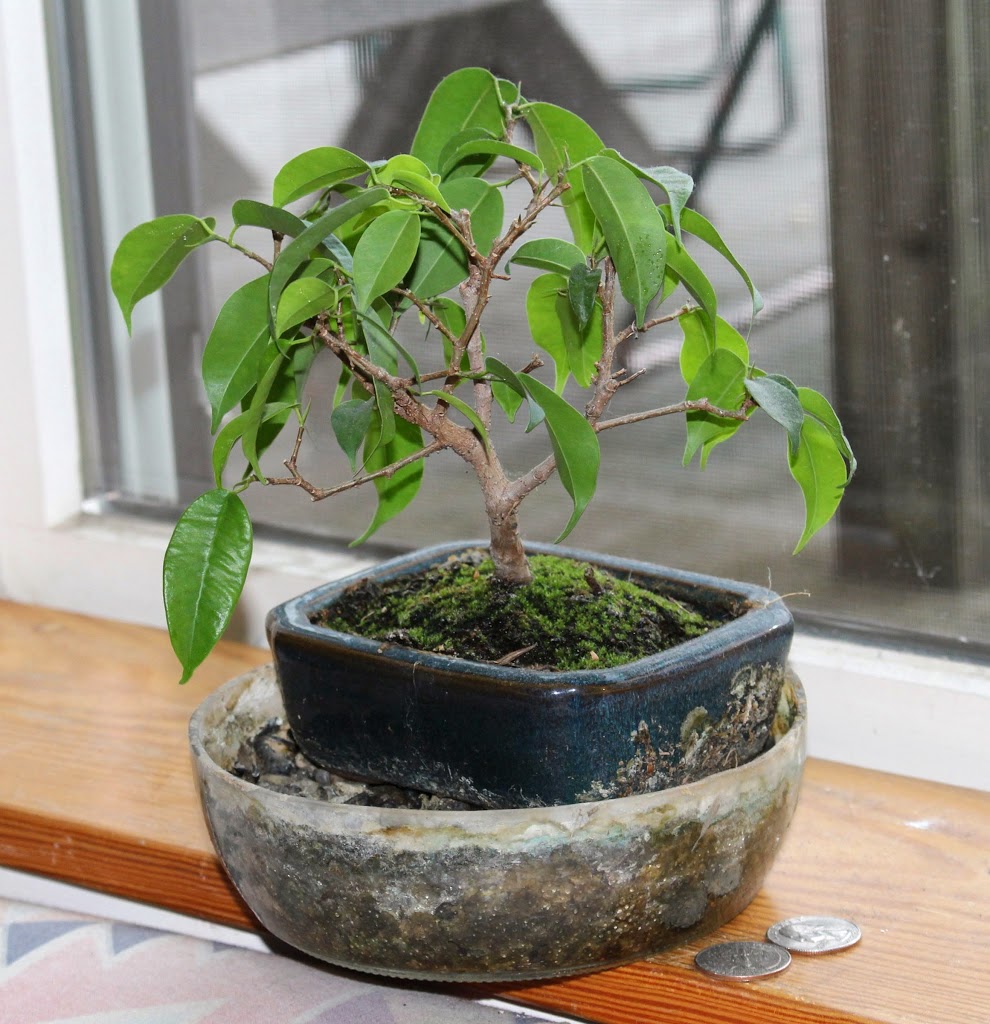 Bonsai weeping fig, biding its time, for now
houseplants aren't waiting for warmth. They're indoors. These tropical plants never experience true dormancy; they're quiescent, just sitting and waiting for better growing conditions, in this case more light.
My amaryllis bulbs aren't waiting for brighter days. They're now leafless, so can't see the light anyway. Like the above houseplants, the amaryllis bulbs are now also quiescent, in this case from lack of warmth. Yes, it's warm in my home, but not in the basement where the potted bulbs have been residing. I've brought the first pot of amaryllises upstairs where warmth — and water, the lack of which also has kept the bulbs purposely quiescent — can prod the bulb awake.
What about lack of enough cool temperatures to kickstart plants? That's the case, now, with trees and shrubs outside. These plants are dormant, held back not by lack of warmth or water but by their internal physiology that needs to be switched before they'll respond to good growing conditions.
No petals will unfold nor buds expand into young shoots until these plants are convinced that winter is over. That recognition comes after the plant experiences a period of cool — not frigid, temperatures — in the range of about 30° to 45°F. Winter's "over" for these plants after about 1,000 total hours of exposure to cool temperatures, although the amount can vary among kinds of plants, even varieties of the same kind of plant. Also, a spell of midwinter warm weather can have the effect of removing hours from the "chilling bank."
So what's a gardener to do now? Nothing.
Okay, not everything green is just biding its time. Some tropical flowers take the opportunity to blossom this time of year, even if the plants might be otherwise quiescent. Hence, we have holiday poinsettias and Christmas cactii sporting their red, pink, or white blossoms.
Not that poinsettia and Christmas cactus flowers will blossom willy nilly. As with trees and shrubs outdoors, these tropical flowers can be prodded to blossom with certain environmental conditions. They don't know from cold, except that it damages them, so what they need to flower is a change in photoperiod. For late December blossoming, poinsettia needs 6 weeks of 15-hour-long nights uninterrupted by any light at all. Even a table lamp or a flashlight.
Christmas cactus behaves similarly, with an additional wrinkle. If temperatures are cool, in the 50's, daylength (or, more properly, nightlength, because it's the length of dark period to which the plants are responding) is immaterial. Plants will flower. If temperatures are warm, in the 70's, daylength is similarly immaterial. Plants will NOT flower. With temperatures in the 60's, plants will flower only after a period of 11-hour-long nights.
After a number of years of annual bloom, my poinsettia died, last summer. I got rid of my Christmas cactus many years ago to prevent its infestation of scale insects from spreading to other houseplants. I'll eventually replace both but for now, there's still nothing for me to do, gardenwise.
One plant that responds to some environmental condition, but I'm not sure what, is my orchid, the botanical mouthful Odontoglossum pulchellum. Every winter, sometime between the end of December and
February, my potted plant sends up thin flower stalks along which sprout white flowers whose thick petals look as if they were carved from wax and from which drifts a delicate fragrance. Blooms persist relentlessly, for weeks. The plants only flower in winter, but I'm not sure what exactly brings on the flowering.
After petals finally fall, the plants can take a rest, so need very little watering. The same goes for poinsettia and Christmas cactus plants. By then, of course, it's late winter so seeds need to be sown and seedlings transplanted indoors, trees and shrubs need pruning, and there's plenty of other stuff to do, gardenwise.
https://leereich.com/wp-content/uploads/2014/01/Ficus-bonsai-in-winter.jpg
1024
990
Lee A. Reich
https://leereich.com/wp-content/uploads/2022/12/header-home-link-247x54-2.png
Lee A. Reich
2014-01-11 12:17:00
2014-07-14 15:16:26
Nothing To Do