Farmden Health Club & Basil
Rei-King, an Ancient Exercise?
Among the many benefits of gardening is the opportunity it offers for enjoyable, productive exercise in the great outdoors. And now we can add an exercise called rei-king to boot camp, pilates, zumba, kick boxing, cardiofunk, and other ways modern humans build and maintain sleek, fit bodies. Or so I told my wife, Deb.
As with some of those other exercise routines, equipment is needed, simple equipment in the case of rei-king. Basically, the equipment is a pole, perpendicular to and at the end of which is a length of wood or metal, attached in its middle to the pole. From the lower side of the length of wood or metal are teeth, each a couple of inches apart and a couple of inches long.
Now for the exercise. You lift the pole just enough to bring the head off the ground, reach forward, and pull it towards you. For balanced exercise, it's advised to occasionally switch which arm is most forward.
Resistance is the way to build up muscle and endurance. That resistance comes in the form of friction from material lying on the ground. This time of year, that material might conveniently be mown long grass or hay.
And Sie-Thing
I sometimes practice rei-king; more often I choose another exercise that complements Deb's rei-king. I practice sie-thing (pronounced "sigh-thing").
Like rei-king, sie-thing entails using one piece of equipment, a sie. The sie also has a single pole, in this case with two handles attached, one at the upper end and one about halfway down. A metal weight is attached at the bottom of the sie. The metal is a couple of feet long, curved, and sharpened on its inside edge. Muscle tone and strength is created by putting the left hand on the upper handle, the right hand on the lower handle, flexing the spine to the right and then unwinding it to the left while trailing the metal weight just above ground level.
Again, sei-thing can be made more rigorous, in this case by passing the sharp metal through tall grass or meadow plants. The taller the plants, the denser the plants, and the older plants, the more the resistance.
A side benefit of all this sie-thing is that grass or meadow plants get mown during the exercise. The fallen material drops right in place, providing an opportunity — for me or, more usually, Deb — to then practice rei-king.
By the way, either exercise is most enjoyable early in the morning. At that time, plants are turgid so the sharpened metal of the sie pops plant cells as it is drawn along. And the fallen plants, best for rei-king after lying on the ground a day or two to wilt, cling together nicely when  heavy with dew. The cool morning air is also conducive to exercise.
Basil for Winter?
Many years ago I grew the few varieties of basil that were available and then wrote about them. My conclusion, at the time, was that taste differences between the varieties were minor, so the choice of what to grow should perhaps be on the fun of saying their names, which put Genova Profumatissima, Syracusa, and Fino Verde Compatto at the top of the list. What fun to wave my arms and speak their names!
Or, a variety could be chosen for the size or color of its leaf, whether for decoration or culinary use. "Spicy Globe basil, planted close together, makes soft, green mounds resembling a miniature boxwood hedge," I wrote. Now we have yet another decorative form: Bonsai Basil.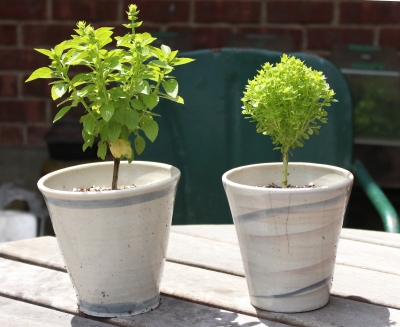 To create a bonsai basil, a variety such as Spicy Globe — perfect, with its diminutive, closely spaced leaves — is grafted onto a special rootstock. That rootstock is another variety of basil, one chosen, in perfect world, to impart to the grafted plant vigor, disease resistance, and hardiness. Periodically shearing such a plant keeps up appearances even as it provides basil for flavoring. Over time, the trunk even turn woody.
Even better, carry on the fun and the flavor through winter. Basil is perennial in the tropics but generally does not fare well in the cool, dry air, and relatively dark conditions of a northern home in winter. All of which calls out for a vigorous, disease-resistant, hardy plant. A grafted basil. Grafted basil, even more than grafted tomatoes, are very much the new kid on the (grafted) block.
A few weeks ago I was given a couple of grafted bonsai basil plants and I'm planning to grow them as perennials. It turns out that my plants are on a rootstock called Nufar which is resistant to fusarium disease. My soil doesn't harbor basil fusarium disease, so that rootstock is of no benefit in that department. Perhaps it will help get the plant through the long, dark winter indoors anyway.
New rootstocks that could impart vigor and hardiness to help get a bonsai basil through winter — indoors, of course, around here — are on the horizon.
————————————————-
Ah, fusarium. Reminds me of last week's patting myself on my back about my conquest of pea fusarium, which has plagued me for years. Well, between last week and this week, fusarium has again reared its ugly head and the vines have yellowed. I did get a decent crop, however. Looks like management rather than conquest will be the key to annual harvests of peas.
https://leereich.com/wp-content/uploads/2022/12/header-home-link-247x54-2.png
0
0
Lee Reich
https://leereich.com/wp-content/uploads/2022/12/header-home-link-247x54-2.png
Lee Reich
2014-07-25 10:30:58
2014-07-25 10:40:02
Farmden Health Club & Basil