Weeping Fig, Growth in Check
My little fig tree put on a lot of new growth this year. Let me qualify this statement. By "fig," in this case, I mean my weeping fig (Ficus benjamina). It's a relative of edible fig, also edible (but rarely eaten), and a common houseplant, valued for its relaxed appearance, its small, glossy green leaves, and its tolerance for indoor environments. By "a lot of new growth," I mean a half an inch or so.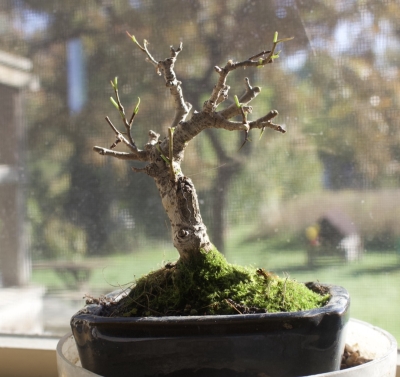 Despite that meager growth, the plant has grown too large. Nothing like it would have grown outdoors in open ground in the tropics, where this trees' branches quickly soar skyward and sideways to the size of our sugar maples. From those branches drip aerial roots which anchor themselves in the ground, the ones nearest the trunk eventually merging together to become part of a fattening trunk.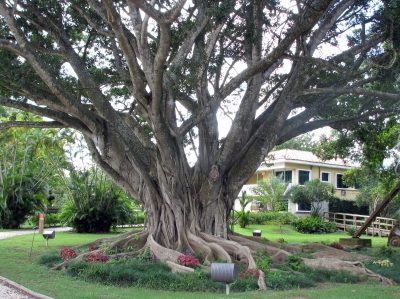 My little fig, you probably guessed by now, is a bonsai. The tree, if I may call a four-inch-high plant a "tree," began life here as one of a clump of what evidently were rooted cuttings in a small, plastic pot I purchased on impulse from a big box store. 
Back here at the farmden, I got to work on it, first teasing the plants apart from each other, selecting one as keeper. The road to bonsai-dom began as I trimmed back the roots to be able to fit the plant into its new home, a 3 by 4-1/2 inch shallow pot about an inch deep. There was little to prune aboveground, but I made any cuts necessary, with the future in mind.
https://leereich.com/wp-content/uploads/2022/12/header-home-link-247x54-2.png
0
0
Lee Reich
https://leereich.com/wp-content/uploads/2022/12/header-home-link-247x54-2.png
Lee Reich
2022-10-11 21:07:21
2023-02-20 15:14:12
MY FIG GROWS OLD, AND LOOKS IT