Another Year, Another Pruning and Re-potting
I'd like to say it was the birthday of my baby ficus except I don't know when it was actually born. And since it was propagated by a cutting, not by me, and not from a seed, I'm not sure what "born" would actually mean. No matter, I'm having its biannual celebration marking its age and its growth.
Just for reference, baby ficus is a weeping fig tree (Ficus benjamina), a tree that with age and tropical growing conditions rapidly soars to similar majestic proportions as our sugar maples. That is, if unrestrained in its development.
Baby ficus (FIGH-kus) began life here as one of three small plants rooted together in a 3 inch pot and purchased from a discount store. (Weeping figs are common houseplants because of their beauty and ability to tolerate dry air and low light indoors.) Eight years later, it's about 4 inches tall with a wizened trunk and side branches that belie its youth.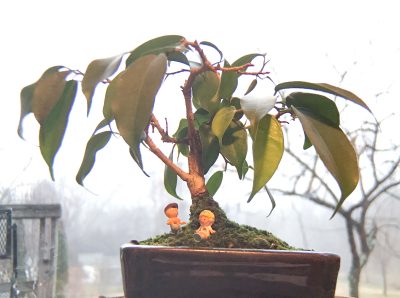 Moss carpeting the soil beneath it and creeping up the trunk complete the picture. I've made and am making baby ficus into a bonsai.
The biannual celebration begins with my clipping all the leaves from the plant. Baby ficus' diminutive proportions keep this job from being tedious.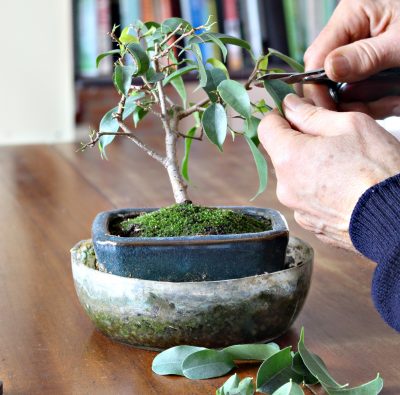 Clipping the leaves accomplishes two goals. First, plants lose water through their leaves so removing leaves reduces water loss (important in consideration of the next celebratory step).
And second, clipping the leaves reduces the size of leaves in the next flush of growth, keeping the in proportion to the size of the plant. Leaves on an unrestrained weeping fig grow anywhere from 2 to 5 inches long, which would look top heavy on a plant 4 inches tall.
The next step is to tip the plant out of its pot so I can get to work on its roots. The pot is only an inch deep and 4 inches long by 3 inches wide, so obviously can't hold much soil.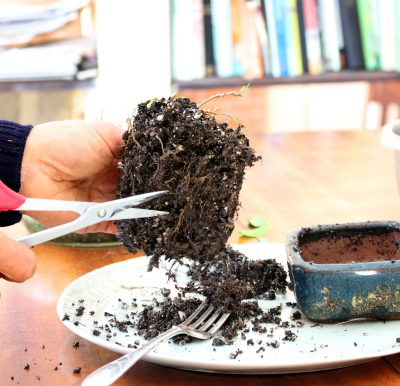 Baby ficus gets all water and its nourishment from this amount of soil. Within 6 months or so, roots thoroughly fill the pot of soil and have extracted much of the nourishment contained within.
So the roots need new soil to explore, and space has to be made for that new soil. That space is made by cutting back the roots. (Less roots means less water up into the plant, which is why I began by reducing water loss by clipping off all the leaves). I tease old soil out from between the roots and with a scissors shear some of them back.
Next, I put new potting mix into the bottom of the pot, just enough so the plant can sit at the same height as it did previously. Any space near the edges of the pot gets soil packed in place with a blunt stick. Throughout this repotting, I manage to preserve more or less intact the moss growing at the base of the plant.
Now the plant needs its stems pruned. After all, I don't want the plant growing larger each year, just more decorative as the trunk and stems thicken and age. Pruning involves some melding of art and science. As far as art, I'm aiming for the look of a mature, picturesque tree.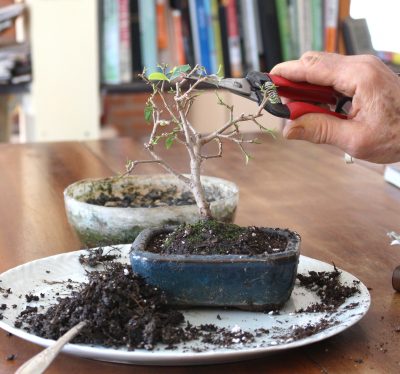 As far as science, I shorten stems where I want branching, usually just below the cut. Where I don't want branching but want to decongest stems, I remove a stem or stems right to their base. I also remove any broken, dead, or crossing branches unless, of course, leaving them would be picturesque.
Finally, a thorough watering settles the plant into its refurbished home. Until new leaves unfold and new roots begin to explore new ground, water needs for baby ficus are minimal.
Oh, one more step. I stand back and take an admiringly look at baby ficus in its eighth year.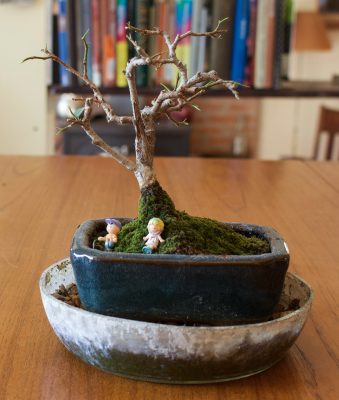 https://leereich.com/wp-content/uploads/2022/12/header-home-link-247x54-2.png
0
0
Lee Reich
https://leereich.com/wp-content/uploads/2022/12/header-home-link-247x54-2.png
Lee Reich
2018-03-01 14:46:34
2018-03-01 14:46:34
Happy Birthday Ficus