I'm getting a lot of mulchercise here at the farmden these days. It's good for me and good for the ground and, in turn, my plants.
Four piles of materials await me: a pile each of new and old wood chips, and a pile each of new and old leaves. The new pile of leaves is going to sit out this year's mulchercise sessions. After a winter of settling and some decomposition, that pile will be just right for being planted with squash and melon plants. The lanky vines can run wild over the pile through summer and then, next year at this time, I'll spread the much-reduced pile.
Last year's leaf pile, from which I harvested this year's squashes and melons, is part of my present mulchercise. The now dark brown material is getting hauled over to and spread beneath currant bushes, over the asparagus and flower beds, and on ground that will be home, next spring, to a new bed of Fallgold raspberries.
On to the wood chips . . . the old pile? That'll go beneath various trees.
It's amazing how simply spreading organic materials on top of the ground can bring so many benefits. Physically, that fluffy layer cushions the impact of raindrops so that moisture can percolate slowly into the
Me on the "abs & bicep" machine
ground rather than pound the surface, sealing it, and running off to make gullies. Mulch also insulates the ground, modulating swings in temperature to keep roots and other soil denizens happier. Next summer, the mulch will slow evaporation of water from the soil.
Biologically, mulch is food fungi, bacteria, and other soil organisms, the lion's share of which are beneficial. As the leaves and wood chips go through cycles of being digested and excreted, what's eventually left is humus, a witch's brew of beneficial, organic compounds, which, in turn, is tied to nutritional benefits to plants. During decomposition, nutrients gathered up into leaves and wood are released into the soil, for plant use. Organic acids released during decomposition further nourish plants by dissolving additional nutrients from the rock matrix in which the soil was formed. And finally, organic chelates in humus grab onto some nutrients to render them more readily accessible to roots.
I didn't forget to mention my new wood chip pile; that mulch is getting carted over to blueberry heaven, heaven for the blueberries, that is. (Also for me, during summer's harvest.)
Each autumn, right after blueberry's leaves drop, I spread 10 to 20 pounds of soybean meal over the thousand square feet of planted area, then top it with a fresh layer of wood chips (this year) or leaves or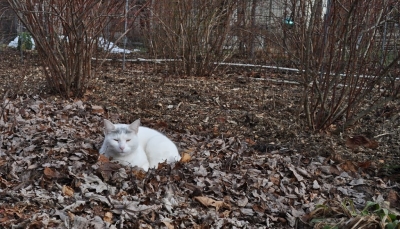 George is company, but not much help
wood shavings. Some years I also spread sulfur pellets over the ground to maintain the soil acidity that blueberry plants require. Not that often, though, because another benefit of an organic mulch is that it buffers changes in soil acidity, offering plenty of wiggle room in what range keeps the plants happy. The mulch also buries any berries infected with "mummy berry" disease, a problem I never have because the mulch layer prevents any spores that might be present from wafting upward to re-infect berries next year.
Blueberry bushes have shallow root systems, most roots descending less than a foot deep, with no root hairs. Thirty years with 2 to 3 inches of organic mulch laid atop the ground has created a soft, moist, heavenly environment for blueberry roots.
I can just picture some readers "raising their hands" to point out that adding fresh, low nitrogen, organic materials to the soil results in nitrogen starvation of the plants. This science-y, oft repeated (and printed) myth needs debunking.
Soil bacteria and fungi need to eat both nitrogen and carbon. Wood chips and leaves are high in carbon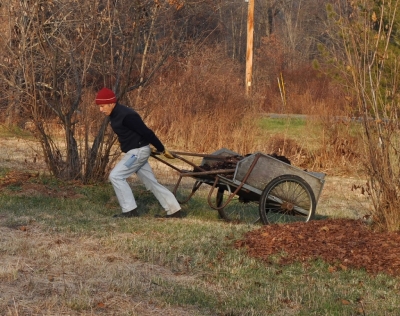 Me on the

"quads and aerobic machine"
but low in nitrogen, so these microorganisms grab at any other nitrogen in the ground to eat along with their fresh chips or leaves. Bacteria and fungi are better at garnering soil nitrogen than are plants, so plants are starved for nitrogen. Only temporarily, though, until some of the digested carbon is given off as carbon dioxide and what's left are the higher nitrogen dead remains and excreta of bacteria and fungi.
When fresh chips or leaves are used as mulch, decomposition proceeds very slowly at the interface of soil and mulch. So slowly that nitrogen is re-released into the ground at about the rate it's being tied up. Digging chips or leaves into the soil will definitely cause a temporary tie-up of nitrogen; mulching with these materials will not.
So here at the Springtown Farmden Health Spa, I am mulchercising away. I start at the "abs and bicep machine," rolling what looks like a garden cart
Me on the "rotary torso machine"
over to the mulch pile and then using what looks like a pitchfork to load leaves or chips onto the cart. Then it's on to the "quads and aerobic machine," whence I pull what looks like a cart full of leaves or chips over to some plants in need of mulch. Next, it's the "rotary torso machine," which looks like I'm scooping leaves or chips from the cart, twisting around, and then dumping it beneath a plant. Finally, back to the "abs and bicep machine," for another rep. I should be able to get a dozen or so reps in before the mulch freezes solid for the winter.
https://leereich.com/wp-content/uploads/2013/12/Mulchercise-252C-abs-and-bicep-2527.jpg
772
1024
Lee A. Reich
https://leereich.com/wp-content/uploads/2022/12/header-home-link-247x54-2.png
Lee A. Reich
2013-12-19 11:52:00
2014-07-14 15:16:29
Mulchercising with a Cat