The Eternal (Fruit) Optimist
   We fruit growers get especially excited this time of year. On the one hand, there's the anticipation of the upcoming season. And on the other hand, we don't want to rush things along at all.
    Ideally, late winter segues into the middle of spring with gradually warming days and nights. Unfortunately, here, as in most of continental U.S., temperatures fluctuate wildly this time of year. Warm weather accelerates development of flower buds and flowers. While early blossoms are a welcome sight after winter's achromatic landscapes, late frosts can snuff them out. Except for with everbearing strawberries, figs, and a couple of other fruits that bloom more than once each season, we fruit lovers get only one shot at a successful crop each season.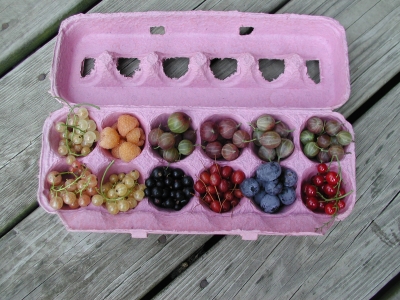 How did all these fruits ever survive in the wild? They did so by not growing here — in the wild. Apples, peaches, cherries — most of our familiar fruits — were never wild here, but come from climates with more equable temperatures, mostly eastern Europe and western Asia. We favor them because they are part of our mostly European heritage.
    The fruits that I never worry about here are the few that are native: pawpaw, persimmon, grape, mulberry, lingonberry, and blueberry, to name a few. (Also raspberry, gooseberry, and currants, cultivated varieties of which are hybrids of native and European species.) After decades of fruit growing, I've hardly missed a harvest, no matter what the weather, from any of these native fruits. (I cover native, non-native, common, and uncommon fruits in my books Uncommon Fruits for Every Garden and Grow Fruit Naturally.)
 
   Still, I can't deny the delicious flavor of apples, peaches, and other non-native fruits, especially those I grow myself. So I do grow them, do what I can for them, and hope for the best. I may even put a thin coat of white kaolin spray on these trees to reflect the sun's warmth and further delay awakening of the buds.
    Last year was a very poor year for many tree fruits, and I'm not sure why. (Recovery from the previous years cicada attacks could be part of the reason.) Nonetheless, every year about this time I'm bursting with optimism for a bountiful fruit harvest.
Veggies, As Usual, Chugging Along Nicely
    I consider vegetables relatively easy to grow because most are annuals and because, with most of them, I can sow and harvest repeatedly throughout the growing season. Let cold or some pest snuff them out, and I can just replant.
    The first of my lettuces, sown early last month in little seed trays, are up and growing strongly, each seedling transplanted into its own APS cell (available from www.gardeners.com). Ninety-six seedlings take up little more than a couple of square feet and, with capillary watering from a reservoir beneath the APS trays, I need check the water only about every week.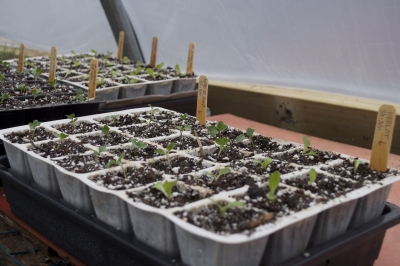 My next wave of indoor seed-sowing will take place in the middle of this month. That's when I'll sprinkle pepper, eggplant, broccoli, Brussels sprouts, kale, and cabbage seeds into the miniature furrows of miniature fields of my seed flats.
    I'll also sow another batch of lettuce seeds indoors, this batch for eventual transplanting outdoors. The first batch is soon to be transplanted into greenhouse beds.
Fig Prophylaxis
    Buds on fig trees planted in the ground in the greenhouse are showing hints of green and swelling ever so slightly in spite of the cool night temperatures in there. The scale insects that I battled last year  are undoubtedly also coming to life on those plants. In the past, I've kept these insects at bay by scrubbing the bark in winter with soapy water or by spraying it with insecticidal soap, or, during the growing season, wrapping the trunk with a sticky Tanglefoot barrier to stop travel of ants that herd the insects.
    I've never gotten rid of scale insects, only kept them from gaining the upper hand. And some years it's been a neck and neck race as to who would win out before the end of the season.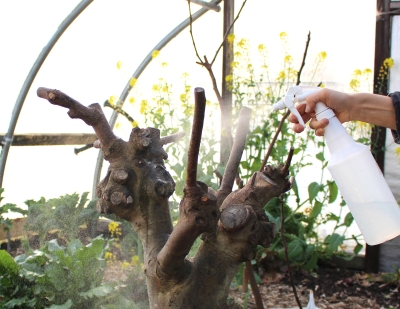 I've already begun this season with prophylactic sprays of oil. Oil has a long history of controlling insects and some diseases, with the advantage of causing little collateral damage to the environment, including beneficial insects. Because it's main effect is to clog insect breathing ports (spiracles), there's little danger of insects developing resistance.
    Oil's major hazard is its potential to injure plants, mitigated by spraying when temperatures aren't too hot or below freezing, or when rain is likely, all easily avoided in a greenhouse. Various kinds and formulations of oil — kinds include vegetable, mineral, and neem oils — differ in their hazard to plants. I'm using a high-purity mineral oil (Sunspray) from which I expect no damage, especially since the plants are still leafless.
    Scale insect eggs should be hatching about now. Brutal as it may sound, I hope to suffocate the crawlers before they settle down to one spot to cover themselves with their protective armor and literally suck the life from the plants. Weekly sprays should cover successive hatches.
New Video
Check out my new video on "pricking out" seedlings!
Free Book!
Book giveaway! Write a comment here telling us which is the most difficult fruit you grow, and why, and why you grow it, and you'll be entered in a drawing to get a free copy of my most recent book Grow Fruit Naturally. Comments must be submitted no later than noon, March 23rd.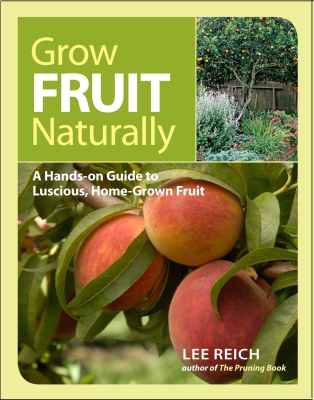 Upcoming Lectures
Check out the "Lectures" page of my website for some lectures I'll be giving in the next few weeks.
https://leereich.com/wp-content/uploads/2022/12/header-home-link-247x54-2.png
0
0
Lee Reich
https://leereich.com/wp-content/uploads/2022/12/header-home-link-247x54-2.png
Lee Reich
2015-03-13 09:49:17
2015-03-13 14:31:10
FRUIT BOOK GIVEAWAY, AND FRUIT FUTURES