Go Drip!
This summer has been one of the hottest and driest ever — and it's been one of the best ever in the vegetable garden. Baskets of red, ripe tomatoes and peppers sit on the kitchen floor awaiting metamorphosis into sauces and salsas, dehydration, or just plain being eaten.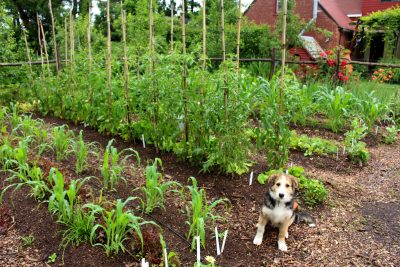 What about water? My garden plants are plump with water thanks to drip irrigation. In addition to benefits to the plant, drip is also good for the environment, typically using only about 40 percent of the amount of water used by sprinkling. That's because the more pinpointed water avoids wasting water in paths and other places it's not needed. Also because little water is lost to evaporation.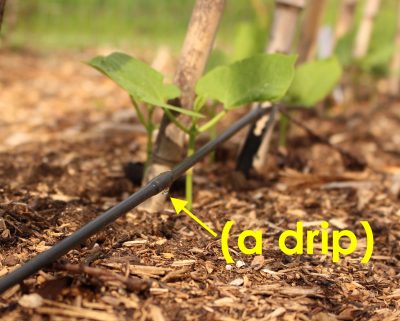 The "drip" in drip irrigation tells you that water is applied at a very slow rate, which is especially appealing to those of us whose water comes from a well. With drip, the well has plenty of time to recharge between waterings.
Drip is also better for plants. Leaves stay dry, lessening the chance for disease. And rather than flooding the ground, which a sprinkler does at each watering, drip keep soil moisture within that happy window when larger pores remain filled with air, and water is held within smaller pores so that roots can both breathe and draw in water. (This is one reason for the more efficient water use of drip irrigation.)
https://leereich.com/wp-content/uploads/2022/12/header-home-link-247x54-2.png
0
0
Lee Reich
https://leereich.com/wp-content/uploads/2022/12/header-home-link-247x54-2.png
Lee Reich
2022-09-01 08:18:19
2023-01-30 09:45:55
BEST GARDEN EVER, DROUGHT NOTWITHSTANDING