Concerned
You'd think that there'd be no reason for me to be concerned. After all, year after year I raise my own seedlings for the garden. Nonetheless, every day I take a look at the small tray of soil in which I had sowed eggplant and pepper seeds, waiting for little green sprouts to poke through the brown surface of the potting mix.
These plants are on a schedule. They get a start indoors — in a greenhouse now; under lights or in sunny windows in years past — so that they have enough time to start ripening their fruits by midsummer.
Even an early-ripening pepper wouldn't ripen its first fruits before October if seeds were sown directly in the garden once the soil had warmed enough for germination, which isn't until the end of May around here.
Ingredients for Good Transplants
Not that raising transplants for the garden is difficult. All that's needed is attention to details, the first of which is using seed that is not too old. The dry tan pepper and eggplant seeds might not look alive, but they are. And they do age. Under good storage condition — cool and dry — pepper seeds retain good viability for only a couple of years, eggplant seeds for 4 years.
Next in importance is the container and potting mix. Old yogurt containers, egg cartons — people have come up with all sorts of containers for growing transplants. They're all fine as long as they're at least an inch and a half deep and have holes in their bottoms to let excess water drain out.
Garden soil, even good garden soil, is not suitable for containers. It stays too wet, suffocating roots. So all potting mixes contain aggregates, such as sand, perlite, vermiculite, or calcined clay (a.k.a. kitty litter), which are large mineral particles that make room for air in the mix. Mixes also contain some organic material, such as compost, peat moss, or coir (made from coconut waste), to help them retain moisture.
You can purchase potting mixes made with or without real soil in them, and either sterilized or not. Sterilization kills potential pests that might lurk in the raw ingredients. Not sterilizing keeps living things, including potential enemies of any potential pests, alive in the mix. I make my own mix, usually unsterilized, from equal parts compost, garden soil, peat moss, and perlite.
With seeds sown and then covered with about a half inch of potting mix, the container is gently watered, then covered to keep in moisture.
Warmth is the next ingredient for good germination. Seeds need more warmth to sprout than than a seedling needs for good growth. In the case of pepper and eggplant seeds, between 70 and 80° F. is ideal for sprouting. The top of a refrigerator might provide a warm home for the seeds to get started, as might a shelf above a radiator. I use a soil heating mat.
The last ingredient in raising seedlings is the most difficult one for me to provide, at least with pepper and eggplant seeds. Patience. Even under good conditions, these seeds might take a week or two to sprout. All I need, then, is to be rational. I sowed the seed on March 5th; I provided good conditions. As I write this, it is March 12th. One week, a not unreasonable time for the seeds not to yet show signs of life.
Not to Worry
Growing transplants is generally easy. Although I'm a little concerned until pepper and eggplant sprouts emerge, I'm more laid back with pretty much all other seedlings. Tomatoes, for example, are among the quickest and easiest to grow, and, because of the wide choice of varieties when growing your own transplants, very satisfying.
Once the peppers and eggplants sprout, they, like other sprouts, need to be moved to where they are bathed in light. Along with light, slightly cooler temperatures from then on make for sturdy, healthy growth. And then, towards the end of May, out to the garden they go.
Update: March 17th. I was about to re-sow the pepper seeds. But first I checked the ones sowed March 5th. They sprouted!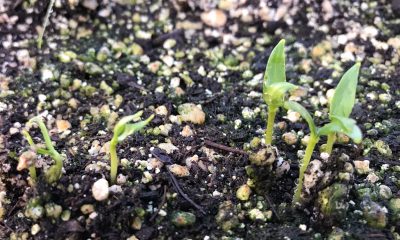 https://leereich.com/wp-content/uploads/2022/12/header-home-link-247x54-2.png
0
0
Lee Reich
https://leereich.com/wp-content/uploads/2022/12/header-home-link-247x54-2.png
Lee Reich
2018-03-28 10:17:44
2018-03-28 10:17:44
Peppers & Potting Soil