Passionflower to the Rescue
   When I began, many years ago, to heat my home with wood, I struggled to get the driest possible wood, finally building a 60-foot long woodshed beneath which a double row of logs basked in the direct hit of sunlight from the south. I more recently learned that firewood can be too dry, which is when moisture drops below 15 to 20 percent. Bone dry wood can't get enough oxygen for a clean, efficient burn, so smoke, within which is locked the potential for rendering additional heat, is produced; pump enough oxygen into the mix, though, and you get an inferno that can damage a woodstove.
    So — and here's the plant-related part — rather than tear down or put siding on my super-drying woodshed, I put some heat loving vines to climb and provide some shade on the south face. Sections of hog-fencing temporarily hung on hooks just below the roof in front of each of the 8 foot bays support the vines.
    Maypop, Passiflora incarnata, is an ideal candidate for this location. (Learn more about maypop — a whole chapter's worth! — Uncommon Fruits For Every Garden.) It's an herbaceous perennial, emerging early each June to grow vigorously into lanky vines 10 or more feet long. Maypop is a hardy species of passionflower, and a few weeks after emerging, the intricate blue or white blossoms unfold along the stems.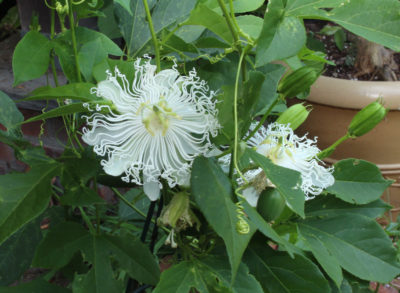 Flowers would be enough, but there's more. A few weeks later, those flowers morph into egg-shaped fruits: tropical passionfruits this far north.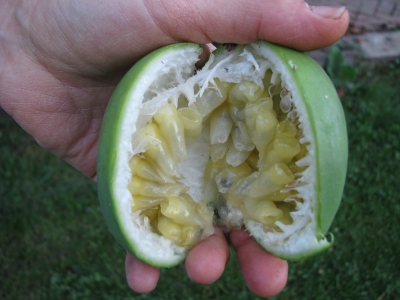 In southeastern U.S., maypop, with its spreading root system, is considered a weed. This far north, maypop will enjoy the extra heat of the microclimate at the south face of the woodshed. The woodshed itself will contain the plant in its travel northward. The lawnmower will contain the plant in is travel southward. Let it spread all it wants east and west along the base of the shed.
Morning Glory & Kin for Quicker Effect
    In spring I planted a maypop plant at the foot of four of the woodshed bays. As a perennial, maypop needs time to get established. Because I went to the trouble of hanging a trellis from each of the bays, I wanted something to clothe even this summer.
    Enter the Convolvulaceae family, which counts morning glory among its kin. Less know, but also kin and vines with pretty flowers, are cardinal vine and moonflower.  I figured that some member of this family could accompany maypop in each planting hole.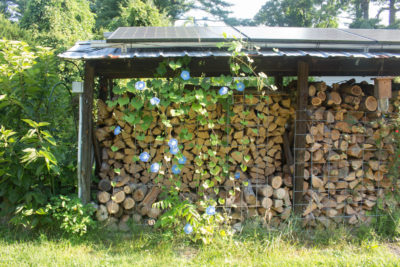 All three Convolvulaceae family members grow vigorously so could provide good coverage for the woodshed. They also integrate well with each other, design-wise. Morning glory wakes up early, its sky-blue flowers opening each morning to foreshadow the blue sky that lies ahead. (The flowers remain furled under overcast skies.) Once the sun rises high in the sky, fire-engine red flowers of cardinal flower take the torch for the remainder of the day. As night falls, moonflowers' large, white trumpets open and emit their sweet scent.
    This year, those annual vines grew so vigorously that they stunted their companion maypops. Next year will be better. Also, a couple of plants of another vine, native and somewhat decorative, have tried to get a foothold in the planting. Poison ivy, you're not welcome here.
Autumnal Readiness
    Morning glories have started lingering later into the mornings, a sign that autumn is approaching. I'm also getting signals — a softness in the air and an occasional chill, a slight chill — of autumn's approach. Those signals do not have me lingering late in the morning, though.
    The imminence of autumn has me scurrying around making sure all is copacetic in the weeks to come and on into next year. Turnips and winter radishes have been thinned. Cabbages, Chinese and European, transplants are growing well, hinting at crocks of kim-chi and sauerkraut to come. Onions have been harvested and woven into ropes for storage, now in the garage, later in the basement.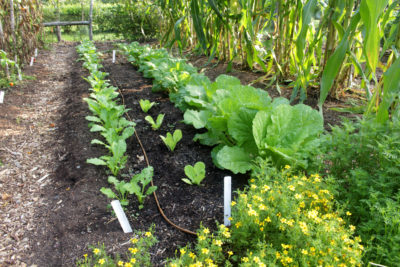 Any cleared vegetable bed is given a thorough weeding and then an icing of an inch depth of compost. That compost will snuff out small weeds attempting to sprout below. Additionally, it will feed soil microbes which will, in turn, feed plants for at least a year. I'll sow arugula, mustard greens, and "spring" radishes in the bed which I recently cleared of sweet corn, weeded, and composted.
    A couple of sites have been prepared for two new trees. "Prepared" is too fancy a word; all I did was pile mulch on the ground at both locations. The mulch will kill existing vegetation and leave soft, moist ground for easy planting in October.
    Autumn will be bountiful and next year will be a good year.
https://leereich.com/wp-content/uploads/2022/12/header-home-link-247x54-2.png
0
0
Lee Reich
https://leereich.com/wp-content/uploads/2022/12/header-home-link-247x54-2.png
Lee Reich
2016-09-07 14:13:35
2016-09-07 14:13:35
DRY WOOD, & AUTUMNAL AIR