It Mite be a Pest
    Mites! Eek! A new pest in town (for me). Actually, the mites, which showed up on some newly rooted Meyer lemon cuttings, don't really scare me, nothing like the scale insects that regularly turn up on some of my citrus. Chigger mites, scabies mites, dust mites, itch mites — they're not pests of plants, and they WOULD scare me.
    The cuttings were well rooted and just sitting still, basking in a south-facing window, waiting for longer days and warmer temperatures before they can come alive. (They pick up an attenuated version of seasonal temperature changes at that window.) A few weeks ago I noticed a yellow stippling developing on the green leaves.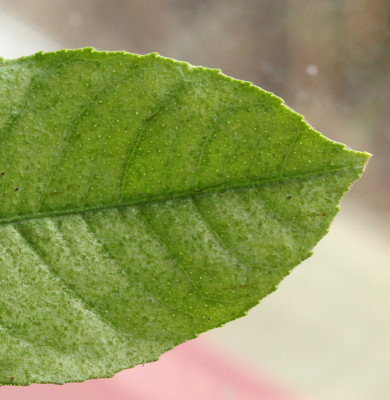 No panic; the plan was to wait a few weeks and see if the stippling disappears or if new growth, unstippled, develops. Citrus sometimes develop iron deficiency, which also yellows leaves, in cold soils, not because the soil lacks sufficient iron but because the roots aren't at the top of their game in cold soil.
    A closer look a few days ago revealed, to the naked eye, very small black specks on the leaves. An even closer look, with a hand-held lens, revealed tiny mites crawling around on the leaves.
    Mites are mostly problems in dry, dusty conditions, not atypical for a house heated in winter and the usual for summer in Mediterranean climates such as California. One simple cure is to make conditions less dry and dusty. Climate change within the whole house would be impractical. Instead, I started giving the plants a daily spritzing with water.
 
   More potent sprays may be needed; fortunately they need not be toxic to humans. "Horticultural oil" sprays are effective as are sprays of insecticidal soap. Problem is that these sprays are inconvenient to use indoors, where excess spray would end up on windows, furniture, and floors. Sprays need to be repeated weekly to kill mites that hatched from eggs (which are spray resistant) since the last spray.
    Because the Meyer lemon cuttings are still small with very few leaves, I chose to go at them mano a mano, merely rubbing my fingers across each leaf to crush the buggers (technically arachnoids, like spiders, not bugs). As with the oil or soap sprays, mano a mano combat must be repeated to crush newly hatched mites. But it's quick and satisfying.
    Mites do have many natural predators, among them other kinds of mites. Just like Jonathon Swift's flea that "Hath smaller fleas that on him prey; And these have smaller still to bite 'em; And so proceed ad infinitum."
Low-Tech Auto Water
    Every couple of days I have to think of all the plants in the house (they're not all "houseplants") that need water, including the mite-infested Meyer lemon cuttings. Two devices or setups keep me sane and my plants healthy in the face of all this watering.
    Larger, potted plants — those in pots over about 4 inches in diameter — are serviced by "water siphons" (aka "hydrospikes", "self-watering probes"). A porous ceramic probe, previously soaked in water, filled with water, then capped, is pushed into the potting soil. The far end of the long, thin, flexible tube that comes out of the cap is plunked into a reservoir of water. I use mason jars as reservoirs and pre-fill the tube with water so that the water column is continuous from the ceramic probe to the reservoir.
    Voila! As the potting soil dries out, it sucks water from the ceramic probe which sucks water along the tube from the reservoir. Larger pots need more than one ceramic probe.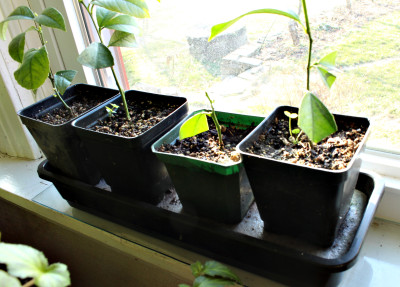 For smaller pots, I use capillary mats, which are nothing more than water-absorbing mats (available from www.gardeners.com) on which sit the pots. The mat is laid on a stand that sits above a similarly shaped, one-inch-deep tray, with one end of the mat dipping down into the tray. The mat absorbs water from the reservoir and the potting soil in the pots, as they dry, absorb water from the mat.
    It's important to maintain good capillary contact between the potting soil and the mat. This means no coarse drainage material in the bottom of the pots (a silly, counterproductive idea anyway), and no "feet" elevating the bottom of the pot.
    Not having to frequently water makes it all too easy to forget about watering. I already lost one old rosemary plant this winter. Hydrospikes and capillary mats don't work — duh! — unless their reservoirs have water in them.
https://leereich.com/wp-content/uploads/2022/12/header-home-link-247x54-2.png
0
0
Lee Reich
https://leereich.com/wp-content/uploads/2022/12/header-home-link-247x54-2.png
Lee Reich
2016-02-10 20:24:37
2016-02-10 20:24:37
OF MITES & MOISTURE