More Brussels Sprouts, Cabbages, & Pears with Hormones
It's time to get the hormones pumping. No, not by me embarking on some testosterone-fueled, garden-related feat of strength or endurance. Not even my own hormones, but the ones in my plants, more specifically my brussels sprouts plants. And actually, quashing the action of one hormone so that other hormones can come to the fore.
Let me explain: Brussels sprouts are not only a member of the cabbage family but are the same genus and species as cabbage, as are broccoli, cauliflower, kohlrabi, and kale. Differences in these plants lie in the way growth of the stems and leaves are expressed. Cabbage has a single stem that's been telescoped down to very short internodes, resulting in a tight head of overlapping leaves. With kale, internodes along the stem are further apart, allowing each leaf to unfold fully on its own. They also look different from those of cabbage.
In every plant, a shoot bud develops in the upper part of the crotch where a leaf joins a stem. Most brussels sprouts buds each start to develop enough to form a small, cabbage like head. But I — and probably you also — want large brussels sprouts sprouts (and more of them, so I also want tall brussels sprouts plants on which to attach the sprouts).
The sprouts are retarded somewhat in their development by a hormone called auxin. Auxin is one of many plant hormones coursing about within leaves, fruits, shoots, and roots, their effect dependent on such variables as plant part, plant age, and what other hormones they are reacting with. One place of auxin synthesis is in the tips of stems, and their effect is to suppress growth of buds down along the stem, with more suppression the closer a bud is to the tip of the stem. I just looked at my brussels sprouts plants; yes, the largest sprouts are those nearest ground level. It's still too early to harvest and too many of the upper sprouts, at present, are too small to be worth picking.
Suppressing auxin production in the tip of the stem releases their hold on the buds — that is, the sprouts — along the stem, so they can grow larger. Suppressing auxin production is simple, requiring only two fingers: Just snap off the tip of the stem. No tip, no auxin production, for a while, at least. The time to do this "operation" is the beginning of September. Done too soon, and a developing sprout might grow so bold as to grow out into, at worst, shoots or, less worse, loose heads. Plus, earlier in the season, I want to keep the stem elongating to provide real estate along which to hang more sprouts.
A Three-Headed Cabbage!
As I wrote, every plant develops buds in its leaf axils, and in every plant growth of those buds is mediated, in part, by auxin. Harvest the main head of broccoli and side shoots start to grow for eventual harvest.
Even tight heads of cabbage have those buds and they also respond to auxin's influence. I used to plant cabbage in the spring for harvest in summer. Rather than pulling out the spent cabbage plants, as is usually done, I would leave the cut stump with a few bottom leaves for nourishment. Harvesting the cabbage dramatically removes the tip of the stem, which was buried within the head.
Within a couple of weeks, new sprouts would develop in the crotches where leaves were or had been. In the ideal world, I'd get one to three new cabbage heads from each plant, ready for autumn harvest. A certain amount of art was needed to get it right. Depending on growing conditions and the number of new heads I allowed to develop, they might end up too small or too loose-leaved.
I've abandoned that chancy cabbage habit and now do a second sowing of cabbage in early June for a reliable autumn harvest of firm heads.
Pears — More, Please
I fiddled around with hormones earlier this season also, with longer term goals in mind. Auxin keeps the tip of a stem or the upper portions of a plant growing most vigorously. Vigorous growth, though, is at odds with making fruit. After all, both require a lot of a plant's energy, so the plant has to partition the energy efficiently between growing and fruiting.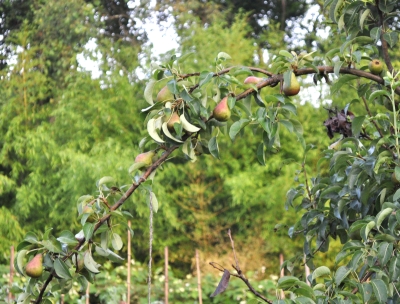 Pear trees are famous for growing vigorous shoots skyward. Yes, shoot growth is needed on which to hang fruit and for adequate leaves for photosynthesis. But enough is enough. Rather than pinch out shoot tips, which would likely just pass on the vigor to nearby lower buds, I bent ranches down and held them there with string. Changing stem orientation from vertical to at or near horizontal quells auxin production, slows growth, and promotes the formation of fruit buds along the stem. (Fruit buds form the year before flowers open.)
Fruits now dangle from some of the stems that I pulled down a year ago last spring. The response can take more than a year as energy reserves are redistributed within the stem. Response also depends on a tree's inherent vigor, growing conditions for the season, the pear variety, the degree of stem bending, and other knowns and unknowns. It's takes a mix of science, art, and experience, and that's what makes gardening so interesting for me. 
https://leereich.com/wp-content/uploads/2022/12/header-home-link-247x54-2.png
0
0
Lee Reich
https://leereich.com/wp-content/uploads/2022/12/header-home-link-247x54-2.png
Lee Reich
2014-09-12 10:26:04
2014-09-12 10:26:04
Hormones Get Pumping