A BOUNTIFUL SEASON AND "DELIGHT"-FUL VINDICATION
My Green Thumb, or Not?
I wish I could say that my ever-greener thumb is responsible for the baskets overflowing with tomatoes and ripe red peppers in the kitchen, and strings of fat, sweet onions hanging from garage rafters.  Ripe figs hang lax from branches, a drop of honeydew in each of their "eyes" telling me they want picking. The season has been bountiful. 
I can't recall anything special that I did this season that would have boosted the harvest of so many different fruits and vegetables. The soil, as usual, got lathered with an inch deep layer of compost. Transplants and seeds got started with hand watering, then drip irrigation automatically quenched plants' thirst from then on. I kept my usual eye out for insect or disease pests.
Further deflating my own gardening prowess is the fact that a lot of you readers also have experienced a season of bumper crops, right? (Not to wish ill upon your garden, but please tell me "no.")
So let's credit this season's abundance on the weather. Rainfall was regular and sufficient up until August. Those periods of rain punctuated longer periods of intense sunlight in which plants no doubt reveled.
Temperatures also get credit. Very hot weather interfered with corn and pepper pollination last year; not so this year. Temperatures were neither too hot nor too cool all season long. Okra was the only vegetable complaining this year. Torrid weather is needed to keep those pods coming on. This summer, pods appeared on okra plants whenever the mercury soared, then the plants just sat, doing nothing, waiting out periods of cooler temperatures.
Good Show, Mustard
It's time to render praise to a vegetable that has tasted and looked fresh and good all season long, every season, irrespective of the weather. That vegetable is mizuna, sometimes known as mustard cabbage or kaai ts'oi, or botanically as Brassica juncea or Brassica rapa nipponosica.
I sowed mizuna seeds along with lettuce and arugula seeds in the garden in April in a bed slated for corn planting later in June. Mizuna, lettuce, and arugula all provide greenery for early salads, enjoy cool spring weather, and are in and out of the garden quickly enough to be out of the way for a later crop such as corn. I pulled out these plants just before sowing corn — most of them. Arugula was anyway going to seed and the lettuce was soon to take a step in that direction.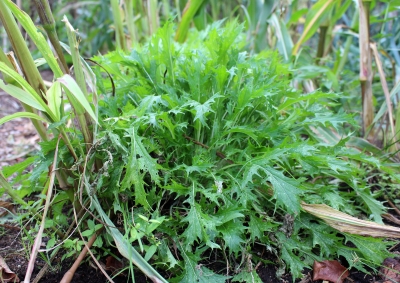 Mizuna, though, was still looking fresh and green so I left it in place.
As corn stalks reached skyward, mizuna kept its fresh appearance and tenderness of spring. That corn bed is now ready for harvest and mizuna is still tender and tasty. Most kinds of mustard greens would have tough leaves and have gone to seed months ago. After the ears of corn are harvested, my plan is to dig out the corn plants, carry them off to the compost, and leave mizuna to carry on until really frigid weather turns its leaves to mush.
Mizuna flavor is mustardy, but only mildly so. Taste it and it seems to ooze vitamins and minerals, borne out by analyses showing it to be especially rich in pro-vitamin A and calcium.
Gardener's Delight Unraveled
Did this season's weather make for better-tasting tomatoes? Perhaps. Perhaps not. The main influences on tomato flavor are the amount of sunlight, the amount of water plants take up, probably plant nutrition, especially with respect to potassium and phosphorus, and — most importantly — the variety.
I'm happy with the taste of this season's tomatoes but was eagerly awaiting ripening of the variety Gardener's Delight. I grew Gardener's Delight about 40 years ago and thought it was the best-tasting cherry tomato in the world. After not growing it for decades (other varieties got my attention), I grew it again last year, only to be disappointed in the flavor. That led me to wonder whether the apparent change in flavor was due to Fedco Seeds, the company from which I purchased the seeds, getting sloppy with their seed-saving, differing growing conditions (Wisconsin vs. New York), or whether I had become more discriminating in tasting my tomatoes.
As a test, this year I planted seeds of Gardener's Delight from three sources: Fedco Seeds (www.fedcoseeds.com), Botanical Interests (www.botanicalinterests.com), a
nd Thompson & Morgan (www.thompson-morgan.com). The latter is a British seed company, the source  of the seeds I planted 40 years ago. Last week, to a drum roll (in my head), I tasted Gardener's Delight tomatoes from each of the three sources. They all tasted the same — and not very good. Fedco Seeds was exonerated.
Ruling out growing conditions since all my other tomato varieties taste as good as in seasons past, the verdict lies in my taste buds. Not that my taste buds themselves have become more discriminating. Instead, cherry tomato varieties have greatly improve over the past 40 years.
More specifically, the variety Sun Gold came on the scene more than 20 years ago (also introduced by Thompson & Morgan and now widely available). I think I speak for everyone in stating that Sun Gold is the best tasting cherry tomato ever. Gardener's Delight may have been good in its day but it has been easily eclipsed by Sun Gold.
Whether the growing season is cloudy or sunny, or warm or cool (within reason), Sun Gold always offers a bounty of persimmon orange, delectable, sweet-tart tomatoes with bold flavor.
https://leereich.com/wp-content/uploads/2022/12/header-home-link-247x54-2.png
0
0
Lee Reich
https://leereich.com/wp-content/uploads/2022/12/header-home-link-247x54-2.png
Lee Reich
2014-09-26 16:20:41
2014-09-26 16:20:41
A BOUNTIFUL SEASON AND "DELIGHT"-FUL VINDICATION