Ode to Sungold
As the curtain closes on the summer garden and the autumn garden edges towards its glory, I'd like to offer thanks. No, not a religious thanks for a summer of tomatoes, peppers, cucumbers, okra, and other warm weather vegetables. But thanks to a person, the person who bred Sungold cherry tomato.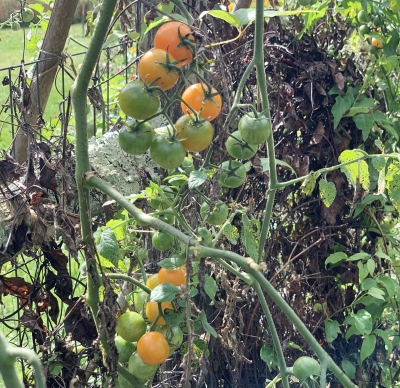 Anyone not familiar with Sungold tomato should be. It's sweet and tangy, not at all cloying, enveloped in persimmon-orange skin. I once grew over 20 varieties of cherry tomatoes (Solanum lycopersicum var. cerasiforme), including Sungold, for a magazine article. As a friend walked down the row, sampling fruit from each plant, she proclaimed, "That's one row of lousy tomatoes."
Agreed, excepting a few varieties, one of which was, of course, Sungold. The other exceptions were Gardener's Delight, Sweet Million, and Suncherry, all three of which are rarely seen these days, probably because Sungold eclipsed the others with its distinctive appearance and, I think, even better flavor.
(My cherry tomato row didn't include marble-size, so-called currant tomatoes, botanically, S. pimpinellifolium. They are very sweet, very small, and very tasty. I don't grow them anymore because, for me, they're too messy, dropping fruits all over the place. The following year, seedlings can grow to become a tomato jungle.)
https://leereich.com/wp-content/uploads/2022/12/header-home-link-247x54-2.png
0
0
Lee Reich
https://leereich.com/wp-content/uploads/2022/12/header-home-link-247x54-2.png
Lee Reich
2022-09-28 15:52:10
2023-01-30 09:38:25
TOMATOES & CORN, TWO ALL-AMERICANS