Brown Rot Strikes Again
   The plan was for me to be now sinking my teeth into the soft, juicy, rich flesh of my Oullins golden gage plums. The tenuous start this past spring, with a freak late freeze that sent temperatures plummeting into the low teens, had me worried. The trees shook off the cold and, when warmer weather returned, burst into snowballs of white blossoms. Tiny fruitlets that followed those blossoms have swelled to the bountiful crop now dangling from the branches.
    The plan has been foiled — by brown rot disease. Almost every plum, just as its skin starts to shade towards ripeness, becomes spotted with fuzzy, gray droplets that, with good weather (good for the fungus, that is), soon covers the fruit.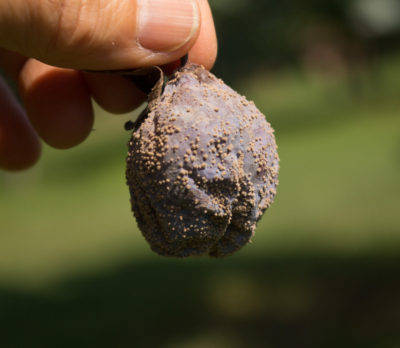 Brown rot was not unexpected, and a counterattack was planned. All through spring, before blossoms even unfolded, I doused the plant with insecticide and fungicide sprays. Insecticides help control brown rot by preventing insects, most notably plum curculios, from laying eggs in the developing fruitlets. Even if the egg-laying itself doesn't cause the fruit to drop, holes left behind provide easy entrance for the brown rot fungus.
    Perhaps I was too lenient, using relatively benign (to us humans, that is), organically approved sprays. 'Surround', a commercial formulation of kaolin clay for the insects. And sulfur, a naturally occurring mineral, for the brown rot fungus.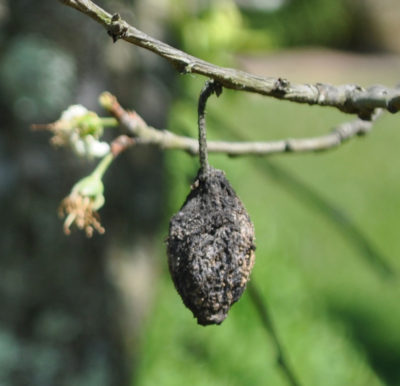 That's not all. Gathering up infected fruits cuts back the number of new disease spores that waft among the branches looking for new fruits to infect. In fall and winter, those infected fruits are easily recognized as blackened, dry "mummies." They lose their dryness and come to life, fungal life, with spring's warmth and moisture. I'll gather them up also. I'm hoping my ducks develop a taste for the fresh, dropped, rotten fruit; so far, they seem to be picky eaters.
    My late winter pruning of the trees should also have helped reduce brown rot disease. Removing enough stems and limbs to allow those that remain to bathe in light and breezes allows for quicker drying from dew or rain.
The Disease Triangle
    Three conditions must be satisfied for any disease, whether in animals or plants, to take hold: inoculum must be present, the host must be susceptible, and the conditions must be suitable for disease development. Check, check, check for my Oulin plum (a susceptible host plant) getting brown rot here in the Hudson Valley, throughout most of the humid eastern U.S., in fact. We have plenty of wild and cultivated plums and related plants here to provide brown rot inoculum from infected fruits, and the weather is usually just about perfect (for the disease, that is).
    But Oullin isn't the only great-tasting plum. How about a less susceptible host variety? Fungi are picky eaters, and varieties of plants vary in their susceptibility to specific diseases.(Unfortunately, most gage-type plums, which are heart-shaped, with greenish flesh, are very susceptible to brown rot.)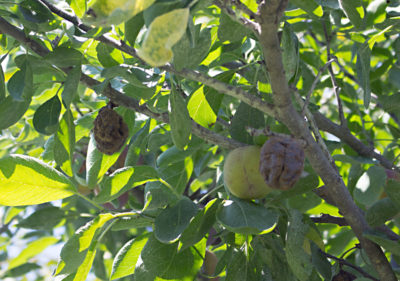 My plum trees are grafted to multiple varieties. The variety Shiro also finds a home on the tree grafted to Oullin. This year, and in years past, Shiro seems to be somewhat resistant to this disease. And I see that Cummins Nursery has a variety called Jam Session that also is resistant. This past spring I also planted the varieties Alderman and Superior, which are American hybrids with some alleged resistance.
    As consolation, plums are, at least, less susceptible to this scourge than are peaches and apricots.
Flowers to the Rescue?
    I'm planning and planting for flowers for next season and for years to come, with perennials.
    I could, of course, just purchase some potted plants to plug into the ground now or next spring. I could buy seeds and sow them next spring. Instead of those two options, I'm sowing seeds now, a time when, admittedly, there's not that frenzied urge to plant seeds as in spring.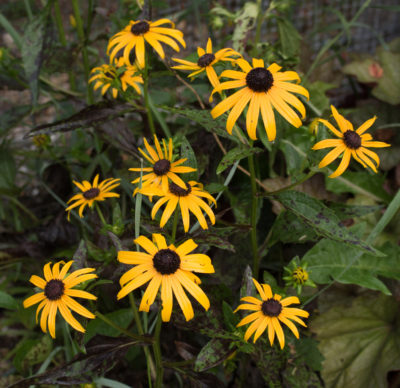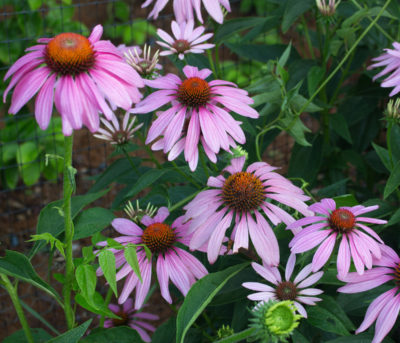 One packet of seeds can — should — result in oodles of plants, plenty to plant and to give away. Sown now, the seeds should grow into plants that will be large enough to weather autumn, then winter's, cold. Plants should also be large enough to flower next year. Their experience of cold, known as vernalization, will further coax them on to flower. Spring sown perennial flower seeds often don't flower their first season, no matter what their size, because they have yet to be vernalized.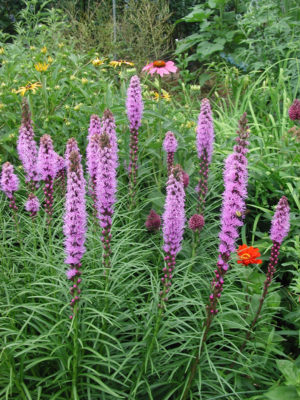 I'm sowing purple coneflower (Echinacea), black-eyed-susan (Rudbeckia), and blazing star (Liatris). They're all in the daisy family, a family known not only for its good looks but also for providing nectar to attract and help support beneficial insects. If I plant enough, perhaps the increased number of beneficial insects will significantly decrease the number of plum curculios and other plum fruit insects resulting in, because of less insect scarring of fruit, significantly less brown rot of my plums.
    It's a stretch but the flowers, anyway, are very pretty.
https://leereich.com/wp-content/uploads/2022/12/header-home-link-247x54-2.png
0
0
Lee Reich
https://leereich.com/wp-content/uploads/2022/12/header-home-link-247x54-2.png
Lee Reich
2016-08-11 12:03:54
2016-08-11 12:03:54
ROT AND FLOWERS