An Onion Relative and a Cabbage Relative
Wild Leeks, Cultivated
I got pretty excited seeing rows of scrappy, green leaves emerging from the ground between a couple of my pawpaw trees. The leaves were those of ramps (Allium tricoccum, also commonly known as wild leeks) that I had first planted there two years ago, with an additional planting last year.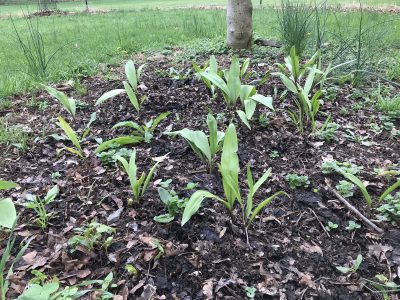 There's no reason that ramps shouldn't thrive here on the farmden; they're native from Canada down to North Carolina and from the east coast as far west as Missouri. They've been best known in the southern Appalachian region, where festivals have long been held to celebrate the harvest.
Ramps became more widely known in the 1990s when, with the publication of a ramp recipe in Martha Stewart Living Magazine, the wilding became a foodie-food. Ramps are now threatened with being over harvested. Which, along with a desire to have this fresh-picked delicacy near the kitchen door, is the reason I planted them.
Large patches of ground in a forest preserve in New Jersey near to where a friend lives are blanketed each April with ramp greenery. We had dug up a few — very few — of the ramps, leaves and bulbs, which I transplanted here. Our harvest was not a threat to the ramp population. No one else has ever been seen harvesting there, and we dug up less than 1% of what was there. Research has shown that harvests are sustainable if no more than a different 5-10% of a planting are harvested yearly.
In the wild, ramps thrive in damp soil rich in organic matter in the shade of deciduous trees. My pawpaws provide the deciduous shade. The ground beneath those trees has been enriched each year for 20 years with a thick mulch of autumn leaves. To give the ground a further boost as far as organic matter and nutrients, I lay down a couple of inch thick blanket of compost over the bed last summer.
Over time, the bulbs should multiply and the plants further spread by self-seeding. I plan to harvest some seeds when they ripen in late summer to grow the seedlings under more controlled conditions.
The seeds have a double dormancy so they often don't sprout until the second spring after ripening. The root dormancy, the result of immature embryos, is overcome with warmth and moisture. A warm autumn might be sufficient; if not, the next growing season. I plan to hurry the process along by potting up the seeds and keeping them warm (about 70°F) and moist for a couple of months. Then I'll whisk the pot into the refrigerator to overcome the shoot dormancy, which requires a couple of months of cool, moist conditions, to jolt them awake. (More about natural blocks to seed germination in my new book The Ever Curious Gardener: Using a Little Natural Science for a Lot Better Garden.) The seedlings, as might be expected given their natural habitat, grow best with some shade — 30% shade to be exact, according to research.
Ramps are among the few perennial vegetables I grow. They are spring ephemerals, so in just a few weeks, their leaves will dissolve into the ground as the plants go dormant, to return again each spring for my dining pleasure.
A Different "Kale"
Seakale (Crambe maritima) is yet another perennial vegetable that I grow. It's a cabbage relative that just now is sending up sprouts from its thickened roots. As soon as I noticed the sprouts, I covered the plants with an overturned, clay flowerpot, covering the drainage hole with a saucer to prevent light from reaching the plant.
Seakale tastes best blanched, that is, with its shoots grown in darkness. Under such conditions, leaves stretch out and grow pale and tender. In light, the taste of the leaves is too sharp. Or so I've read: Although I've grown seakale for many years, I wanted the roots to build up enough energy reserves to fuel new growth in the dark. This year, I will taste seakale.
Seakale will continue to earn a place in my garden even if its flavor falls flat (or sharp) because it's a beautiful plant. Once released from the dark, new leaves emerge silvery green, large, and wavy. And then, later on in summer, foaming sprays of small white flowers emerge from within the whorl of leaves.
Expect a report on my take of seakale flavor in a couple of weeks, which is the time required for blanching. Like other perennial vegetables, once the harvest period ends, plants need to grow unfettered for the rest of summer to replenish the stored energy they spent fueling spring growth. 
https://leereich.com/wp-content/uploads/2022/12/header-home-link-247x54-2.png
0
0
Lee Reich
https://leereich.com/wp-content/uploads/2022/12/header-home-link-247x54-2.png
Lee Reich
2018-05-16 16:16:13
2018-05-16 16:16:13
An Onion Relative and a Cabbage Relative