Imperfect Lawn
I'm no devotee of the perfect lawn, but I did recently suggest, for the bare palette of ground on which W wanted to plan for a variety of fruits, a patch of lawn. W protested that she hated mowing and wanted a "permaculture planting" that would take little care.
Visitors to my garden have occasionally complimented me on my lawn. The only care I give it is mowing with a mulching mower that lets clippings rain back down. By not cutting the lawn I avoid "mining" the soil for nutrients by repeated harvest of clippings. The clippings also enrich the ground with humus.
Still, I'd rather grow trees, shrubs, vines, especially fruiting ones, and vegetables and flowers, than lawngrass. But I have plenty of ground devoted to these plants. And the easiest way to care for a plot of ground, short of sealing it in asphalt or just letting weeds grow (some of which would undoubtedly be edible or attractive) is by mowing. Visually, lawngrass also provide a calm backdrop for the scene out my back and front door. Plus, it's nice to walk and play on.
A lawn need not be the environmental disaster inadvertently promoted by purveyors of fertilizers, and pesticides. As stated above, by letting clippings fall where they may, ground is not drained of its fertility, so fertilizer may not be needed. Especially if you let a little clover invade the lawn to add nitrogen, the most evanescent of plant nutrients.
That nitrogen highlights another approach to an easier lawn: Not striving for the uniform look of artificial turf. My lawn has its share of dandelions and clover and, later in the season, crabgrass, especially if the weather turns dry. I tolerate all this, with a refocussing of my aesthetic lens to celebrate a certain amount of diversity in the lawn.
Lawn care is even more environmentally sound these days with cordless electric lawnmowers not spewing noise, carbon dioxide, and other byproducts of gasoline consumption into the air. Periodic scything is a very pleasant way to get by with less mowing and sheep may be a way to get by with no mowing (but you do have to fence and do whatever else is necessary to care for the sheep).
Fruits To (And Not To) Grow
Now for W's permaculture fruit trees, shrubs, and vines — with some lawn, of course. (I think I convinced her.) For starters, I suggested steering clear of apples, peaches, plums, cherries, nectarines, and apricots. All are relatively high maintenance and, even with all that maintenance, still are iffy crops in this part of the world because of our extreme and variable climate and the plants' susceptibilities to insects and diseases.
So what's there left to grow??!! Berries, for one. Most berries don't stand up well to commercial handling so are picked underripe even though they don't ripen at all once harvested — all the more reason to grow berries in the backyard where the best tasting varieties can be planted and the harvest need not be shipped much further than arms' length.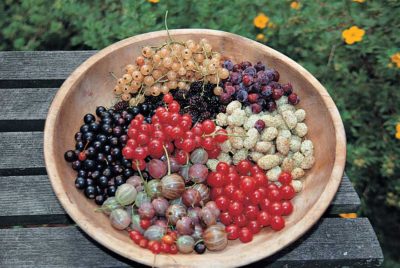 Raspberries, blackberries, blueberries, and strawberries are all easy to grow without much care beyond pruning, which is very important for keeping the plants disease free and convenient to harvest.
And no need to restrict the berry bowl to these most common berries. Also easy to grow are seaberries, elderberries, lingonberries, mulberries, and hardy kiwifruit (which are, botanically, berries). An added plus for these latter berries, as well as the aforementioned blueberries, is that the plants are also ornamental.
There is one common tree fruit that's easy to grow: pears.  And even easier than European pears, such as Bartlett, Anjou, and Bosc, are Asian pears, such as Chojuro, Yoinashi, Hosui, and scores of other varieties. Asian pears also bear more quickly and prolifically, and are a little more decorative than the also decorative European pears.
Avoiding Nightmares
The main problem that I've seen with many permaculture plantings is that they look great on paper as well as when first planted. Mouths water at the prospects of all those ornamental, fruiting plants cozied together, fruit on creeping plants beneath trees whose branches strain downward with their weight of fruit. And perhaps a nearby grape or kiwifruit plant insinuating its berried vines in among the trees' branches.
I've seen such plans and such plantings. What a nightmare of management they are or will be, mostly because of the need for relentless, extensive, judicious pruning to keep some plants from overtaking the landscape and starving others for nutrients or light. The result is less fruit of lower quality and difficulty in finding the fruit and getting to it.
A little lawn is good to give the fruiting plants some elbow room and to make them easier to care for.
—————————————-
Don't wait for dry weather to learn about an easy and better (for you and plants) way to water. On June 24, 1-4:30 pm, I'll be holding DRIP IRRIGATION WORKSHOP at the garden of Margaret Roach in Copake Falls, NY.  Learn how to design a system, and participate in a hands-on installation. For more information and registration, www.leereich.com/workshops.
https://leereich.com/wp-content/uploads/2022/12/header-home-link-247x54-2.png
0
0
Lee Reich
https://leereich.com/wp-content/uploads/2022/12/header-home-link-247x54-2.png
Lee Reich
2017-06-07 10:40:34
2017-06-07 10:40:34
PERMACULTURAL GLITCHES