UBER ORGANIC & A BEAUTIFUL BLOSSOM
'Tis the Season
    'Tis the season to really put the "organic" in organic gardening. "Organic," as in organic materials, natural compounds composed mostly of carbon, hydrogen, and oxygen. "Organic," as in materials that are or were once living, things like compost, leaves, manure, and hay.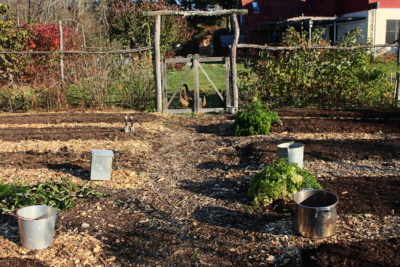 I've spread compost over almost all my vegetable garden beds. A one inch depth laid atop each bed provides all the nutrients the vegetable plants need for a whole season, in addition to other benefits such as snuffing out weeds, holding moisture, improving aeration, and nurturing beneficial, pest-fighting organisms.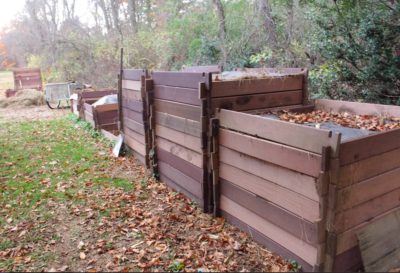 I'm also finishing up the bulk of making new compost for the year. Pretty much everything organic — old vegetable plants, kitchen trimmings, even old cotton clothing — go into the compost piles. The primary foods, though, are hay, which I scythe, rake up, and then haul over from my hayfield, and horse manure, which I pitchfork into the bed of my truck, then unload into a garden cart to haul over to the compost bins.
    Autumn leaves piled up last year have rotted down into "leaf mold," essentially the same material as compost, with the same benefits. This pile arrived as a truckload last autumn thanks to the generosity of a local landscaper. The leaf mold isn't quite as thoroughly broken down as the compost so I'm hauling that over to all my young trees and shrubs, and then spreading it beneath them.
    I'm also on the lookout for trash bags stuffed with leaves. Local leaf gatherers/baggers contact me when bags are ready for pickup. I toss the bulging bags into the bed of my pickup truck, then haul them over to and unbag them beneath my blueberry, raspberry, currant, and gooseberry bushes.
Organic Matters
    All this compost, hay, manure, leaf mold, and leaves are food for soil organisms. Most of the food is carbohydrates, the carbon, hydrogen, and oxygen that combine to make sugars, starches, cellulose, chitin, and pectin of living organisms. As carbohydrates are gobbled up, nutrients are released for plants.
    In their raw state, these organic materials are relatively low in plant nutrients. Compare the one pound of phosphate you get from ten pounds of 10-10-10 chemical fertilizer with the 100 pounds of compost you need to offer  that same amount of phosphorus.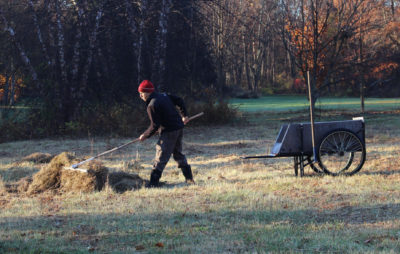 You could get that one pound of phosphate from only ten pounds of an "organic" source such as bone meal. That would be easier than shoveling out 100 pounds of compost — but the soil would then be deprived of 90 pounds of carbohydrate and other bulk that feeds soil organisms and, in turn, bestows physical, nutritional, and biological benefits in the soil.
    So I'm continuing to haul manure, hay, leaves, leaf mold, and compost for my garden. It's also good exercise.  
A Beaut' Worth Reviving for Winter
    Much lighter work is digging up an amaryllis bulb. I've always considered amaryllis too gaudy a plant, one giant, often flaming red flower appearing atop a bare stalk in early winter. And then, last autumn, someone sent me a big, fat amaryllis bulb along with a pot to plant it in, as well as some potting mix. How could I help but plant it?
    The flowers were prolific and awesome, flower after flower (yes, flaming red) appearing on each stalk, and stalk after stalk of flowers. This one was a keeper.
    Green leaves, the more the better, are what fuel the following year's blossoms. (One flower stalk for every nine leaves, according to one source.) Periodic little fertilizer and, as needed, water kept the plant growing well until warm weather settled in for good in spring. Then I tipped the bulb out of its pot and nestled into a hole in a bed in part shade with rich soil and drip irrigation.
    Just before a night when temperatures dipped into the low 20s, I dug up the bulb and potted it up. It now sits, unwatered and leafless, in the cool temperatures of my north-facing mudroom. A couple of months of cool temperatures, 50 to 60°F, is good for waking up the flower buds within the now fatter bulb — and its small, baby pup, thank you.
https://leereich.com/wp-content/uploads/2022/12/header-home-link-247x54-2.png
0
0
Lee Reich
https://leereich.com/wp-content/uploads/2022/12/header-home-link-247x54-2.png
Lee Reich
2016-11-16 15:10:22
2016-11-16 15:10:22
UBER ORGANIC & A BEAUTIFUL BLOSSOM