MULCH, SOMETIMES BETTER LATE THAN EARLY
Cardoon Gets to Stay
    I haven't yet given up on cardoon — growing it. But eating it? I just about give up. It's like eating humongous stalks of stringy celery having just a hint of artichoke flavor.
    As an ornamental is how cardoon has made itself garden-worthy. Like most perennial plants, it grew only leaves this past season, its first season here. But what leaves they were! As I said, like "humongous stalks of celery." Not much good for eating but nice to look at. The edges of the three-foot-high stalks were winged with undulating, pointed blades (each stalk is a leaf), and the whole plant is a very Mediterranean-looking olive-green.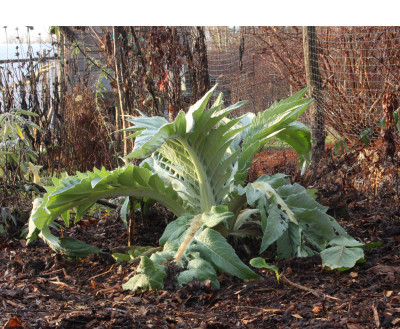 If all goes well, next year should provide an even better show, when flowers also appear. Cardoon is in the thistle family. It's as if you injected our common (Canadian) thistle with steroids. In addition to those giant leaves, the flower stalks rise to 6 feet and are then topped by fat, spiky, cerulean balls, each a couple of inches across.
    Cardoon not only looks Mediterranean; it is Mediterranean. As such, is not cold hardy this far north. Temperatures in the 20s do no harm to the top of the plant, but the top will die back when temperatures turn colder. The crown of the plant and the roots, shielded in the ground, tolerate even lower air temperatures. Eventually, though, our winter cold penetrates the ground to do them in.
    But not if I soften that cold affront. Once temperatures turn colder, and stay reliably so, I'm going to lop back the tops of the plants, then pile on a thick layer of mulch, from a couple of large bags of leaves I stockpiled back in November. The reason to hold off until the soil turns colder is because in still-warm soil, the crown would have pushed out new growth beneath the mulch. That new growth would have died from lack of sun, or rotted.
    Cardoon's fleshy crown is especially prone to rotting, so I'll lay a flat piece of plastic over the pile of mulch. That should shed rainwater while allowing some breathing room from the side.
    Perhaps next year I'll get to enjoy the flowers. Perhaps the stalks will be worth eating.
I Put The "Straw" In (On) Strawberry
    Cardoon isn't the only herbaceous perennial that needs protection from cold. Another is strawberry.
    The crown of a strawberry plant is, in essence, a stem that has been telescoped down. Instead of a few inches from leaf to leaf along the stem, only a fraction of an inch separates a leaf from its next higher or lower neighbor. So instead of elongating a foot or two every year, like most stems, a strawberry crown elongates only a fraction of an inch each year.
    Still, over time, that crown rises higher and higher up out of the ground, each year becoming more exposed to cold. Mulching prevents cold damage to strawberry in the same way as it does for cardoon. As with cardoon, the time to cover the plants is AFTER cold has penetrated the ground. When the soil has frozen about an inch deep is about the right time.
    Strawberry crowns are not particularly prone to rotting, so there's no need to lay a water shedding cover over the mulch. Or to cut back the leaves; strawberry leaves aren't fleshy and don't rise high above the ground.
Doin' Some Dustin'
    In addition to leafy mulches, already spread beneath other trees and shrubs, one other sign of creeping cold is the gray dust that has settled on parts of the meadow, beneath the pear trees, and around the currant bushes. There's more to come, and it's not snow. It's ash, from the wood stove.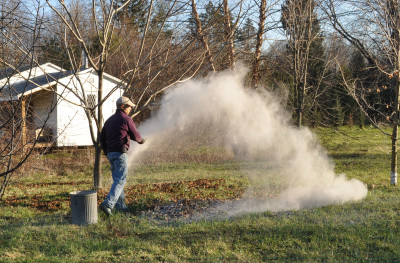 Wood ash is both a waste product and a resource, depending on how much you have and how much space you have to spread it. As a resource, it's high in potassium, an essential nutrient for plants, and contains other essential elements. Wood ash decreases the acidity of soils which, around here, mostly increases naturally over time.
    But too much potassium can be a bad thing. As can too little acidity; slightly acid soil is what's ideal for most plants.
    Since wood ash varies somewhat in its composition, it's impossible to put a number on how much to spread. No more than 20 pounds per thousand square feet is reasonable, except on alkaline soils (pH greater than 7) or beneath acid-loving plants such as blueberry, azalea, and rhododendron, which should get none. I disperse it over the whole farmden — on the meadow and the lawn, beneath fruit and nut trees and bushes — to avoid concentrating it anywhere. I also save some to spread on icy walks and to sprinkle around plants if slugs become a problem.
https://leereich.com/wp-content/uploads/2022/12/header-home-link-247x54-2.png
0
0
Lee Reich
https://leereich.com/wp-content/uploads/2022/12/header-home-link-247x54-2.png
Lee Reich
2016-01-07 09:53:53
2016-01-07 09:53:53
MULCH, SOMETIMES BETTER LATE THAN EARLY