Paradise Under Glass, and I Take a Bit of it Home
Wandering in and out of the narrow alleys, I could barely squeeze past other, potential buyers. On my way back from a lecture and book selling, a wad of money was burning a hole in my pocket. I muttered to a young couple who glanced up to let me pass, "I feel like a drug addict." A fleeting, sympathetic smile, and they, like others, were again intent on the offerings, hardly aware, like us other "addicts," of other humanity.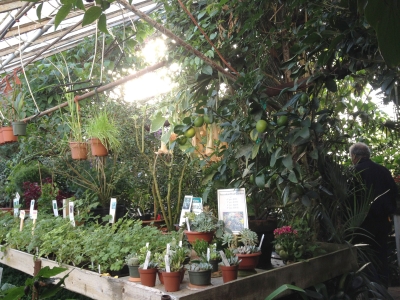 I was lucky, able to leave Logee's Greenhouses in Danielson, CT only $75 poorer. But richer in plants. Perched on the tray that I carried to my car were small plants of fragrant wax plant (Hoya odorata), Nordmann Seedless Nagami kumquat, and Golden Nugget mandarin (tangerine), all three promising to offer, for years to come, sweet fragrance, beauty, and good eating in the case of the mandarin and kumquat. By not allowing myself to dawdle, I was able to keep my trembling hand from grabbing at a Black Mission fig plant, a Dwarf Cavendish banana plant ("only 3 feet high!"), or a Hoya lauterbachii, with fragrant blooms the size of teacups. 
Most of Logee's plants are small and not cheap, understandable considering the wide array of plants they stock. Aside from my kumquat and mandarin, I could have chosen from among a dozen other citrus varieties, including some interesting oddities like Buddah's Hand Citron, whose fruit does, in fact, look like the draped fingers on a hand. Instead of the fragrant wax plant, I could have driven home with any one of 15 other species or varieties of wax plant. Not that Logee's is limited only to fragrant or fruiting plants. They stock almost a 100 different kinds of begonias, among other houseplants.
Entering the greenhouses is an experience very unlike that of entering most commercial greenhouses, the latter with their soaring roofs of crystal-clear glass, their buoyant atmosphere, and scoured concrete floors. Logee's is Paradise for plant lovers, with a mix of concrete and dirt paths so narrow that leaves and tendrils grab at you from either side. Fortunately, plants are more organized at Logee's than in Paradise: collections of such plants as citrus, passionflower, orchids, and angel's trumpets are each grouped together. Perhaps the star of the show is the Ponderosa lemon tree, shipped by train then horse and buggy to the greenhouse in 1900 and still bearing crops of grapefruit sized lemons (also called American Wonder lemon and thought to be a hybrid of lemon and citron, originating as a seedling the 1880s). Over the years, it's given rise to numerous offspring, one of which you can purchase, growing in a 2.5" pot, for $11.95.
Citrus: New Plants from Old
New plants of Ponderosa lemon and other citrus varieties can be propagated one of three ways.
Lemons and limes tend to root easily from cuttings, which are leafy branches with their bases plunged into a moist rooting medium such as a 1:1 mix of perlite and peat moss. Because citrus are evergreen, air around the cuttings has to be kept humid enough so the still-rootless stems don't dry out. A clear plastic or glass tent does the trick. The leaves need to photosynthesize so they have energy to make roots, so some light is needed. Not too much, though, or the cuttings cook in their tent.
Special rooting hormones, which are synthetic analogues of natural plant hormones, help cuttings to root. Synthetic hormones are used because they decompose more slowly than natural hormones (and in different concentrations, are used as herbicides, such as 2,4-D). Another possibility is to soak the cuttings in water in which have steeped stems of willow, a plant that roots very easily so presumably has some root-stimulating goodies to share. I avoid the hassle of natural or synthetic hormones in rooting cuttings and, instead, pay careful attention to which stems I select for rooting, the rooting medium, and light.
Some citrus varieties can be propagated by seed. Usually a seed-propagated fruit gives rise to a baby different from the mother plant, reflecting the jumbling around of chromosomes as pollen and egg cells united. However, a few plants, and many citrus, exhibit apomyxis, where the seeds, although they look like normal seeds, are formed from cells of only the mother plant.
All the seedlings, then, are clones of each other and their mother. Well, not all, because in a given fruit, some seeds may be apomyctic and others may be the product of pollination. The apomyctic seedlings show their presence by their greater vigor and more upright stature.
Downsides to propagation by seedlings, apomyctic or otherwise, are that plants must go through a juvenile phases of some years before they are old enough to flower and fruit. Also, most citrus tend to be very thorny in their youth.
Kumquats Roots for Tangerine Tops
One way I justified my purchases at Logee's was with my plan to use my new citrus plants to make more plants — by grafting, the third way of propagating citrus. All that's needed is any citrus rootstock; they all are graft compatible. Not being able to throw away seeds, I have a few kumquat rootstocks started from seeds I spit out from my Meiwa kumquat fruits as I ate them a couple of years ago.
I'll graft in spring, taking stems from the Golden Nugget mandarin to make a whip graft, a particularly easy kind of graft that gives quick results. Basically, a smooth, sloping cut on the kumquat rootstock will be matched against a similarly smooth, sloping cut on the "scion," which is the stem I cut from the mandarin stem, with both bound together with a wrap of tape or cut rubber band. After removing leaves from the scion, grafting compound (Tree-Kote) or Parafilm seals the graft and scion against dessication before the scion and rootstock knit together, and the scion piece begins to grow.
The final step will be deciding what to do with my growing citrus orchard in pots. Plants for my annual sale, perhaps? The largest citrus orchard (potted) in the Hudson Valley?
https://leereich.com/wp-content/uploads/2022/12/header-home-link-247x54-2.png
0
0
Lee Reich
https://leereich.com/wp-content/uploads/2022/12/header-home-link-247x54-2.png
Lee Reich
2014-11-26 17:16:29
2014-11-26 17:16:29
CITRUS IN NEW YORK