The Birds and the B . . . Vespids
Hot and dry. What great summer weather it's been here for grapes. Most years around this date, I'd go out every morning and pick bunches for fresh eating, continuing to do so for weeks to come.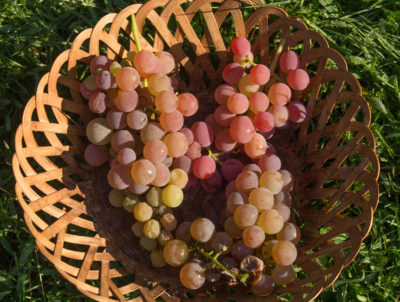 Alas, where there are grapes, you'll find the birds and the be. . . vespids (the family of wasps and hornets, not bees). No raccoons or foxes, here on my grapes, at least. Here you'll also find paper bags stapled around about a hundred bunches.
The bags are meant to protect the enclosed bunches from birds and insects. This year was a first: Thirsty birds pecked holes in the bags through which they could reach, then peck at the grapes hanging within. By my estimate, about three-quarters of the bagged bunches suffered damage or were finished off in toto. 
In addition to the damage inflicted by the birds, the resulting holey bags provide easy entrance to wasps and hornets, who further tear up the bag and finish off the fruit repast started by birds.
https://leereich.com/wp-content/uploads/2022/12/header-home-link-247x54-2.png
0
0
Lee Reich
https://leereich.com/wp-content/uploads/2022/12/header-home-link-247x54-2.png
Lee Reich
2022-09-21 14:42:17
2023-01-30 09:29:57
MORE OF MY FAVORITE TH . . . GRAPE VARIETIES