Top Doggery
My pear trees look as if a giant spider went on a drunken frolic among the branches. Rather than fine silk spun in an orderly web, strings run vertically from branch to branch and branch to ground. Yet there is method in this madness. Mine.
As I spell out in my new book, The Ever Curious Gardener: Using a Little Natural Science for a Much Better Garden, plants produce a natural hormone, called auxin, at the tips of their stems or at high points along a downward curving stems. This hormone suppresses growth of side branches along the stem, allowing growth from a bud at the stem tip or high point be the "top dog," that is, the most vigorous shoot.
Within any plant a push and pull goes on between fruiting an stem growth. Both require energy, which the plant has to apportion between the two. The more vigorously growing a stem, the less fruitful it is.
All this talk of hormones and inherent stem vigor is more than academic; it can translate into delicious fruits.
Pear trees tend to grow very vigorously, especially in their youth, with many vertically oriented branches. A certain amount of stem growth is, of course, desirable; leaves are needed for harvesting sunlight for energy and stems are needed on which to hang fruit.
But pear trees, especially in the youth, tend to put too much of their energies, too much for me, at least, into stem growth. The result is that they can take long time to settle down and begin bearing fruit.
Hence, the strings. I can change my pear trees' habits by merely tying down branches, reducing the effect of that auxin so that growth is more uniform along a length of the stem. And, as important, slowing growth nudges the energy balance in the direction of fruiting.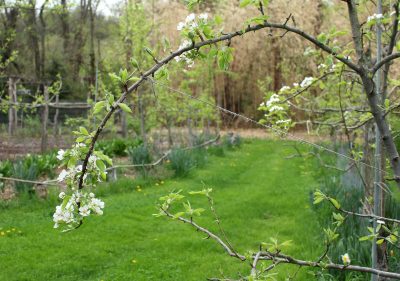 The one branch on each young tree that I do not tie down is the main vertical stem, which is the still developing trunk off which grow the main side branches. I want this stem to keep growing upward. Also, I have to be careful not to create a downward arch when tying down any stem. You know why: a very vigorous shoot pops up from the high point in that arch.
More Fruit or More Growth?
Branch bending is not only for coaxing a tree into fruiting. On young branches, it creates a wide angle between a branch and the developing trunk. Wide angles here have been shown to result in good anchorage, sturdy side branches that can carry a weight of fruit.
Suppressing the vigor of side branches also ensures that they won't compete with the developing trunk, which needs to be top dog.
And using string to play around with plant hormones isn't needed on every fruit tree. At the other extreme from pear in its growth and fruiting habits is peach. Peach is naturally very fecund, and becomes naturally so at a very young age.
One reason for peach's fecundity is that it bears all its flowers and fruits along stems that grew the previous season. Every year new stems grow that bear flowers and fruits.             
Beauty, Fruit, and Fun
All this concern with auxin, vigor, and fruiting comes most prominently into play with espalier, which is the training of a tree to an orderly, often two dimensional form. The tracery of the branches themselves adds to the decorative value of the plant.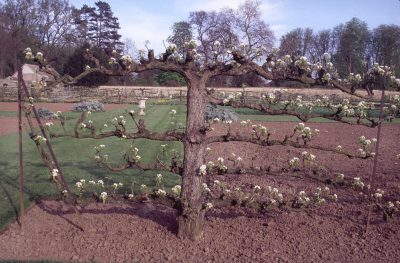 Fruiting espaliers, besides being decorative, produce very high quality fruit. Pruning and branch bending maintain a  careful balance between yield and stem growth, and the form of the plant allows leaves and fruits to bathe in sunlight and air.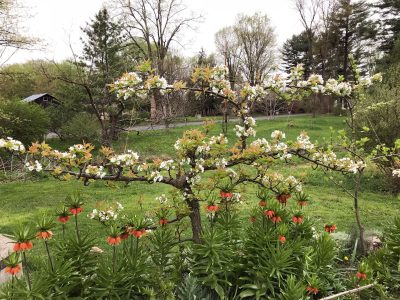 https://leereich.com/wp-content/uploads/2022/12/header-home-link-247x54-2.png
0
0
Lee Reich
https://leereich.com/wp-content/uploads/2022/12/header-home-link-247x54-2.png
Lee Reich
2018-05-31 09:23:12
2018-05-31 09:23:12
Playing Around With Stems