My Quest, Fulfilled
    For thirty years, I've longed to catch at least a glimpse of Himalayan poppy (Meconopsis betonicifolia) in blossom; finally, yesterday, I achieved that goal. I wish I could say that I braved high seas to get to India, then traipsed across increasingly mountainous plains, and finally clawed my way up some jagged peak before coming face to face with the blossom. No, I was in Philadelphia, at the the Philadelphia Flower Show, when I remembered that nearby Longwood Gardens puts on a show of Himalayan poppies each year in early March. All that was needed was to brave traffic for the one hour drive (40 minutes without traffic) over to Longwood.
    It was thirty years ago that expert plantsman and orchid hunter Norman Kellar told me of his admiring the blue poppy's sky blue blossoms, both in reality and in reflection, from across a pond in England. The flowers, he said, are the purest blue of any flower. Did Longwood's show meet up to my thirty year buildup? Yes. The petals, delicate as tissue paper, are a sky blue, the bluest I've seen in any flower. The center of each nodding blossom is lighted by a bottlebrush of orange stamens.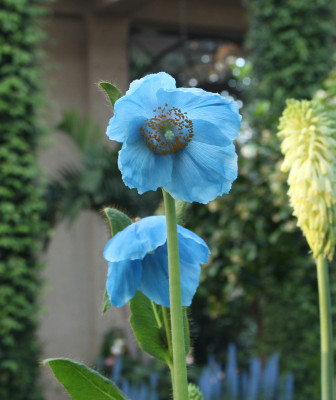 So why haven't I, and why didn't Norman, just plant Himalayan poppy to enjoy in our own backyards? The plant thrives — no, survives — only where summers remain cool. Above 70°F, the plant can't photosynthesize, so it starves. I've tried growing blue poppy in the past. Each time it grew fine until July's summer heat caused it to collapse, dead.
    Longwood's plants avoid heat by starting life in Alaska, where the plant thrives. Young plants are shipped in from Alaska in the fall and kept dormant in cold storage. Brought into Longwood's cool (50-60°F) conservatory in January, they slowly awaken and, finally, blossom in March.
    My plan is to sow seeds in potting soil in a seed flat in late summer, then water and chill the flat in a refrigerator for a few weeks. (Some seeds need that chilling to break their dormancy or speed germination. Whether or not blue poppy needs it, a few weeks of cool temperatures will do no harm.) By early fall, the seedlings should be up and growing, which they can do outdoors and then, if needed, in the greenhouse. When cold temperatures and low light slow the plants into dormancy, I'll store the pots at a cool location in my basement.
    Finally, in January, I'll move the plants to a sunny window to begin growth. That time of year, even sunny windows don't get too hot. Come March, with luck, a green thumb, and clicking my heels together three times, the sky blue blossoms will be staring at me — or out the window.
    My first sighting of "our" bluebird was a week ago. Next year, looking at blue poppy plants blossoming at a window and bluebird outside the window would be a very nice prelude to spring.
Three Perennial Treats
    Flowers have never been a focus of my gardens, and less so as each year goes by and I pay more attention to more enduring elements of my yard, such as fences, arbors, hedges, trees, and walls. Still, some flowers, such as the blue poppy, are worth the effort.
    In years past, seed flat upon seed flat of all kinds of flowers would occupy growing space. This year: Just one flat of perennials, that one flat with four mini-furrows, one for dianthus, one for cardinal flower, one for foxglove, and one for purple coneflower. Each of those mini-furrows will yield enough seedlings, to be carefully separated then planted in individual cells of potting soil to grow into plants, for transplanting, for a nice show this summer and beyond.
    The main attraction of the dianthus, for me, is its fragrance. From descriptions, the Riesen Giant Superb Mix Dianthus I just sowed seems very similar to the Dianthus caryophyllus that I grow in the greenhouse except, in contract to its greenhouse cousin, this dianthus is allegedly cold-hardy outdoors in Zone 5. (I have the feeling that both dianthus's may be the same; the "giant" and "superb" in the name hooked me.)
 
   Cardinal flower is perennial, but not a long-lived one. It thrives in wet areas and, in congenial locations such as, I hope, here, will self-sow. This flower first caught my attention when its spike of fire engine red blossoms stared out at me from deep, deep shade. Deep shade is not home to many colorful flowers.
    With spikes of pastel-colored blossoms, foxgloves have a charm evocative of blowsy cottage gardens. They also are only weakly perennial; but they self-sow readily. Their popping up willy-nilly around any garden from self-sown seeds adds to their blowsy effect.
    One downside to foxgloves is that flowers all line up only on one side of the flower spike, facing the sun. Except for the Excelsior series of foxgloves, which is what I have sown this year. It will be interesting to see how thoroughly the blossoms embrace the spikes and then how future years' blossoms, from self-sown seedlings, display themselves, especially since they'll be mating with run-of-the-mill foxgloves already growing here.
    Nothing special about coneflowers. They're native, easy to grow, and common. They're also pretty.
Back to Fruit
    Enough with the frills! Back to pruning kiwifruit and grape vines, blueberry, gooseberry, and currant bushes, and the plum, pawpaw, mulberry, a pear trees. They are pretty, too, and give me fruit.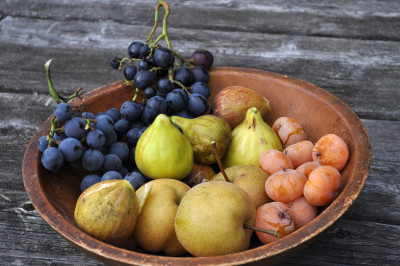 https://leereich.com/wp-content/uploads/2022/12/header-home-link-247x54-2.png
0
0
Lee Reich
https://leereich.com/wp-content/uploads/2022/12/header-home-link-247x54-2.png
Lee Reich
2016-03-24 07:55:47
2016-03-24 07:55:47
FLOWERS, ONE VERY, VERY SPECIAL