Fishing, Gardening
"Give a man a fish, and you feed him for a day. Teach a man to fish, and you feed him for a lifetime." How true, also in gardening. Not to mention the emotional and intellectual gratification, the "companionship with gently growing things . . . [and] exercise which soothes the spirit and develops the deltoid muscles" (C. D. Warner, 1870).
Let's take teaching the man — or woman — to fish one step further, gardenwise. Lot's of people wow others with the expertise they have allegedly accrued as evidenced from the mere fact that they've spent a number of years, perhaps decades, with their hands in the dirt. I roll my eyes. Flowering plants originated at least 130 million years ago, which is plenty of time to let the trial and error of evolution teach them to grow. Tuck a seed into the ground and it will probably grow.
Better gardening comes from having some understanding of what's going on beneath the ground and up in the plant. This comes from growing and observing a variety of plants growing in a variety of soils and climates — which is more than is possible in a lifetime.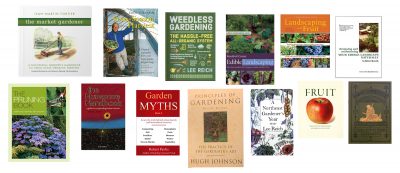 There's a shortcut: books, a nice adjunct to getting your hands in the dirt. All of which is a roundabout way of my offering recommendations for books about gardening. The right book is also a great gift idea.
https://leereich.com/wp-content/uploads/2022/12/header-home-link-247x54-2.png
0
0
Lee Reich
https://leereich.com/wp-content/uploads/2022/12/header-home-link-247x54-2.png
Lee Reich
2022-12-01 07:36:58
2023-01-28 10:14:04
GREAT GARDEN = HANDS ON + BOOKS