Easy Access Water
I am reminded today of the importance — in a home garden — of proximity. Proximity of the garden to a door or, even better, a kitchen door. Proximity of the compost pile to a door, to the garden, and, if bulky materials such as manure or wood chips are hauled in, to a driveway. And, the spur for today's rambling, proximity of the garden to water spigots.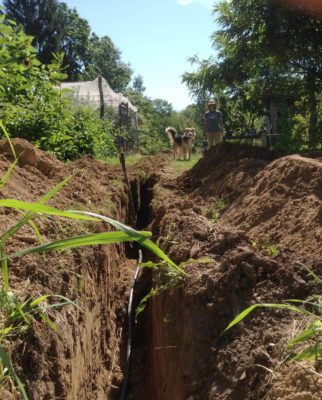 The saying that "April showers bring May flowers" notwithstanding, supplemental water is usually critical in my garden in April. Just a few days of sunny, balmy weather is enough to dry out the surface of the ground, just beneath which lie in waiting, for moisture, my newly sown seeds. Or recent transplants, whose roots have yet to venture out and down into the ground.
    Once roots from sprouting seeds and transplants start growing in earnest, they'll encounter plenty of residual moisture still sitting in the soil from winter's rain and snow. Until then, I either have to carry watering cans (two cans at two gallons each) back and forth from the frost-free spigot against my house to the garden, or haul around hoses. The cans are top of the line Haw's galvanized with good balance; even so, hauling water can get tedious, and the tendency to skimp a little on watering is unavoidable.
    Fifteen years ago I installed a frost-free outdoor hydrant near my secondary vegetable garden. What a luxury! Problem is that to get water to the main vegetable garden I have to unwind a hose and thread it through the garden gate. And then, if temperatures drop below freezing at night, common in April, nothing can be done till ice in the hose has defrosted. Again, watering is too often inadequate because I'm avoiding all this hassle.
    (Hot temperatures, dry weather, and plants feverishly sucking moisture out of the soil present no problem during most of the growing season — now, for instance. A few times each day, an inexpensive timer automatically opens a valve to let water flow through tubes to each vegetable bed and then out specially designed emitters to drip water into the ground at about the rate at which plants are drinking it up. But this automated, drip irrigation system can be damaged if put into service when temperatures drop below freezing.)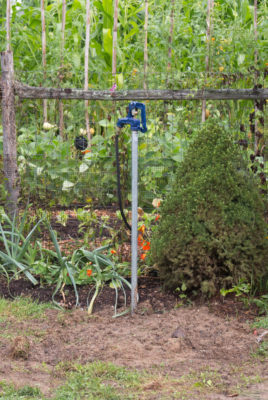 So today I'm digging tenches and holes for two new, frost-free hydrants to bring the source of water right next to the main vegetable garden and to my compost bins. In the future, I'll have no excuse to skimp on watering.
Free "Fertilizer"
    Too may gardeners shove their gardens in a far corner of their property, as if the garden was an eyesore. (Which it often is.) I suggest locating the garden as close to the house as possible, given constraints of sunlight; six or more hours of summer sun, daily, is ideal. And make it ornamental, with fencing, a nice gate, and shrubs and flowers around and in it. Keeping it weeded also helps, as far as appearance and productivity.
    There's an old saying that "The best fertilizer is the gardener's shadow." Make it so that shadow conveniently falls on not only the plants but also spigots and compost piles.
Celeriac, What's Up?
    Insufficient water in April could not be blamed for the poor showing of my celeriac plants. They weren't even in the ground until early May, after the drip irrigation was up and running.
    Celeriac is a nice addition to the variety of root crops that can be left in the garden until late into fall and then stored for the winter under cool, moist conditions. The flavor, which comes from the swollen root (actually a hypocotyl, which is the portion of the plant above the roots and below the stem), is akin to celery, but smoother. It's a botanical variety of celery.
    Last year, the first time in years that I grew celeriac, plants were stunted with nothing to harvest. Last year, I set the plants in a narrow bed on the west edge of the garden next to a full bed of tall corn. I blamed my failure on shade.
    This year celeriac got a sunnier spot. Still, the plants are puny. Some of the plants share the bed with kale which has spread its large leaves to create more shade than expected. Celeriac, according to reputable sources, allegedly tolerates a bit of shade.
    My plan is to slide a trowel into the ground beneath some of the puniest plants, lift the plants out of the soil, and plop them into more spacious, sunny environs.
    Next year I'll pay even closer attention to celeriac and expect a better harvest. (Then again, this season's plants may be gathering energy, readying themselves to swell their hypocotyls as autumn draws near.) All part of next year's even better vegetable garden, to which my new frost-free hydrant will be a serious contributor.
https://leereich.com/wp-content/uploads/2022/12/header-home-link-247x54-2.png
0
0
Lee Reich
https://leereich.com/wp-content/uploads/2022/12/header-home-link-247x54-2.png
Lee Reich
2016-08-25 11:37:43
2016-08-25 11:40:47
PROXIMAL THOUGHTS, PROXIMAL ACTION