Blackcaps Redux, This Season
I took a cue from Michael Jackson today when pruning my black raspberry (a.k.a. blackcap) plants. Not that I had to prune them today, or even this time of year. But I couldn't stand looking at the tangled mass of thorny canes. And, more importantly, the tangled mass would make harvest, slated to begin in a couple of weeks or so, a bloody nightmare.
(Most blackcaps bear only once a year, in early summer, so tidiness would be the main reason to prune conventional blackcaps now. Pruning would also let remaining canes bathe in more light and air, reducing the threat of diseases. My blackcap plants, though, are the two varieties — Niwot and Ohio's Treasure — that bear twice a year; hence, my pruning now to make picking the soon-to-ripen second crop less intimidating.)
All blackcaps have perennial roots and biennial canes. Typically, the canes just grow their first year, flower and fruit their second year, then die. Niwot and Ohio's Treasure differ in bearing on both one-year-old canes and on new canes. I picked the early summer crop from canes that grew last year. And now my mouth is watering as I look forward to the late summer crop, which will be borne on canes that just started growing this season.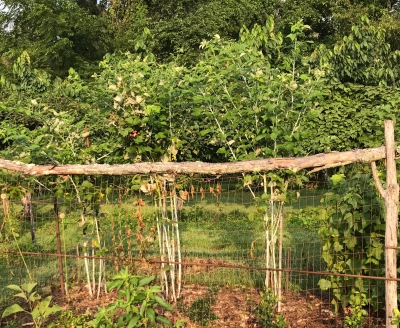 Pruning is straightforward. I started by lopping right to ground level all the canes that bore the early summer crop; they're dying anyway. Step two is reducing the number of new canes, selectively keeping the fattest and healthiest-looking ones, and lopping all others to ground level. Even then, I reduce their number to the best six of them. That's it. Easy, as long as the thorns are avoided.
My blackcaps are in a row, three feet apart. An iron pipe sunk into the ground next to each plant provides support for each plant's clump of stems. With pruning finished, I tied a piece of rope to the pipe and then around the clump of stems, a gloved hand cozying the thorny stems into position while my ungloved hand tied the rope, à la Michael Jackson.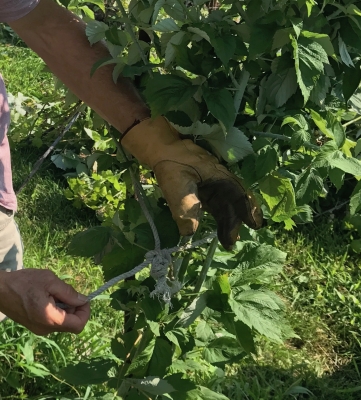 Rotten Plums
I wish that pruning was all that my plum trees needed. With this being such a good year for fruits generally, I was very hopeful for a good crop. And they looked fine up until a week ago, when the fruit started ripening — and rotting.
Brown rot is the culprit, mostly the handiwork of the fungus Monolinia fruticola. Characteristic powdery, gray masses of spores form on the surfaces of rotting fruits, which eventually dry to become "mummies." Brown rot is not new to me; I've experienced it on peaches, nectarines, and plums in the past. It also attacks apricots, cherries, and other "stone fruits" (Prunus genus). Typically, a plant bears well for a couple of years while the fungi are building up, and then full-fledged, annual attacks begin.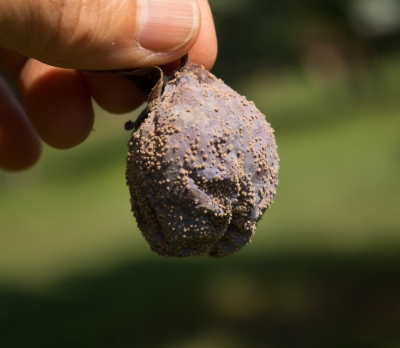 The usual recommendation to hold the fungus at bay is, first, to remove sources of inoculum by cleaning up all infected fruit in summer and mummies in winter, and pruning away dead, infected twigs. That's quite a job on a big plum tree.
I sprayed my trees with sulfur many times this past spring. Sulfur is an organically approved fungicide, used by gardeners and farmers for thousands of years, that is effective against brown rot. But only for a few days. Hence my repeated sprays, evidently not repeated enough.
The easiest approach would be for me to grow brown rot resistant varieties.
Plumquest Begins
So now I am embarking on a plumquest, my search for plums that taste good and are resistant to brown rot. Resistant genes must lurk somewhere — actually right in my yard, on the wild plums. They hardly ever show fuzzy grayness; they also don't taste very good.
I now remember a pertinent page I photocopied many years ago. Shuffling through piles of papers on my desk, I come across the page, from a scientific-looking paper, entitled "Range of known genetic traits in Plum cultivars." That's a start, and the list on the page includes one of my favorite plums, the Green Gage, also known as Reine Claude Verte, as resistant. Shiro, which I grow with some success, is only listed as "tolerant."
My next queststep is on the web, bringing me to a publication entitled "The Cultivated Native Plums and Cherries," authored by Liberty Hyde Bailey in 1892. I immediately ordered a reprint to make it easier to sort through the many varieties and their gustatory and pest potentials.
Once suitable varieties are identified, the next queststep is to locate trees or, more likely, stems for grafting, to bring here to the farmden. I will report on my plumquest as events unfold.
https://leereich.com/wp-content/uploads/2022/12/header-home-link-247x54-2.png
0
0
Lee Reich
https://leereich.com/wp-content/uploads/2022/12/header-home-link-247x54-2.png
Lee Reich
2017-08-16 16:58:59
2017-08-16 16:58:59
Fruit, Again, With Nod To Michael Jackson