I Almost Become Very, Very Rich
My vision became blurred with dollar signs as I looked out the car window at mile after mile of bittersweet (Celastrus scandens) clambering over trees along a stretch of parkway. That was a few years ago, as I was driving away from a visit to New York City. While there, I had wandered into a florists' shop, where I had been stunned by the price for a few sprigs of bittersweet. A quick mental calculation as I gazed out the car window told me there was gold in them thar' trees.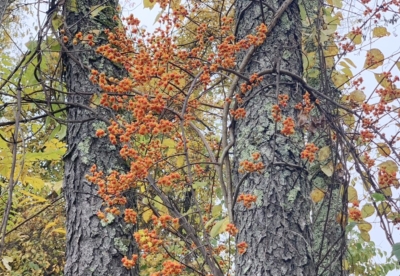 My financial empire crumbled before it even had a chance to grow. In some states, bittersweet is a protected plant. Anyone harvesting a protected plant from private property without the landowner's permission may be subject to a fine.
To look at bittersweet, you might very well mistake it for a weed. The plant is a rampant, fast-growing vine. Given support, it will climb skyward twenty feet or more. Bittersweet can engulf small trees and shrubs, even kill them by twining around, then strangling them.
And bittersweet isn't found in restricted ecological niches over a small geographic area. The plant grows wild in thickets and along roadsides over an area bounded by southeastern Canada across to the Dakotas, south to Texas, and then back across to North Carolina.
https://leereich.com/wp-content/uploads/2022/12/header-home-link-247x54-2.png
0
0
Lee Reich
https://leereich.com/wp-content/uploads/2022/12/header-home-link-247x54-2.png
Lee Reich
2022-10-19 10:33:05
2023-01-30 09:28:22
BITTERSWEET MEMORIES