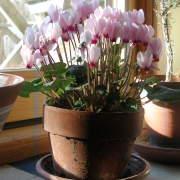 Elbow Room and Food
What's happening in the soil beneath your potted plants? Over time, roots fill up the pot so there's little more room left for them to grow. And nutrients get sucked out of the soil or washed out by water.
I keep my potted plants hale and hardy with periodic repotting. This also gives me a look at the roots, which I always find interesting. (It was one area of my research when I worked for Cornell University.) If I see roots are pressed around the outside of the rootball, especially if traveling around and around it, they're telling me they want out. A plant might also indicate its roots need more elbow room by looking like it's ready to topple over. More subtle signs are potting soil that dries out very quickly, a plant hardly growing, or roots attempting escape out a pot's drainage holes.
Rapidly growing plants need repotting yearly, especially when they are young; older plants and slow growers can get by with being repotting every two or three years. Some plants hardly ever need repotting, such as — looking around my collection — my amaryllis (Hippeastrum), bay laurel, hardy cyclamen, jade plant, aloe, and cactus.
I wait to repot my ponytail palm until its bulbous base breaks open the pot it's growing in; this happens about every 15 years. Same goes for my clivia.
Read more
https://leereich.com/wp-content/uploads/2023/02/CYCLAMEN-POTTED-1.jpg
2400
1890
Lee Reich
https://leereich.com/wp-content/uploads/2022/12/header-home-link-247x54-2.png
Lee Reich
2023-02-21 17:32:06
2023-02-22 14:41:27
FINDING MY ROOTS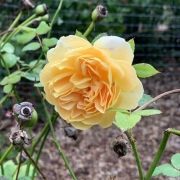 Plant Dreams
You'd think that after living in the same place for over 35 years and every year planting new trees and shrubs, that there would be nothing new for me to plant this year. Or, at least, no where to plant them. Well, t'ain't so!
I'm now trying to wrap up getting anything I need in terms of plants or seeds for this growing season. Let's see: Did I succumb to any of the enticements for new and wondrous plants mentioned online and in the slew of gardening magazines and nursery catalogues that appear almost daily in my mailbox?
David Austin roses, which have the pastel blooms and blowsy form of yesteryear's roses, and the pest-resistance of present-year roses, are always a draw. But I have quite a few of them; do I have room for or need more of them? It's cold here (or used to be), so I choose for beauty and hardiness, and, for an added attraction, fragrance. Among my favorites are Lady of Shallot, Dame Judy Dench, Golden Celebration, and LD Braithewaite. Read more
https://leereich.com/wp-content/uploads/2023/02/Rosa-Golden-Celebration.jpg
2400
2127
Lee Reich
https://leereich.com/wp-content/uploads/2022/12/header-home-link-247x54-2.png
Lee Reich
2023-02-15 09:58:54
2023-02-15 11:23:40
TREES AND SHRUBS AND VINES, OH NO!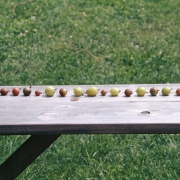 Am I a Hoarder?
I once had what may have been the largest collection of gooseberries in this country east of the Rocky Mountains — four dozen or so. Many more existed and exist in collections across "the pond," especially in Great Britain. That was due, in large part, to the gooseberry contests held annually since the 18th century in the clubrooms of inns, especially in Lancashire, Cheshire and the Midlands. Flavor be damned: rewards went for the largest berries. The gaiety of singing and refreshments at these shows was offset by the solemn weighing of fruits.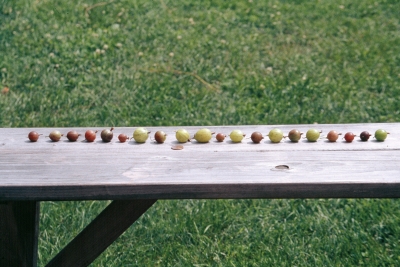 Those winning berries were the handiwork of amateur breeders and some rather esoteric horticulture. Suckling a promising berry, for example, whereby a saucer of water was perched beneath an individual berry throughout its growth, just high enough to wet only its calyx (far end).
https://leereich.com/wp-content/uploads/2023/02/Ribes-gooseberry-cvs-on-bench.jpg
1600
2400
Lee Reich
https://leereich.com/wp-content/uploads/2022/12/header-home-link-247x54-2.png
Lee Reich
2023-02-08 10:57:01
2023-02-08 11:52:35
TOO MANY GOOSEBERRIES