Sweet, Juicy, & Tolerant
Nanking cherries (Prunus tomentosa) are now at their peak of perfection, sweet and sprightly flavored, brilliant red in color, still firm, and, as usual, abundant. Nanking cherries are very juicy and not stingy to release the juice. Straight up, it's the most refreshing juice imaginable.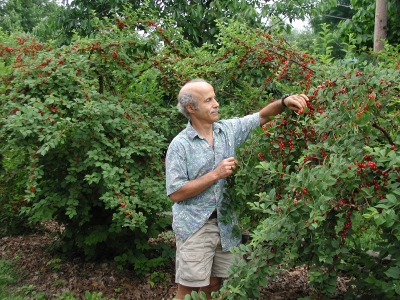 You've never heard of Nanking cherries? Understandable since they are an uncommon fruit. (And warranted a whole chapter in my book Uncommon Fruits for Every Garden, now out of print but in the works for updating and expanding.) As the name tells you, they are native to China, more generally to the cold, semi-arid regions of Asia. This provenance tells you something about the toughness of the plant, where it weathers winter temperatures below minus 20 degrees F. and summer temperatures as high as 110 degrees F.
Quite a Looker Also
Nanking cherries warrant planting for more than just their fruits. They're among my top recommendations for "edible landscaping." The bare stems of the row of a dozen of these bushes along my driveway burst into pink-tinged, white blossoms every year in mid April, blossoms so dense that they pretty much hide the stems. (Nanking cherries do appear in my book Landscaping with Fruit, which is in print and available now.)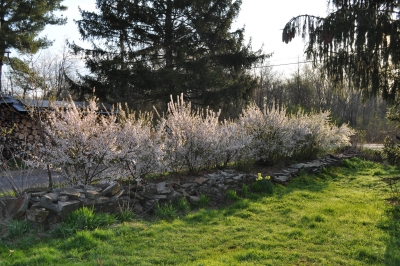 The plant was first introduced into this country in 1882, and the horticultural world was enthusiastic about it but couldn't decide whether promotion should be for its beauty or its fruit. Back then, you had to choose; nowadays Nanking cherries fit neatly into the category of edible landscape plants.
Early on, plant breeders started working for improvement not only within the species but also by hybridization with such related species as beach plums and sand cherries. Some varieties were selected and named, none of which are, as far as I can tell, available anywhere these days.
No matter. I grow all the Nanking cherry plants I want by merely planting seeds. Blossoms and fruits conveniently follow within two or three years. While flavor and ripening season vary slightly, I've never tasted a Nanking cherry that wasn't topnotch.
If I was to become a plant breeder, which is not my plan, this is the fruit I'd work on. Even run-of-the-mill seedlings taste good. The fruit is admittedly small, 3/8 to 1/2 inch across; I'd breed for increased size. Still, they're a perfect fruit for ambulant consumption and especially for children, who are in no rush to fill a container. A friend whose son is not a fan of fruits stated that they are much better than grocery store cherries. And much more reliable.
My first introduction was to Nanking cherries as an ornamental. When I was in graduate school in Madison, Wisconsin, I'd ride my bike to campus past a golf course bordered on the street side by a sheared, tall hedge that presented a vertical wall of cherries on which to feast. These shrubs that can grow as large as eight to ten feet tall and wide. The only care my driveway plants get is whatever it takes to keep plants from growing that large.
No Work
Nanking cherries couldn't be easier to grow. Just give them full sun and reasonable soil. After writing "full sun," I just remembered a shrub I often biked pass that grew for years in full shade. No fruit though. Besides shade, the reason for lack of fruit was because a mate was needed. Cross pollination is needed in order to set fruit: two or more plants equal two or more plants bearing fruit.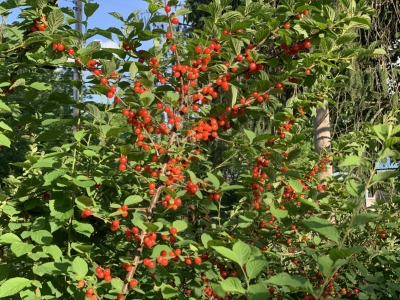 I set my first Nanking cherries in the ground (in Delaware) over 40 years ago, and only two seasons have they failed me. One of those seasons (here in New York) temperatures in early May plummeted to 14 degrees F. The frozen blossoms and fruitlets were understandable.
The other fruitless season was the year or two following that freeze. Nanking cherries are resistant to just about all insect and disease problems, except one that causes occasional wilting and dieback of some stems. It's a bacterial streaming disease that lives inside tissue. The situation was getting so bad here, probably due to a weakening effect that freak heavy freeze, that I decided to lop all the stems to ground level, and cart them off site, to drastically reduce inoculum. Since then, and it's been a number of years, plants are doing fine.
Free for All
When waxing enthusiastically about Nanking cherries, I'm always asked, "What about birds?" Most cherries are difficult enough to grow and if they do bear and insects and diseases have been fended off, birds become the problem. Nanking cherries bear so heavily, sometimes to the extent that fruits hide the branches, that birds can eat all they want as can squirrels, chipmunks, me, and other humans. Still, if you take a look at the bushes, it looks like harvest has not yet begun.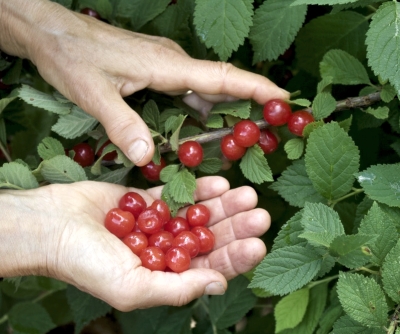 Nanking cherries would make superb cherry pie if the fruits were not so small as to make pitting tedious. At least you don't have to pull off the stems, which remain attached to the bush at harvest. And the pits are small.
As I wrote, though, I consider that the best way to enjoy Nanking cherry fruits is to walk up to a plant and strip the ripe fruits off into your mouth right then and there.
https://leereich.com/wp-content/uploads/2023/06/Prunus-tomentosa-Nanking-cherries-on-bush-and-hand.jpg
2003
2400
Lee Reich
https://leereich.com/wp-content/uploads/2022/12/header-home-link-247x54-2.png
Lee Reich
2023-06-21 16:06:18
2023-06-21 16:12:33
EASY CHERRIES