A Little History
Walking down the path alongside my home first thing this morning, I looked to my right and was wowed. What I saw warranted bragging rights. Flowers in red, pink, white, and a touch of purple against a backdrop of varying shades of green leaves, some sparkling with reflected light, others mat, holding onto any reflections. Heart-shaped leaves, lance-shaped leaves, and compound leaves livened the backdrop. All of it set off against the solid backdrop of the red brick wall.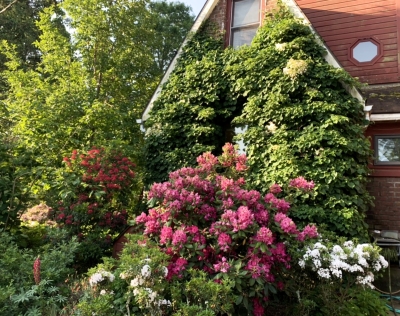 Although I chose and planted all that I admired, not too much credit for it was mine. This was no carefully planned design laid out on paper with squiggly shapes representing plants and their locations, each shape labeled with plant names and varieties, perhaps even a note to flower colors.
Twenty plus years ago, the site was a strip of sloping lawn on the east and north sides of my home. Imagining myself one day slipping while mowing with my foot sliding beneath the mower that birthed a plan for building a rock wall at the base of the slope which would be backfilled with soil. No more slope and no more mowing.
The Heath Family Stays Together for a Reason
And so was borne my "heath bed," a bed of various plants in the Heath Family, Ericaceae. Grouping such plants together was not just a botanical plaything; it had function. Many members of the Heath Family thrive best with unique soil conditions. Such soils are well aerated, consistently moist, and are very acidic (low pH of 4-5). They also are rich in organic matter yet low in fertility. (I'm very familiar with Ericaceae-friendly soils, having studied soils suitable for blueberries, an ericaceous plant, for my dissertation.)
A good amount of the soil at my disposal to backfill the slope rock wall was old potting soil, which is high in peat. Peat would supply most of the soil needs for these plants, for awhile at least. A sprinkling of elemental sulfur, a naturally mined mineral, and a topping of sawdust, wood chips, or leaves, renewed annually, would keep the ground acidic and enriched with organic matter over time. Two drip irrigation lines set in place would provide consistent moisture.
Meet Some of the Family in my Bed
On to the plants  . . . As a fruit lover, the main reason, besides retaining my toes, for this bed was to provide a home for lowbush blueberries, lingonberries, and cranberries. All these plants are also very attractive. In spring, small, dainty white flowers hang in clusters from the stems. In fall, blueberry leaves ignite in a fiery red color. Lingonberry and cranberry are evergreen. (I delve more deeply into blueberry and lingonberry in my book Landscaping with Fruit.)
Two more related plants were added early on. One, P.J.M. rhodendron, is a dwarf variety that is vary cold-hardy. (A consideration back when winter lows here regularly dropped below -15° F.) The other was heather (Calluna spp.), closely related to, somewhat the less cold-hardy plant heath (Erica spp.)heath, whose generic gives rise to the family name.
Over time, other plants, if they were people, you might say meandered into the bed, all tolerant of those specific soil conditions. Fifteen years ago, I was offered plants in partial payment for a lecture I presented at Broken Arrow Nursery, a nursery that specializes in rare and unusual plants, and especially mountain laurel. I felt like a kid in a candy store, and drove home with five varieties of mountain laurel — the nursery's founder, Richard Jaynes, breeds mountain laurels — and two dwarf rhododendrons with hoary leaves and white blossoms. Mountain laurels and rhododendrons are in the heath family.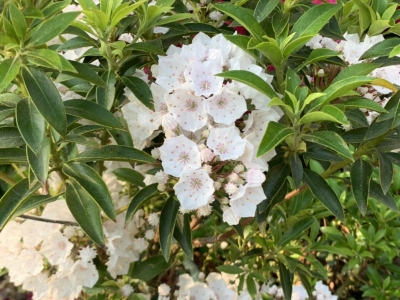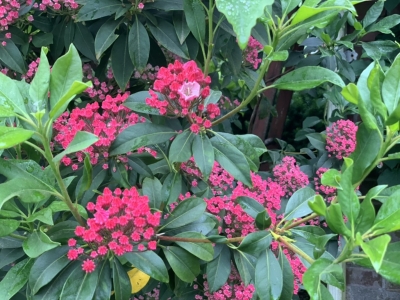 A few years later, another rhododendron was added, this one has grown large, its rich, red-colored blossoms just now starting to fade.
The next heath plant that made it here was picked up by scent. The waft of a very sweet scent on a woodland hike one June day had me, like a dog, go off the trail and into woods sniffing out the source. I found it, identified it, and soon had a small plant of swamp azalea  (Rhododendron viscosum) nestled in here with its kin.
The floor of woodland near here is naturally blanketed with lowbush blueberry; also with huckleberry, another low-growing heath family plant, this one is the genus Gaylussacia. No need to be a botanist to differentiate huckleberry from blueberry. Eat the fruit, and if small seeds crackle in your mouth, you're eating a huckleberry. Huckleberry brings alive its corner of the heath bed when its leaves turn a dark red in fall.
Not Everyone in the Bed is Kin
The bed has also become home a few plants not in the heath family. Early on, the bed was mostly low-growing plants. What the bed needed was more plants to soften the visually abrupt transition from the vertical wall to the flat ground, especially at a corner. A tall plant and a shorter one could soften that transition. For the tall one I chose Japanese stewartia (Stewartia pseudocamellia), whose showy bark has increasingly become a patchwork of green, gray, brown, rust, terra-cotta, and cream with age. Camellia-like, white flowers are soon to unfold and the growing season will close  as the leaves leaves turn a succession of yellow, red to dark reddish purple.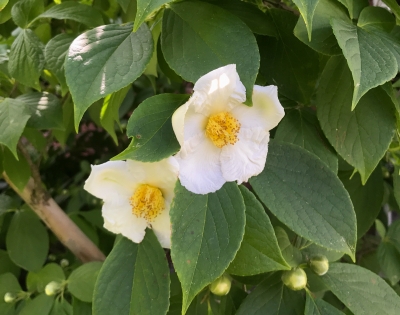 A lower growing plant to bring the wall to ground transition down stepwise is Arnold's Promise witchhazel, selected for fragrant yellow flowers in winter or, this past year, fall.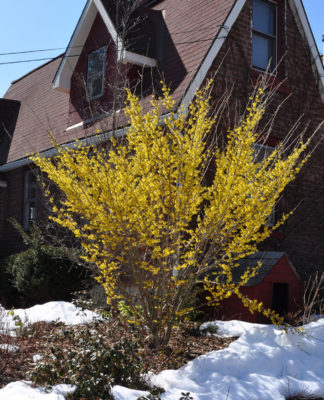 Whoops. Witchhazel have grown much larger than expected, hardly a step down from the stewartia. Arnold's Promise's days in the bed are now limited as I wait for the dwarf witchhazel, Quasiodo (very rare and also obtained from Broken Arrow Nursery), now in the ground, to establish itself.
Softening the look of the north wall itself is climbing hydrangea. The lustrous, green leaves are attractive in themselves and also provide a dark background for white flowers about to unfold like stars in the nighttime sky.
Two more plants round out the planting. One is lupine, whose spikes of purplish flowers poke skyward here and there, wherever it happened to self-sow. The other is sweet fern, planted for its scent that transports me to hikes in he White Mountains summer when I was ten years old.
All in all, I've very happy with the heath bed, a pretty site also providing seasonal scent, the plants and their placement more the result of random whims than deliberate design.
https://leereich.com/wp-content/uploads/2023/06/Heath-bed-from-NE-June-23.jpg
1894
2400
Lee Reich
https://leereich.com/wp-content/uploads/2022/12/header-home-link-247x54-2.png
Lee Reich
2023-06-07 15:26:42
2023-06-07 15:29:54
A SLIPPERY SLOPE