Share the Bounty
Thanksgiving is a holiday that really touches the gardener, this gardener, me, at least. If nothing more, it's a harvest festival, a celebration of the bounty of the season's efforts. And the season has been bountiful, as is every season if a variety of crops are grown.
Like most home gardeners, I grow a slew of different vegetables and fruits in my gardens. This year's poor crops of okra, lima beans, and tomatoes was counterbalanced by especially bounteous crops of peppers, cabbages (Asian and European), and various kinds of corn (sweet corn, popcorn, polenta corn) and beans (green, cannelloni).
More than just give thanks, why not give back? One way would be to share the bounty with others who either don't garden or can't afford to purchase enough produce. Ample Harvest (www.ampleharvest.org), Angel Food Ministries (www.AngelFoodMinistries.org), and Feeding America (www.feedingamerica.org) are three organizations that can direct your vegetables and fruits to local pantries. Some gardeners take inspiration from the suggestion of Garden Writers Association to "Plant a Row for the Hungry."
Thank You, Soil
This Thanksgiving, actually all through autumn (and every autumn), I'm thankful to the soil. Much of life is supported by the thin skin of earth that envelops the earth's surface. (The skin of an apple is, relatively speaking, proportionally the same to the size of the fruit as the skin of soil is to the size of our planet.)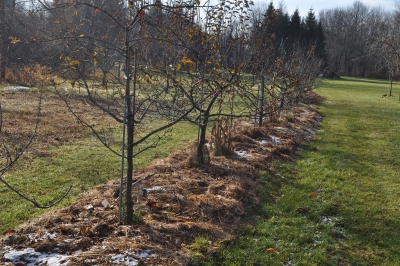 That earthy skin also plays an important role in recycling water and organic materials.  Soil stores and purifies water, and is host to 10,000-50,000 species of microorganisms in every teaspoon that break down and recycle waste leaves, tree trunks, dead animals and other organic materials.
I offer thanks to the soil by feeding soil organisms organic materials. I haul in materials that people elsewhere have too much of: bagged leaves; manure mixed with wood shavings and hay from a local horse farm; wood shavings from a sawmill. On site, I feed soil creatures kitchen trimmings, hay mowed from my meadow, old cotton, wool or leather clothing, shredded paper, and anything else derived from what is or was living. Some of the stuff gets spread on the ground as mulch. Some gets composted before being spread on the ground.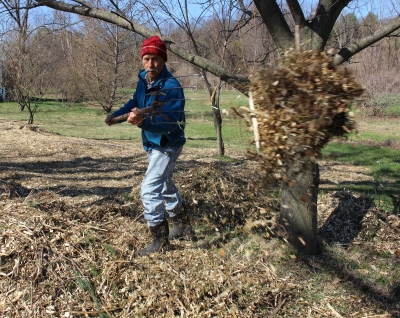 When all is said and done, my ground each years is better, in terms of fertility, soil life, water holding and drainage, than it was the previous year. On the practical side, there's no need for me to purchase fertilizer.
—————————————
That's not all with this thankfulness. How about the environment generally, not just the soil? Nothing to do this time of year except to carry on as usual. That includes eliminating or minimizing the use of various -icides. Fungicides to kill fungi, insecticide to kill insects, herbicides to kill weeds, acaricides to kill mites, bactericides to kill bacteria . . .  did I leave any out?
True, gardening isn't Nature, and even good gardens get occasional pest problems. But, as I wrote above, most gardens easily yield an abundance of vegetables, fruits, or flowers, so some could be sacrificed to (shared with?) pests.
And there's something to be said for ignoring a certain amount of damage, especially if it is only cosmetic. After all, plants tolerate the damage. The remaining parts of a leaf that has been chewed away by and insect, for example, then step up to bat with beefed up  photosynthesis.
On the rare occasions when it's necessary to reach for some -icide to do in a pest has gotten sufficiently out of control to seriously threatens a plant, I opt for environmentally-friendly alternatives. I'll use the pest-specific bacterial fungicide Bacillus thurengiensis (sold under such trade names as Thuricide and Dipel) to kill the various cabbage worms (they're actually not "worms" but "caterpillars"). And insecticidal soap or horticultural oil to kill scale insects and mealybugs, and certain fungi, and pans of beer to attract and kill slugs.
Mostly, though, I let Nature take care of itself, within reason. I decide what plants to put in my gardens and what plants to weed out (weeds). Severe pest outbreaks require a decision on whether action is necessary or whether the particular crop can be sacrificed. (That's the advantage of home gardens: financial decisions don't rule and diversity means there's always plenty of other vegetables or fruits to harvest.) I regularly "feed" the little guys in the soil who, in turn, feed the plants to replenish nutrients they take from the soil, and then are moved further offsite into my kitchen.
https://leereich.com/wp-content/uploads/2022/12/header-home-link-247x54-2.png
0
0
Lee Reich
https://leereich.com/wp-content/uploads/2022/12/header-home-link-247x54-2.png
Lee Reich
2017-11-29 15:32:23
2017-11-29 15:35:41
Giving Thanks