Sowing My Oats
Whew! Just made it under the wire. Sowing cover crops, that is. (Cover crops are plants grown solely to improve the soil.)
With the vegetable garden still filled to the brim, now overflowing with cabbage, kale, mustard, arugula, lettuce, Chinese cabbages, and radishes, with even corn and peppers still yielding well, where am I going to find room to plant a cover crop? Despite the cornucopia, some plants — the corn, peppers, and other warmth-loving vegetables — are on their way out. As they peter out, it's too late in the season to sow any more radishes, lettuce, or any of the other cool season crops; there's not enough time or sunlight for them to mature.
No reason to leave a recently cleared bed of early corn, early beans, or okra bare, so I planted those beds to a cover crop. Problem is that after a certain time of year, there's not enough time or sunlight for even a cover crop to grow enough to do some good for the soil. My date for that is early October; further south it will be later; further north, earlier.
Right after clearing a bed of spent vegetable plants, I go over it carefully to remove every weed. Then I smooth the ground and give it a thorough watering to give the cover crop plants a quick start. What plants? Oats.

I grow oats as a cover crop because I never till the soil in my vegetable beds. Oats loves the cool weather of fall and early winter, quickly sprouting into a lush, green carpet. By February, though, that lush carpet turns tawny and flops down on the ground, dead. Come spring, I could plant right through that mulch. Or, it could be rolled up with a grass rake, or just pulled off barehanded; removing it speeds soil warming.
Other good cover crops for no-till gardens are barley and, to also add nitrogen to the soil, peas. Gardeners who till their ground usually plant rye grain as a cover crop. It survives winter, then grows with vengeance in spring; hence the need for tillage.
Back to that watered bed. I sprinkle the bed with oat seeds, then top the bed with an inch of compost. Green sprouts poke through that compost blanket in a couple of days or so.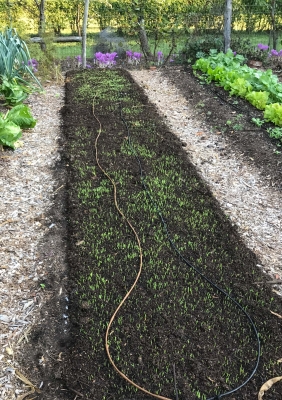 Is It Worth It?
Planting a cover crop in a bed that gets an annual dressing of an inch depth of compost may seem like "carrying coals to Newcastle." After all, one potential benefit of cover crops are that they add organic matter to the soil. That inch of compost is already organic matter, and plenty of it.
In fact, I have never observed any better growth from a bed that has been cover cropped over one that received only the compost blanket. And for some reason, the cover cropped beds always seem to have more weeds in them in spring — surprising, since a cover crop should be shading or pumping out natural chemicals to suppress weeds! Perhaps some weeds insinuate themselves in fall in among the oat plants, where I can't see them. My plan, this spring, is to cover some of the cover-cropped beds for a week or so with a black blanket (recycled billboard tarp, available online) which will warm the ground up quicker and snuff out potential weeds.
Even cover crops' potential benefit of enriching the ground with organic matter doesn't always pan out, and surely not the way I plant them. Organic matter is largely carbon. Young plants are relatively rich in nitrogen and poor in carbon, a ratio that reverses as the plants age. A young cover crop, then, doesn't add organic matter to the soil; its excess nitrogen could even contribute to the oxidation and loss of organic matter. Oats planted this time of year grow lushly, but never mature enough to tip the scales in that early ratio of nitrogen and carbon.
(I dive into more depth about cover crops in my book Weedless Gardening.)
Cover Crop Brings Many Benefits
Still, I'm planting a cover crop — for some of its other benefits.
Rain and snow in the coming months can wash nutrients down and out of the soil. The oat roots, as long as they are alive, can suck up those errant nutrients and keep them nearer the surface for next season's vegetable plants. Cover crops also soften the impact of rain pounding on the soil, preventing erosion.
As roots of cover crop plants push through and ramify in the soil, they nudge soil particles around to improve tilth (structure of the soil) making it crumbly, all to the liking of plants. These roots also team up and nourish other organisms, such as fungi, that also improve tilth. Channels of varying size are left in the soil as roots die off and rot away. Such channels provide easy conduits for new roots, as well as for air and water.
And finally, I'm planting cover crops for myself. With green fading from the landscape into reds, yellows and tawny browns, it's refreshing to look upon the green carpet rather than bare soil in the vegetable garden.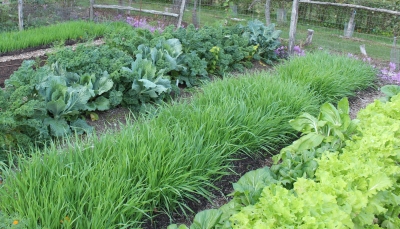 https://leereich.com/wp-content/uploads/2022/12/header-home-link-247x54-2.png
0
0
Lee Reich
https://leereich.com/wp-content/uploads/2022/12/header-home-link-247x54-2.png
Lee Reich
2017-10-18 11:35:38
2017-10-18 11:35:38
I Clothe The Ground