The Blueberry Capital
    A few turns after Exit 38 on New Jersey's Garden State Parkway and I, a blueberry nut, soon entered what a visit to Bristol, Virginia would be to a country music nut, what Tupelo, Mississippi would be to an Elvis Presley nut, what Springfield, Massachusetts would be to a basketball nut, what . . .  A big, blue sign declares Hammonton, New Jersey the self-proclaimed "Blueberry Capital of the World." Literally millions of pounds of blueberries are picked and then shipped from this region of New Jersey each summer.
    A few more miles and a few more twist and turns through the New Jersey Pine Barrens brings you to Whitesbog, New Jersey, "the birthplace of the domesticated, highbush blueberry."
    Let's parse that last accolade.
    "Domesticated:" Blueberries are a native American fruit that up until the early part of the last century were harvested only from the wild. No one cultivated them! Then Elizabeth White, a cranberry grower in Whitesbog, teamed up with Dr. F. V. Coville of the USDA to study and improve the blueberry. Ms. White instructed her pickers to search out the best wild blueberry bushes, which were moved to her farm. Dr. Coville investigated the rather specific soils (such as those of the Pine Barrens) enjoyed by blueberries (such as those of the Pine Barrens), and further evaluated and bred Ms. White's selections. And the rest is, as they say, history.
    "Highbush:" A number of blueberry species exist but the large berries for fresh eating that you see on market shelves are highbush blueberries, botanically Vaccinium corymbosum. Canned blueberries are usually another species, lowbush, botanically V. angustifolium. Dr. Coville and subsequent breeders have mated these two species as well as a number of other species with the goal of producing the elusive perfect blueberry. (Elusive to blueberry breeders, not to me; I like just about all of them.)
New Blues
    After passing field after field of cultivated blueberries alternating with dense woodland, I turned into the parking area of the Marucci Center for Blueberry and Cranberry Research & Extension to meet with USDA research geneticist Dr. Mark Ehlenfeldt.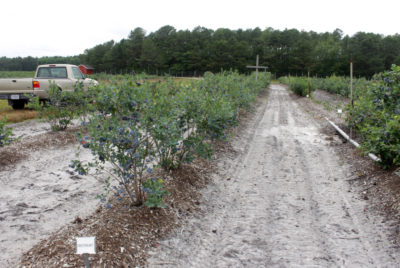 We looked at the fields of sandy soils formed into caterpillar-like, mulched mounds atop which were planted the bushes. We talked about the various species — V. constablaei, V. darrowii, V. ashei,  in addition to the previously mentioned highbush and lowbush — that parented the various bushes.
    Best of all, we plucked fruit to taste from many different varieties, some of which I grow and others of which are new to me. A few new ones that really stood out for me were:
•Sweetheart, for its medium-size that ripen early with excellent flavor
•Cara's Choice, also with excellent flavor, in addition to pinkish flowers; ripening mid-season
•Razz, a soft berry with a hint of raspberry flavor, and
•ARS 00-26, a small blueberry with a sweet, wild blueberry flavor.
    Another blueberry variety that was very interesting, and perhaps tasty, was Nocturne, whose fruits, as they ripen, go from pink to bright red to blue black, making them very ornamental.
Nocturne fruits are supposed to have a unique flavor, sweet and somewhere between that of highbush and rabbiteye (V. ashei); they weren't yet ripe so I wasn't able to taste them. I did get a plant last year that is now ripening fruits so I can soon vouch, or not, for their flavor.
    Two hours and many blueberries eaten later, I was on my way home.
    Note: Not all the varieties mentioned are currently commercially available.
Beatlemania — I Hope Not
    On a negative note, I saw here today (June 29th) the first Japanese beetles of the season, three on some grape leaves and four on some black raspberry fruits. I could just throw up my hands and brace myself for the few weeks of attack. Spraying pesticides is not an option; the beetles feed on hundreds of species. I'd have to spray just about everything here, including fruits ready to harvest, which is a no-no.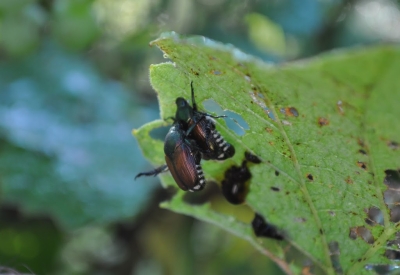 I'm hoping the beetles take the same tack they have for the past two years, a few showing up, and then, shortly thereafter, doing about faces and leaving for the season. I have no idea why.
    Worst case scenario is that they descend in hordes, in which case I'll remind myself that plants can tolerate a certain amount of damage, with remaining leaf area working harder to compensate for leaf area chewed away. Also, the beetles make their exit in August.
    I pulled the seven beetles I saw off their respective plants, threw them on the ground, and stomped on them. Not out of anger or meanness, though. Beetle feeding attracts more beetles. I didn't want any invitations for their friends and relatives.
https://leereich.com/wp-content/uploads/2022/12/header-home-link-247x54-2.png
0
0
Lee Reich
https://leereich.com/wp-content/uploads/2022/12/header-home-link-247x54-2.png
Lee Reich
2016-07-15 09:15:23
2016-07-28 13:44:59
HEAVEN AND(?) SOME HELL