I Find Common Ground, and More, in Maine
 My Favorite Country Faire
   Two dogs, one cat, six ducks, and one chicken are trusted to the care of friends; sourdough starter is re-fed and chilled; plants are on their own. It's hard to leave the farmden. But this trip — to Maine — is well worth it.
    Walking through the entrance gate to the Common Ground Fair in Unity, Maine, my senses are overloaded with color and fragrance. Along either side of the entrance path are boxes piled high with bright orange carrots, spilling over with the blue green leaves of kale, or packed full with yellow or red beets. Also flowers, herbs, and cheeses. Pervasive is the resiny fragrance of sweet Annie (Artemesia annua), which for some reason seems to be perennially the signature herb of the fair. Buckets are filled with stems for sale; knapsacks sprout bunches of purchased sweet Annie from their zippered pockets; and girls and women sport woven sweet Annie headdresses. From the shade of tents on either side of the walkway, Maine's myriad organic farmers are hawking their wares.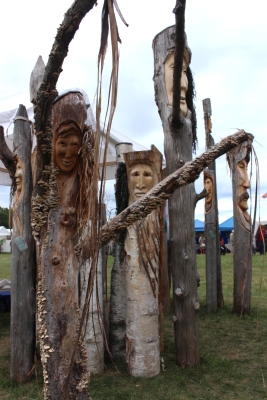 Sweet Annie isn't the only fragrant herb at the fair. In the tent devoted to some of Maine's political groups, buds of marijuana — medical marijuana — are available for olfactory sampling.
    Central to the Common Ground Fair, like all country fairs, are agriculture and rural skills. A team of oxen strain under the weight of logs they are pulling. Border collies bead down on sheep, demonstrating their herding skills and the training skills of their owners. A bearded, young man swings an adze as the log on which he is standing takes on a square cross-section. Another bearded man helps a young boy pull a bow back and forth until smoke curls up from the round, maple peg rubbing the round notch in a maple board: fire-making without matches.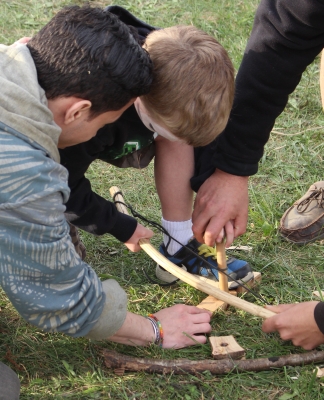 In other tents, these with closed, darkened flaps, someone standing near a flap holds the attention of a seated crowd in the darkened interior. No, not a cult gathering. Throughout each of the three fair days, workshops are offered in such diverse topics as "Farm-Raised Kids on an Organic Farm in Maine," "Backyard Grain Growing," "Advanced Seed Saving," "Growing Grass-fed Vegetables," and "Weedless Gardening."  (The last was one of the three workshops I held at the fair.)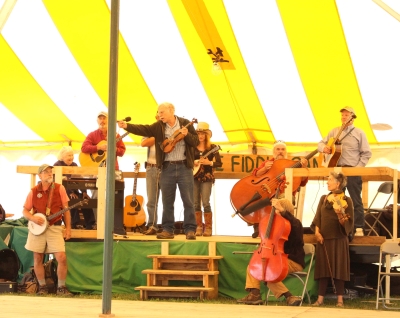 Old-Fashioned Fun
    Common Ground Fair is "retro," an improvement on country and county fairs, in doing less. No amplified voices of barkers try to woo you in to win a stuffed gorilla. In fact, a three-year-old boy trying to pound an oversize sledge hammer onto a pad as a test of strength, with a lot of help from his mom, was the only strength or skill test I saw — and no prizes offered.
    No rides either. No fun? Given the happy whoops of the slew of children running up a grassy slope with flattened cardboard boxes, then jumping on them with a running start to slide down, I's say they were having fun.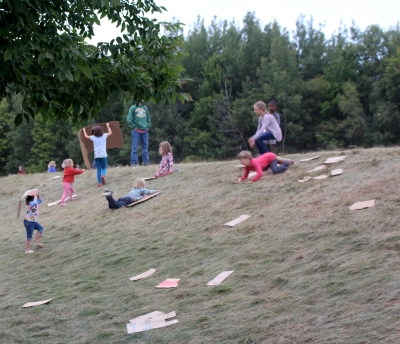 Just about everything at the fair is made or grown in Maine. (Used to be that everything had to be grown in Maine, which put coffee drinkers on edge. Maine-roasted coffee is now available at the fair.)
    Twilight is wondrous at the fair, mostly because you can see the twilight. No strings of electric lights bring the fair to new life at the end of the day. Most people leave. The only light, besides the setting sun, is the soft, yellow glow of lanterns or campfires. The fragrance of the campfires and the sounds of campers' home-grown music around the campfires are the parting senses as I leave the fair.     
My Favorite Garden Designer
    Beatrix Farrand is a name that most people do not recognize, although she was a woman who created some of the most beautiful landscapes and gardens in the world. And she did so at a time — in the early 20th century — when such professions were not open to women. Much of her landscape work was in Maine, on Mt. Desert Island, as was her home, Reef Point.
    Reef Point was Beatrix's family estate; under her care, it evolved into a horticultural heaven, with garden areas woven together by grassy paths. Spruce trees created microclimates that allowed azaleas and other plants not usually adapted to cold of Maine winters and the buffeting by ocean winds to survive and thrive. The gardens, the experimental plantings, and their descriptions in Farrand's Reef Point Bulletins were all part of her vision of Reef Point as an educational enterprise.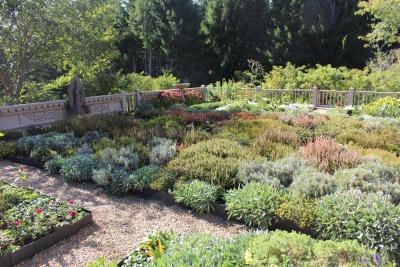 Alas, Reef Point Gardens did not fulfill the vision: wildfire and lack of funding forced Ms. Farrand to down-size. She dismantled Reef Point and moved to an addition she had built attached the home of Lewis and Amy Garland, the superintendent and chief horticulturalist of her Reef Point Estate.
    Garland Farm — my last stop on my visit to Maine — was Beatrix Farrand's final design, incorporating many architectural elements and plants salvaged from Reef Point. In contrast to Ms. Farrand's other projects, which included designs for Princeton University, Rockefellers' Seal Harbor estate, The Mount (home of Edith Wharton, Beatrix's aunt), Dumbarton Oaks (my favorite of all gardens), and the Santa Barbara Botanic Garden, Garland Farm is a small garden.
    Looking out the French doors of Ms. Farrand's study at Garland Farm onto the small parterre garden, your eyes are carried along a path to a Buddhist statue. Along that path are beds home to lavender, heathers, and other plants with year 'round effect. The whole area is defined by a low balustrade, setting it off from the view of the meadow and grove of Norway spruce trees in the distance. This garden incorporates the same design principles — axis, year 'round effect, structure, and integration of views — on an intimate scale, that were so successful in Beatrix Farrand's larger projects.
https://leereich.com/wp-content/uploads/2022/12/header-home-link-247x54-2.png
0
0
Lee Reich
https://leereich.com/wp-content/uploads/2022/12/header-home-link-247x54-2.png
Lee Reich
2015-10-14 19:14:58
2015-10-14 19:14:58
I Find Common Ground, and More, in Maine