Too Much Respect, Walnut Tech, and Nasturtium Homage
Last week I wrote that popcorn "don't get no respect," but should. This week: garlic, why so much respect?. It may be sacrilege — although it was not the case 50 years ago — to say that I'm not crazy over garlic. The amount of space people now devote to garlic in even small gardens never ceases to amaze me. If pressed for garden space, I'd fill every square inch with tomatoes, peppers, peas, and other vegetables that you can sink your teeth into right out in the garden, rather than garlic. You can't purchase that experience; you can by garlic.
Okay, I do grow some garlic. But not well. My garlic's roots don't get to wallow in soft, mellow, compost-enriched, drip-irrigated soil along with my other vegetables. The cloves get tucked in an out of the way place where neighboring plants force its green shoots to stretch for light and the soil is not nearly as nourishing.
A challenge to grow something well can be more attractive than a good harvest, which is what induced me, a few weeks ago, to purchase some heads of California Softneck garlic for planting. Potential problems with this purchase did nothing to restrain me — again, for a potential challenge rather than future flavor.
First, it was a little late for planting. Garlic likes to be settled into the ground in early fall, even as early as late summer. Roots grow as long as the ground temperatures remain above 40°F.. Planted early, then, roots can begin foraging for nutrients and anchoring the cloves against being heaved up and out of the ground as the soil freezes and thaws.
The second problem is with the variety California Softneck. Softneck varieties are generally grown in — guess where? — California, and are generally, not always, less cold-hardy than hardneck varieties. Perhaps my purchase was a cold-hardy softneck. Perhaps not. California Softneck does not seem to be a true variety name.
Oh well . . . into the ground the cloves went, 4 inches apart. Because everything else was so iffy about this planting, the cloves were awarded prime real estate, right in the vegetable garden. Because of late planting and dubious cold-hardiness, these cloves got further coddling with a mulch of
pine
needles to slow cooling of the soil.
I like a little garlic and even if California Softneck puts on a poor showing, next summer I will harvest some of the hardneck varieties I planted, as usual, in late summer in an out-of-the-way spot outside the vegetable garden.
Buckets of black walnuts awaiting processing have spurred new technology in backyard black walnut husking. The nuts are ubiquitous, delicious, and free for the taking. Problem is that they are wrapped in spongy, green husks that are messy and tedious to remove.
The usual approaches to husking are stomping on the fruits or driving repeatedly over them, then rubbing off the barely clinging pieces of husk. It's a lot of stoop labor.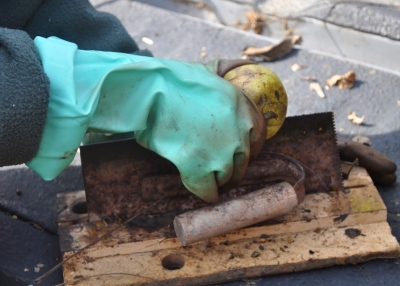 Enter a trowel, the kind with the serrated edge that's used to spread tile adhesive. One edge of said trowel went into a slit I cut partway into a sturdy piece of wood, which kept the trowel oriented vertically.
To husk, roll a nut along the serrated edge. With that done, a twist of the halves in opposite directions leaves half the husk in one hand. The other half peels away with ease. This walnut-trowel technology works especially well with husks whose flesh is still plump, as they are when freshly harvested. Husks go into a bucket and nuts onto a tray for a couple of days of drying, then to the barn loft for a couple of months of curing.
My friend Bill is sticking with his stomping-on-the-fruit method of husking. Sometimes I also walk along and stomp a few nuts before stooping to gather them up. For bulk processing, though, I like using the trowel.
Every time I walk past the arbored gate into my vegetable garden, I get to admire the nasturtium vines hugging and trying to climb the locust posts. Red, orange, and yellow flowers continue to peek out from among the round leaves that still ooze the freshness of summer growth.
Nasturtium offers a lot of bang for the buck. No need to start plants ahead of planting out in spring. I just poke a hole in the ground and drop in one or two of the pea-sized seeds wherever I want a spreading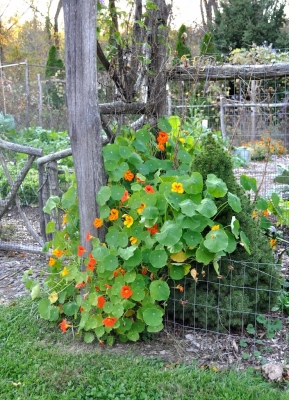 glob of greenery and flowers — perfect for, softening the stark contrast between a vertical post and flat ground or the sharp-looking edge of a wall.
If that's not enough to recommend nasturtium, eating them would almost be. Either the leaves or the flowers are a spicy addition to any food. The taste is too sharp to wolf down in any quantity. Nasturtium is good en masse to look at and good with a light touch for eating.
Late news flash: A few days after I wrote about and was admiring my nasturtium, night temperatures plummeted to 24 degrees F. The flowers melted into a tawny mass of
ones
and stems, all of which I whisked over to the compost pile before it turned to mush. It was a good run while it lasted.
https://leereich.com/wp-content/uploads/2013/11/garlic-planting.jpg
1024
864
Lee A. Reich
https://leereich.com/wp-content/uploads/2022/12/header-home-link-247x54-2.png
Lee A. Reich
2013-11-07 18:45:00
2014-07-14 15:16:35
Too Much Respect, Walnut Tech, and Nasturtium Homage