Blueberry Challenge and Aromas Good and Bad
Book Giveaway: AND THE WINNER IS: Andrea Jilling. Andrea, please contact me about mailing out the book. Everyone, stay tuned for more book giveaways in future weeks.
————————————-
Blueberry-growing used to be so boring. Each autumn I'd spread soybean meal beneath the plants as fertilizer and top it with 3 inches of leaves, wood shavings, or other mulch. Late each winter I'd prune. In late June, netting would go over the top of the plants and from then on, into September, I'd harvest oodles of blueberries.
Earlier this year I knew things could get interesting. Spotted wing drosophila (SWD), a new pest fond of many fruits, showed up last year in the area and an encore was predicted. And then, starting in early August, my harvested blueberries began to soften quickly and were soon swimming in their own juice. The culprit, SWD, was here, in numbers, with plenty of enticing berries still weighing down the branches.
"Drosophila" might sound familiar from experiments in your high school biology class; it's a fruit fly. SWD differs from other fruit flies in not waiting for fruit to be ripe or overrripe. This impatient bugger lays eggs in unripe fruit.
Blueberry harvest is an almost daily affair and my blueberries are organic, sustainable, green, artisanal, (very) local, etc., etc., so I couldn't just start spraying any old pesticide. Fortunately, there is one pesticide, called Entrust (derived from a bacterium collected from the soil of an abandoned sugar mill in the Virgin Isles), that is "organic" and effective against SWD. I did spray and now, despite the mildness of this material, we have to wait 3 days for the spray to dissipate before harvesting berries. Restraint is needed with Entrust because one generation to the next for SWD can take less than 2 weeks, leaving ample opportunity for resistant strains to evolve, especially if the pest overwinters locally (which is not known at this time).
After two sprays of Entrust one week apart, I should and will try something else, in this case a 1% oil spray — also "organic" and relatively benign. In laboratory settings, at least, oil has been effective.
What about all the berries on the plant with SWD eggs in them that are and will hatch into adults? Harvesting them and whisking them into a refrigerator at 34° for 72 hours will kill eggs and larvae. Same goes, of course for freezing them. Another option is to immerse them in that 1% oil mix for 5 to 10 minutes.
The battle against SWD should not — does not — end there. Fine netting encasing the plants could keep flies at bay, as long as it's put on before SWD arrives or, if resident ones exist, after an early spray of Entrust. Thorough cleanup of infested fruits will keep populations down. We're throwing soft fruits into a bag which goes into the freezer, and then it's a dish of fresh frozen eggs and larvae and blueberries for my chickens. Mmmmm.
You might detect some flippancy in my attitude towards this serious pest. That's because we already have 69 quarts of sound blueberries in the freezer.
(Thanks to Peter Jentsch and Cornell's Hudson Valley information for much of this information.)
UPDATE: Two sprays of Entrust and one spray of horticultural oil, each spray a week apart, seem to have brought SWD under control. Once the berry harvest is over, we'll let our free-range chickens access into the "Blueberry Temple" too clean up fallen fruit and resident SWD larvae.
Garlic has been harvested and, as usual, my yields and bulb sizes are nothing to brag about. "You should have cut off the scapes," suggested more than one person, the scapes referring to the curly, bulbil-topped stalks that emerge from the centers of hardneck garlic plants.
I'm skeptical about scape removal. After all, that greenery does photosynthesize and, hence, help nourish the plant. And while seed development can drain a plant of energy, a scape is capped by small bulbils, not seeds.
A little research yielded widespread recommendations for scape removal, but hard data backing up that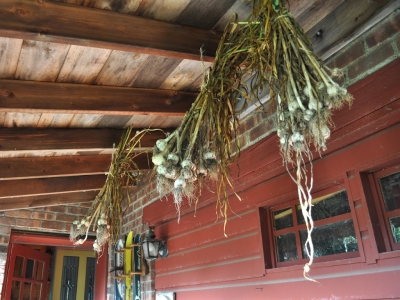 recommendation was generally lacking. What I did learn was: 1) benefits of scape removal depend on the soil and variety of garlic; 2) benefits are greatest in poor soils; 3) benefits may be in terms of yield or bulb size. The most consistent reason to remove the scapes is that they are edible if harvested when just developing.
I don't like the taste of the scapes so won't bother removing them. I'm also not a big fan of garlic flavor so tend to plant them outside the garden in out-of-the-way locations where they're never watered and the soil is not particularly rich. Hence, my poor showing of garlic.
The garlic is now curing as it hangs from the rafters of my front porch where it, fortunately, keeps its aroma to itself. Along the path leading up to the porch are a few plants whose aromas are a lot more welcome on the way to the front door. Those plants have clustered there not by some grand plan of mine, but just by chance.
Let's see, first on the way to the door is Jasmine 'Maid of Orleans' (Jasminum sambac) whose flowers emit a pure, sweet aroma. The plant has been blooming more or less all summer but you do need to put your nose right up to the flower to smell it. Next comes jimson weed (Datura spp.) and angel's trumpets
(Brugmansia spp.), both vespertine plants with 6-inch long, trumpet-shaped blossoms that appear sporadically. I'm always enjoying rose geranium, mint, and rosemary, next in line, because its their leaves that are aromatic; a pinch can send me to olfactory heaven anytime I wish, day or night.
Nestled in among these last-named plants is one small pot of alyssum. Alyssum blooms nonstop through summer and into autumn so the honeyed scent can be enjoyed whenever I pass, as long as I stick my nose down into the flowers.
https://leereich.com/wp-content/uploads/2013/08/Garlic-curing-on-rafters.jpg
768
1024
Lee A. Reich
https://leereich.com/wp-content/uploads/2022/12/header-home-link-247x54-2.png
Lee A. Reich
2013-08-23 14:46:00
2014-07-14 15:16:47
Blueberry Challenge and Aromas Good and Bad