Philahortica & Yet Another Giveaway!!
The High Mowing Seeds giveaway is over and the seeds are on their way to the winner; but let's have another giveaway! This time it's a copy of my newest book, Grow Fruit Naturally. I'll select randomly from all the comments offered by everyone who writes in as to what state they live in and what fruits they grow successfully and unsuccessfully, and what their favorite fruits are. The deadline for getting comments in will be Wednesday, April 3rd, at noon.
Philadelphia should not be called the "city of brotherly love." No, I didn't get mugged on a recent trip there. It's just that more evident — to me, at least — is Philadelphia's greenery. The city is oozing greenery, with over 10,000 acres of park land and hundreds of community gardens and small orchards right within city limits.
Weeping cherries, Bryn Mawr, PA
Philly's more formal garden traditions harken back at least to the early 18th century. It was then, along the banks of Philadelphia's Schuylkill River, that John Bartram, America's first botanist, planted a garden from which notable American plants were distributed across the Atlantic. John traveled with his son William throughout the colonies studying and collecting plants, including Franklinia, a rare species that the father and son team came upon in the Altamaha River valley in Georgia. They brought seeds back to their nursery, trees of which are the source of all Franklinias in existence today. Franklinias have never been seen again in the wild since the Bartram's last sighting.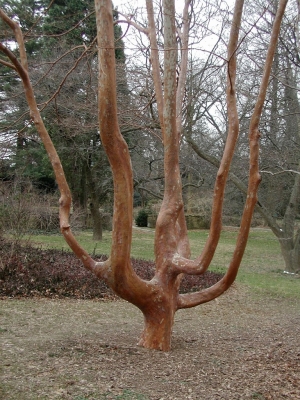 Stewartia monophylla at the Barnes Foundation, PA
But let's get back to today's city of horticultural love (Philahortica?). Trees seem to like it there. I've come upon majestic specimens of sycamores and weeping cherries, Korean mountain ash from which drooped fiery, orange fruits, and stewartia trees with sculptural, copper-red trunks. Last week, the weather there was warm yet the ground seemed to be covered with broad, thin expanses of lingering snow. No, not snow! Closer inspection revealed sweeps of pale blue crocus flowers just unfolding. This self-seeding, deer-resistant crocus species — Crocus tommasinianus, with the appropriate common name of snow crocus — seemed to be coming up everywhere.
During my three days in Philahortica, the plant that really blew me away was sarcococca, also known as sweet box. And how sweet it is. Walking down a sidewalk, I all of a sudden started sniffing the air like a dog. No flowers were in sight, but my nose brought me closer to a thick, green groundcover with tiny, cream-colored flowers tucked into the leaf axils. The aggregate effect of all those tiny flowers was a sweet scent barreling down from the bank of plants to the portion of sidewalk I was approaching. I have to admit that I was not at all familiar with the plant, having learned my plants in Wisconsin where Sarcococca and other evergreens are not cold-hardy, at least back when I lived there.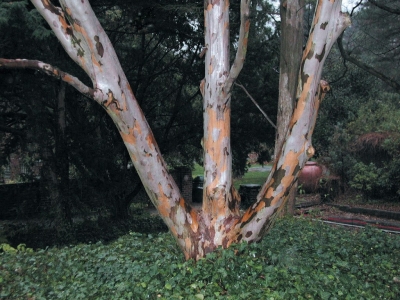 Stewartia japonica
Already I've sited, in my mind, a home here for Sarcococca. This evergreen plant enjoys partial shade with moist, well-drained soils that are rich in organic matter, which are the same conditions enjoyed by many plants in the heath family (Ericaceae). I have a whole bed of heath family plants — including mountain laurel, rhododendron, lowbush blueberry, and lingonberry — along the east and north sides of my home. Sarcococca will look right at home sharing the bed with these plants when tucked right up to the brick wall of my house.
Among the species of Sarcococca, the one I'll be seeking out in the coming weeks is the botanical variety humilis of S. Hookerana. Sarcocca is borderline cold-hardy in my relatively cold garden, and the variety humilis is a bit more cold-hardy than digyna, another botanical variety of the species. The brick wall should offer extra heat in winter and protection from drying winter sun and wind.
The path to the front door runs right along that bed and if everything goes as planned, I and others will be enjoying the sweet, sarcococcal fragrance as we walk along the path in two March's hence.
Witchhazel, here at the farmden
Not that there's any lack of fragrance around here this time of year. Outside, near that front walkway, witchhazel is in full bloom. Indoors, jasmine is coming to the end of its bloom period but the fragrant orchid, Ondontoglossum pulchellum is still going strong. Gardenia flower buds are fattening up next to my desk and, back outdoors, a whole bed of hyacinths are pushing up through the soil.
https://leereich.com/wp-content/uploads/2022/12/header-home-link-247x54-2.png
0
0
Lee A. Reich
https://leereich.com/wp-content/uploads/2022/12/header-home-link-247x54-2.png
Lee A. Reich
2013-03-29 08:06:00
2014-07-14 15:17:16
Philahortica & Yet Another Giveaway!!