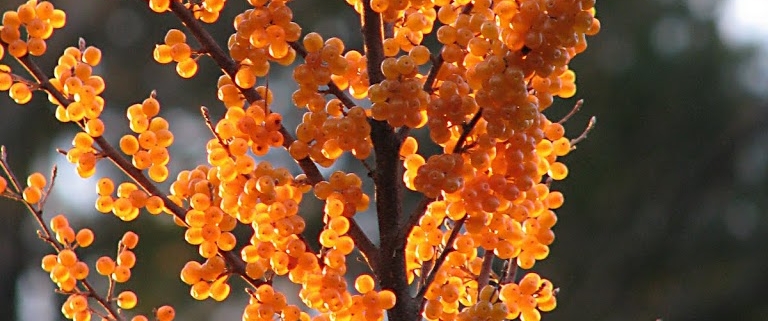 [autumn olive, painting trees for winter, fritillaria propagation
Okay, I'm braced for an attack. Imagine a fruit, ripe for the past few weeks, with a pleasantly aromatic, sweet-tart flavor. My informal "surveys" have shown very positive response to plates of the fruits brought to various gatherings; the fruits disappeared. The berries are small, yellow or red, with a silvery flecking on the outside and a soft, edible seed within.
The bush bearing these fruits is no slouch in appearance. It's got silvery leaves and pale yellow flowers that individually don't amount to much but together suffuse the plant with a soft haze in spring, a sweetly fragrant haze. Care needed for this bush is zip, nothing, rien, nada. And with that beauty, fragrance, and lack of trouble, I get oodles of fruit, much more than I could eat.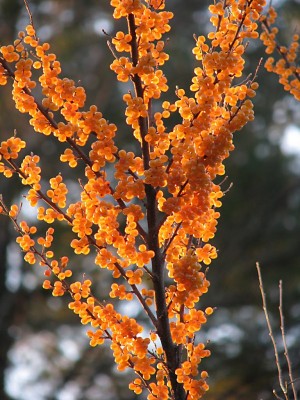 Now I'm ready to duck for attack . . . the plant is autumn olive. There, I've said it. Yes, the plant, a native of Asia, is invasive, readily colonizing roadsides and abandoned meadows. Native plant purists and invasive plant police scorn this bush for its fecundity. It was introduced into this country over a hundred years ago as a plant for wildlife food and cover, and to improve soils such as those covered with mine spoils. (Microorganisms associated with the roots take nitrogen from the air and put it in a form plants can use, like fertilizer.)
I am not advocating planting autumn olive. But, as long as it's here, I am advocating enjoying it. The fruits are also very healthful, so says USDA research touting the fruit's high lycopene levels, research evidently done by a different branch of the USDA than the one working on invasive plants. Just think, every berry I (or you) enjoy is one less berry eaten and seed spread by birds.
****************************************
On an even lighter note, I spent an hour or so over the last two days painting some of my trees. The goal was not for them to put on a better face for winter, but for them to better face winter. Cold and furry animals are what will threaten these trees in the coming months.
Cold per se is not the problem. The problem is warmth, then cold. The dark trunk of a tree, especially a young one, is warmed by direct sunlight on bright, crisp winter days. As the sun drops below the horizon, bark temperature plummets, to the chagrin of the tree.
Deer, rabbits, and mice are the furry threats, eating trees from, respectively, the top branches to the lower branches and bark to the trunk, again, especially young trees. Two dogs, a bit of fencing, and 'Deerchaser' (en effective electronic repellant) keep deer at bay.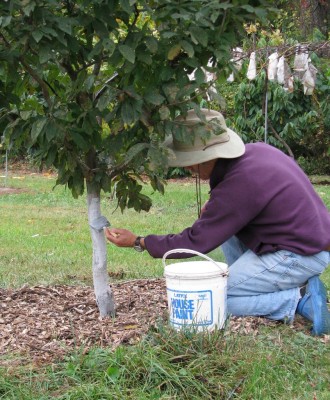 The paint that I brushed onto trunks and the lower branches is for the cold (actually, the warmth), the rabbits, and the mice. I made my own concoction, starting with a goopy mix of old, unfired, porcelain clay from Deb's studio, white latex paint, and enough water to make it all thick and creamy. The white color of the mix will reflect the sun's rays to prevent bark warming.
I also put a few eggs into the mix to make painted trunks and lower branches unappealing to vegetarian rabbits and mice, which they all are. And finally, to further hit home the idea that these trunks and branches aren't for eating, into the mix went some garlic powder, cinnamon, and cayenne. I'm hopeful that the clay, if the mix stays on through next summer, will also deter some boring (as in "hole making" rather than "uninteresting") insects.
The trees don't look at all bad with this cosmetic touch.
*******************************************
I'm on my way to becoming the crown king of crown imperials. That's a plant, Fritillaria imperialis, a plant of which I am a big fan. Problem is that crown imperials are very expensive, selling for anywhere from $10 to $30 for each bulb.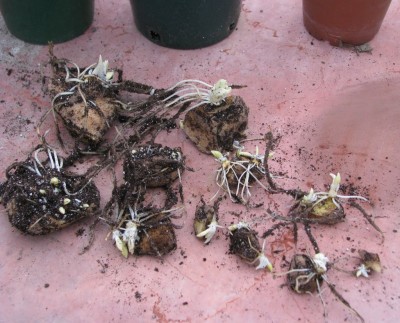 About 20 years ago my father grew tired of a crown imperial plant he had purchased just a couple of years earlier. So he offered it to me, and it's been planted and flowering every April since then in a corner of the vegetable garden.
After enjoying that solitary bulb for a few years, I got to thinking that nurseries must multiply them, so why couldn't I? And I did. And I did. And I did. And I still am.
Propagation of crown imperial starts with removing a piece of a scale from the bulb. The scale pieces go into a bag of slightly moist potting mix that's kept warm for a few months, then cool for a few weeks. Little bulblets soon form on the scales, which can be potted up to grow until warm spring weather arrives.
I can just imagine looking out at my gardens some April years hence, the scene a sea of 2' high heads of green stalks, each topped with a round, leafy crown below which dangles a ring of orange blossoms. End results notwithstanding, I'm always amazed — as I was this morning — to open the bag I filled last June 29th with amorphous scales and potting soil to be now filled with roots and bulblets.
https://leereich.com/wp-content/uploads/2010/12/elaegnus-252C-2Bautumn-2Bolive-252C-2BCharlie-2527s-2BGolden.jpg
1024
768
Lee A. Reich
https://leereich.com/wp-content/uploads/2022/12/header-home-link-247x54-2.png
Lee A. Reich
2010-12-03 23:04:00
2021-12-06 16:54:37
[autumn olive, painting trees for winter, fritillaria propagation