[to do, persimmon, peppers]
And I thought I was just about finished for the year. Ha! The long farmden "to do" list I made early this morning makes a mockery of such thinking. No particular rush for any one thing on the list although once snow falls almost everything will need to be pushed forward to next spring. Shudder the thought. I know what spring is like.
Perhaps today I'll begin with the small meadow on the south side. It — or part of it — needs mowing, which I used to do with a scythe. That much mowing of the dense mix of grasses and perennials was a bit much for a scythe, resulting in tennis elbow (scythe elbow?) a few years ago. Nowadays a tractor and brush hog make quick work of the mowing.
People sometimes ask if I'm going to expand my plantings into the meadow, to which I reply with an emphatic, "No!" The meadow is already home to a row of dwarf apple trees, a row of hardy kiwis and grapes, a row of pawpaws and black currants, a row of filberts, and a few chestnut trees. Any more planting and this will be a farm rather than a farmden.
I'm also leaving most of the meadow intact because of a promise I made to my daughter when she was 8 years old and enthralled with Laura Ingalls Wilder. That meadow had to stay as Genevieve's prairie.
Anyway, leaving a bit of wildness seems like a good thing, a foil for all the coaxing and manipulating of plants I cultivate. "In wildness is the preservation of the world," wrote Thoreau. I agree.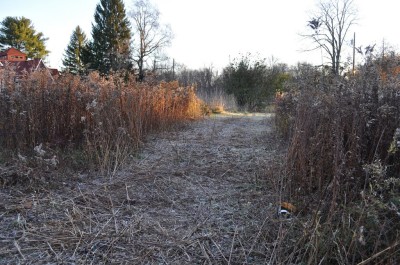 The meadow does get some care in the form of a once a year mowing. Mowing keeps vines and shrubs from invading, the first step to becoming a forest. Although it would be nice to have the mowing out of the way before spring, the tawny, old grasses and dried seed heads of goldenrods and bee balm are nice to look at through winter. So the portion in view from the dining table remains unmowed except for some welcoming paths I'll cut through the chest high sea of dry stems.
************************************************
American persimmon fruits would never sell, especially this time of year when the golfball sized orbs hang shriveling on branches. Even their bright, persimmon orange color has faded on its way to an unappealing purplish gray. "Americans eat with their eyes," bemoaned Cornell's apple breeder to me many years ago.
The taste of American persimmons and the effort needed to grow them should put this tree near the top of anyone's must-grow plant list. Southerners familiar with this native plant might turn their noses up at persimmons if they've tasted only wild ones. The secret to a delectable persimmon is to grow a named variety and, this far north, one that will reliably ripen its fruit within our growing season. My two choices are the varieties Szukis and Mohler. Mohler started ripening in August and Szukis, which began in September, will be good for a few more weeks. Neither variety needs the separate male pollinator tree that wild persimmons need in order to fruit.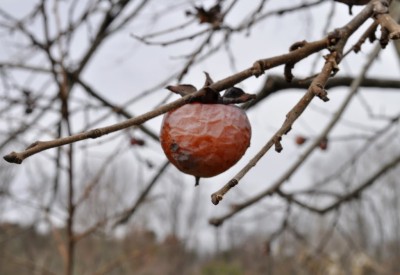 These top-notch American persimmons are kin to Asian persimmons seen in markets, with a few notable differences. American persimmons are smaller, softer (much too soft to ship commercially), and richer in flavor. Imagine a dried apricot that's been soaked in water, dipped in honey, then given a dash of spice. That's American persimmon at its best. All this from a tree that's pretty, doesn't need pruning, and has no pests worth bothering about.
(For more about both Asian and American persimmons, their history, their cultivation, their propagation, their use, and their varieties, see my book Uncommon Fruits for Every Garden.)
*********************************************
"It was the best of times, it was the worst of times" . . . this year in the garden for peppers (with apologies to Charles Dickens).
For best reliability and flavor, and early ripening to red, Sweet Italia has, for decades been the pepper to grow. This year, fruit set was poor and many peppers rotted before they ripened. Intense heat at critical moments this summer could have hampered fruit set. Sweet Italia is a floppy plant and, for the first time this year, I neglected to prop the plants upright in conical tomato cages. Flowers too hidden from insect pollinators and fruits close to or on the ground are also likely contributors to this year's problems.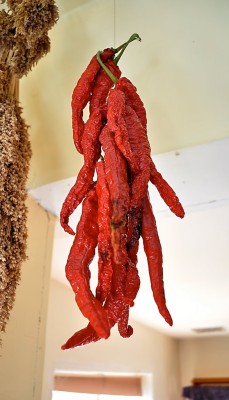 It was the best of times for a couple of new pepper varieties I grew: Big Red and Mariachi, both semi-hot peppers, the first one long and thin and the second one cone-shaped, both ripening to red. These two varieties did get staked.
Big Red was the big winner, ripening oodles of peppers, enough to eat, to freeze, to hang up indoors and dry, and to have ripe and "fresh," even now, from almost ripe fruit brought indoors a couple of weeks ago. The same could be said for Mariachi, but yields were lower. Both taste very good and the hotness can be regulated by including more or less of the seeds and inner membrane, the seat of hotness, when eating or cooking them. Ar-r-r-r-iba.
https://leereich.com/wp-content/uploads/2010/11/Meadow-252C-2B11.11.10.jpg
680
1024
Lee A. Reich
https://leereich.com/wp-content/uploads/2022/12/header-home-link-247x54-2.png
Lee A. Reich
2010-11-26 12:51:00
2021-11-22 10:17:08
[to do, persimmon, peppers]