[pitcher plant, cotton, last bagged grapes]
In? Out? In? Out? I can't decide where to grow the two pitcher plants that I got at Broken Arrow Nursery a few weeks ago. One of them, purple pitcher plant (Sarracenia purpurea), is quite cold hardy so could — should — survive outdoors in the ground. The other, Scarlet Belle (S. wrigleyana), is less cold hardy, but could probably rough it through our winters. Both plants, and especially Scarlet Belle, with pale white leaves having prominent, deep-purple veins, are so spectacular that I'd hate to lose either one.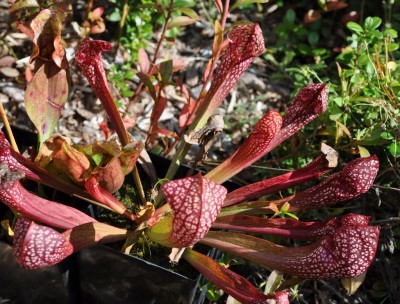 These plants are as fascinating as they are attractive. Their leaves are long, vertical tubes that, with their purplish color and nectar, entice insects within. Once inside, insects can't climb out because of the stiff, downward-pointing hairs on the sidewalls. Eventually the insects drown in the pool of water that collects inside the tube, to be digested by enzymes from the flower, helped along, especially as a leaf ages, by resident bacteria, rotifers, and other organisms. Once everything has been pre-digested, the plant can eat.
So, where to plant these gems? Indoors, in pots in a cool, sunny room? Or outdoors, in the ground?
I think my two plants will be happier outside as long as I long can find the proper spot for these rather site-finicky plants. Their needs: full to partial sunlight and a very acidic soil that is consistently wet, high in humus, and low in nutrients. Well, that turns out to be just the conditions in the bed along the east side of my house that is home to lowbush blueberry, lingonberry, mountain laurel, huckleberry. and rhododendron.
The bed is not quite wet enough for the pitcher plants so I'm going to bury a saucer, such as used beneath potted plants, a foot or so in the ground beneath each plant. The saucers will act as in-ground reservoirs to collect and hold water. The veined leaves of the pitcher plants should echo nicely the speckled flowers of hellebore that bloom further back in that bed. Both kinds of flowers are eerily beautiful.
***********************************************
Call me a cotton pickin' fool if you want. Yes, I did try to grow cotton in this cotton-unfriendly climate. I won't admit to the "fool" part, but I surely am "cotton pickin". Harvest has begun. Four plants, four ripe bolls. I could easily triple that yield if I brought the 18-inch-high plants indoors or into the greenhouse to finish ripening the rest of their bolls. And this is no fish story, of which cotton has had its share. In medieval Europe, cotton was imported but people had no idea from whence the fibers came. That was clarified in 1350 by John Mandeville, who explained: "There grew there [India] a wonderful tree which bore tiny lambs on the endes of its branches. These branches were so pliable that they bent down to allow the lambs to feed when they are hungrie."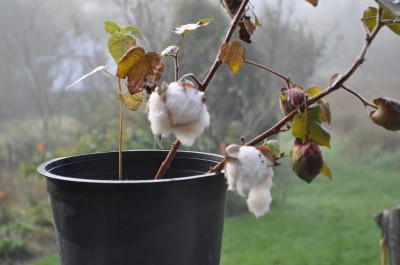 To be of use, my cotton will need to be processed. First, I'll pluck out the seeds, something that would be easier if I had a cotton gin. I can do without; four bolls won't be too much trouble. Then comes carding, to clean and align the fibers. Card clothing, as the tool for carding is called, is made from closely spaced wire pins embedded in a sturdy rubber backing. I remember, as a child, seeing women in white cotton caps pulling cotton strands apart with such tools at historic colonial sites. The wire brushes I have for cleaning sheddings from my dogs might the perfect stand-in for card clothing.
(Even more authentic would be to card using teasel plants, which occasionally grow wild along sunny roadsides. The word "carding" comes from carduus, Latin for teasel.)
Once carded, the fibers can be twisted and pulled into one, continuous strand. Finally, weave. Sounds like a lot of work for an organic, home-grown handkerchief!
**************************************************
Remember my bagged grapes, the ones in bags on which happens to be stamped the words "Fresh Delicious Wholesome Baked Goods?" Those bags have done their job well of fending off insects, diseases, and birds so the bunches can hang a really long time.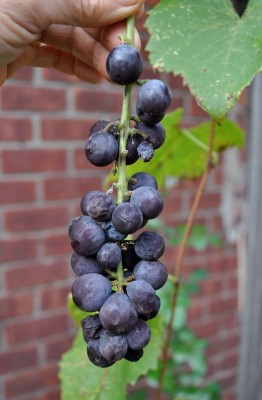 I thought the grapes were all eaten, but yesterday, discovered an overlooked, bagged bunch. The red Reliance grapes within didn't have a lot of eye appeal, having started to shrivel and turned very dark. But their flavor was supreme, the result of being very ripe and, perhaps, exposure to a few frosts.
*******************************************************
https://leereich.com/wp-content/uploads/2010/11/Sarracenia-pitcher-plant-Scarlette-Belle-close.jpg
780
1024
Lee A. Reich
https://leereich.com/wp-content/uploads/2022/12/header-home-link-247x54-2.png
Lee A. Reich
2010-11-04 17:53:00
2019-10-10 16:45:08
[pitcher plant, cotton, last bagged grapes]